UPDATES
Exhibition: "My Alleyway Memories (Once Upon A Longtang)"
05 Jan 2023
Venue: National Art Gallery of Malaysia
Date: 22nd December 2022 – 22nd March 2023
* Special Preview on 14th January 2023 (information to be announced on Instagram)
I'm excited to announce the launch of my exhibition titled "My Alleyway Memories (Once Upon A Longtang)" at the National Art Gallery of Malaysia. It will be exhibited for three months, until 22nd March 2023, so do drop by if you are in Kuala Lumpur!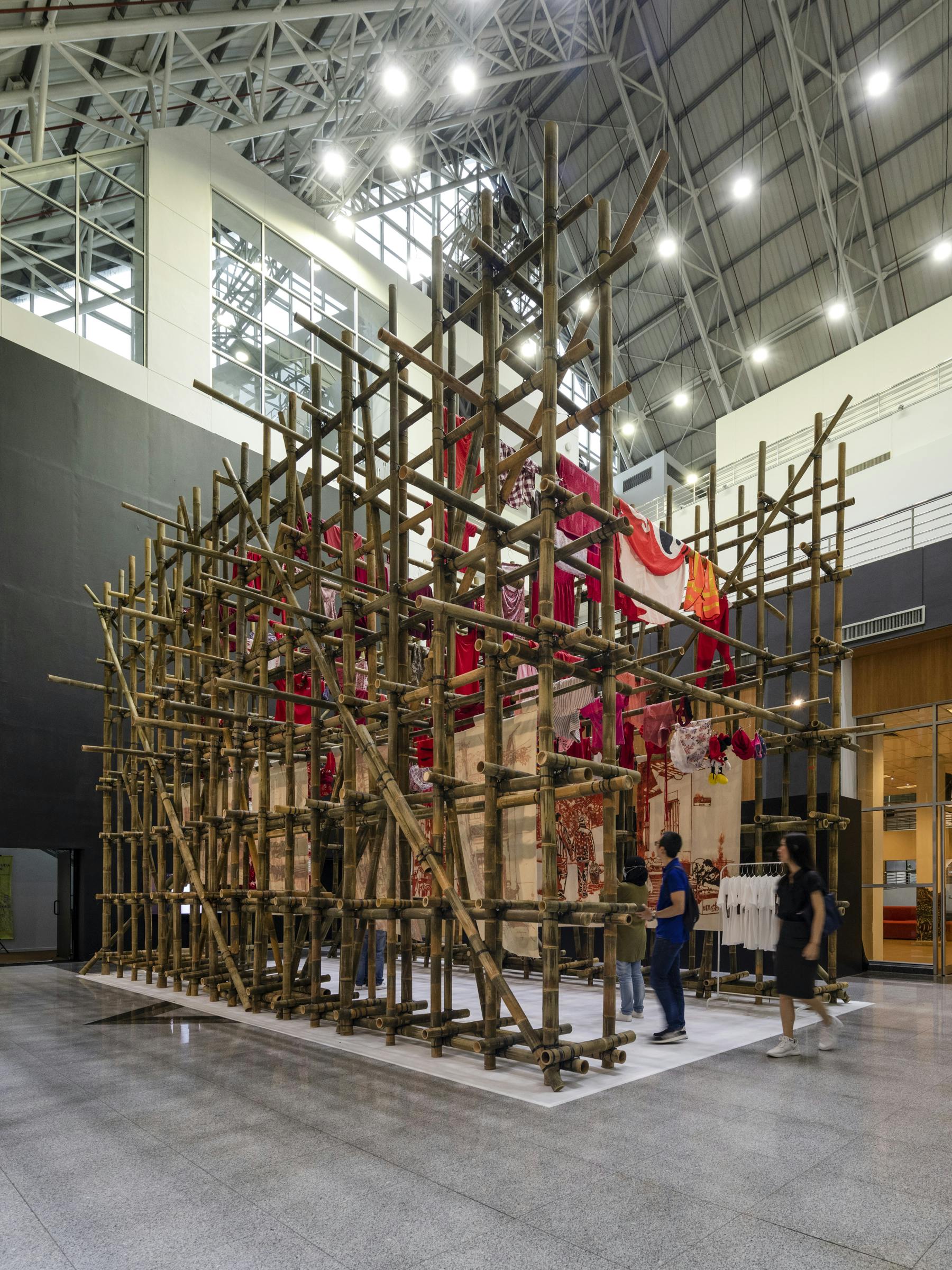 I am very honoured to be exhibiting for the first time in a national art institution. The exhibition is about my memories of living in Shanghai almost eleven years ago, where I moved to begin my career as a young graduate. 

I lived with my relatives in a 100-year-old longtang - or alleyway house - in the heart of Shanghai. These kinds of houses were a common type of residential architecture during the 1840s-1940s French occupation. Alleyway houses combine Chinese and Western architectural styles, and are built side by side along narrow interconnected passageways to form almost village-like communities. I built a 6 metre tall bamboo structure inspired by the little alleyway that I lived in. Bamboo poles were often brought into the alleyway lanes, to hang laundry and to carry out renovation works.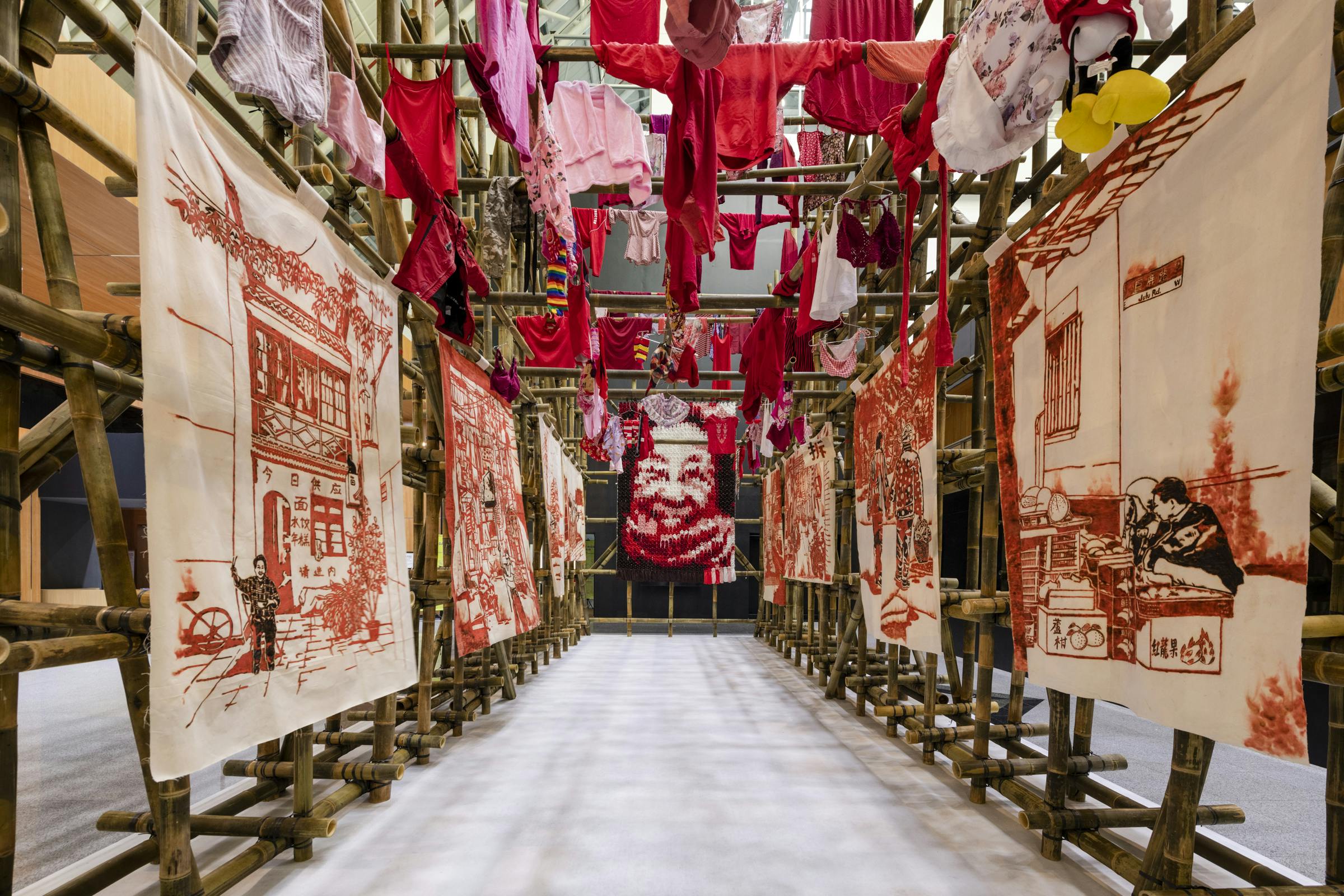 The longtangs in Shanghai are quickly disappearing to make way for urban development - my own relatives' house was demolished just two months ago. When I heard this, I wanted to try preserving my personal memories of these alleyways and local residents by making art inspired by photographs that I took while living there.

Besides capturing the liveliness in these alleyways, I hope that the artworks will help more people to reflect on the impermanence of such traditional residential areas in cities and how shared housing spaces offer a strong sense of community and belonging to their residents. . I hope my story will encourage you to dig into your own heritage and roots - you never know where it may lead you to.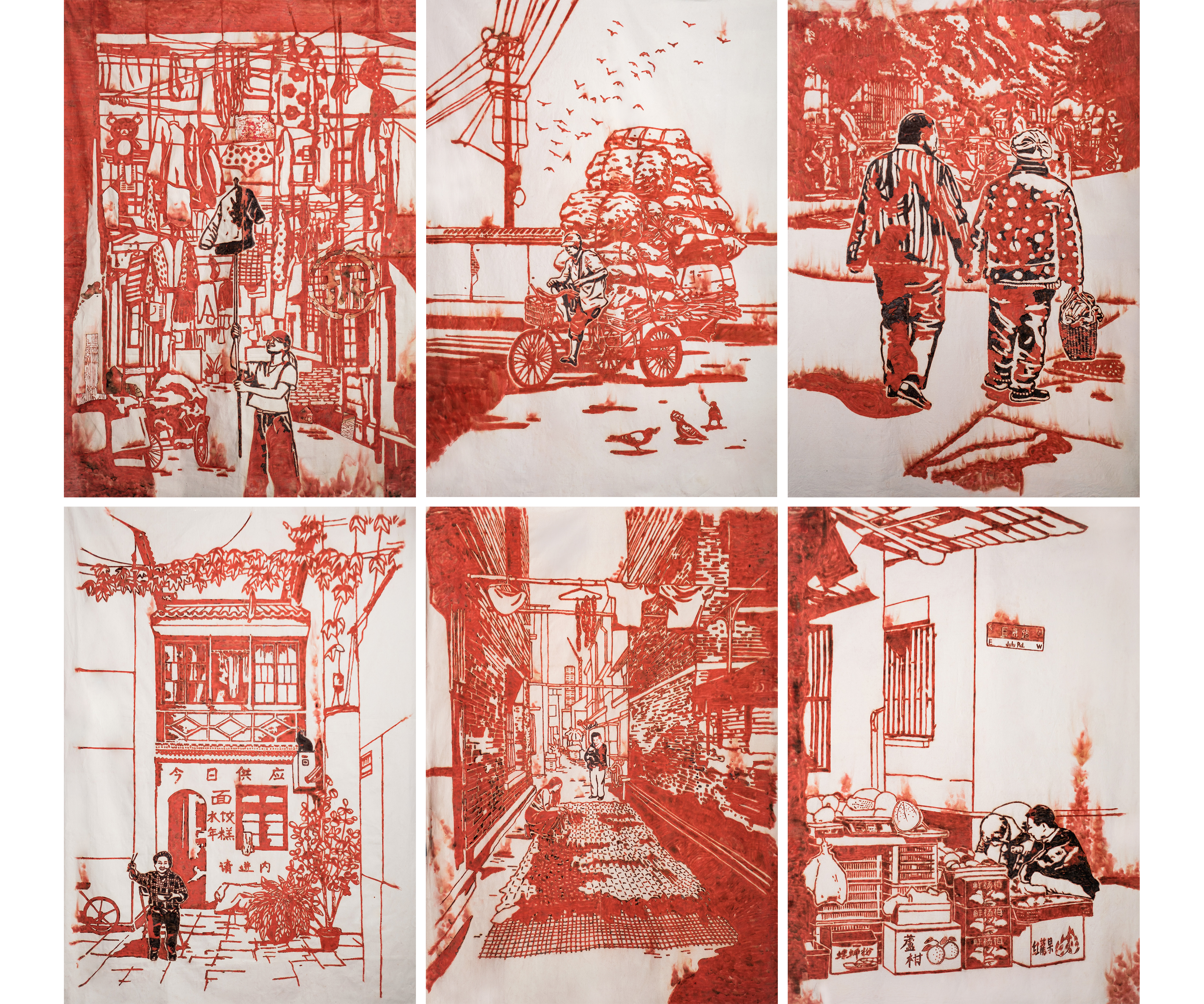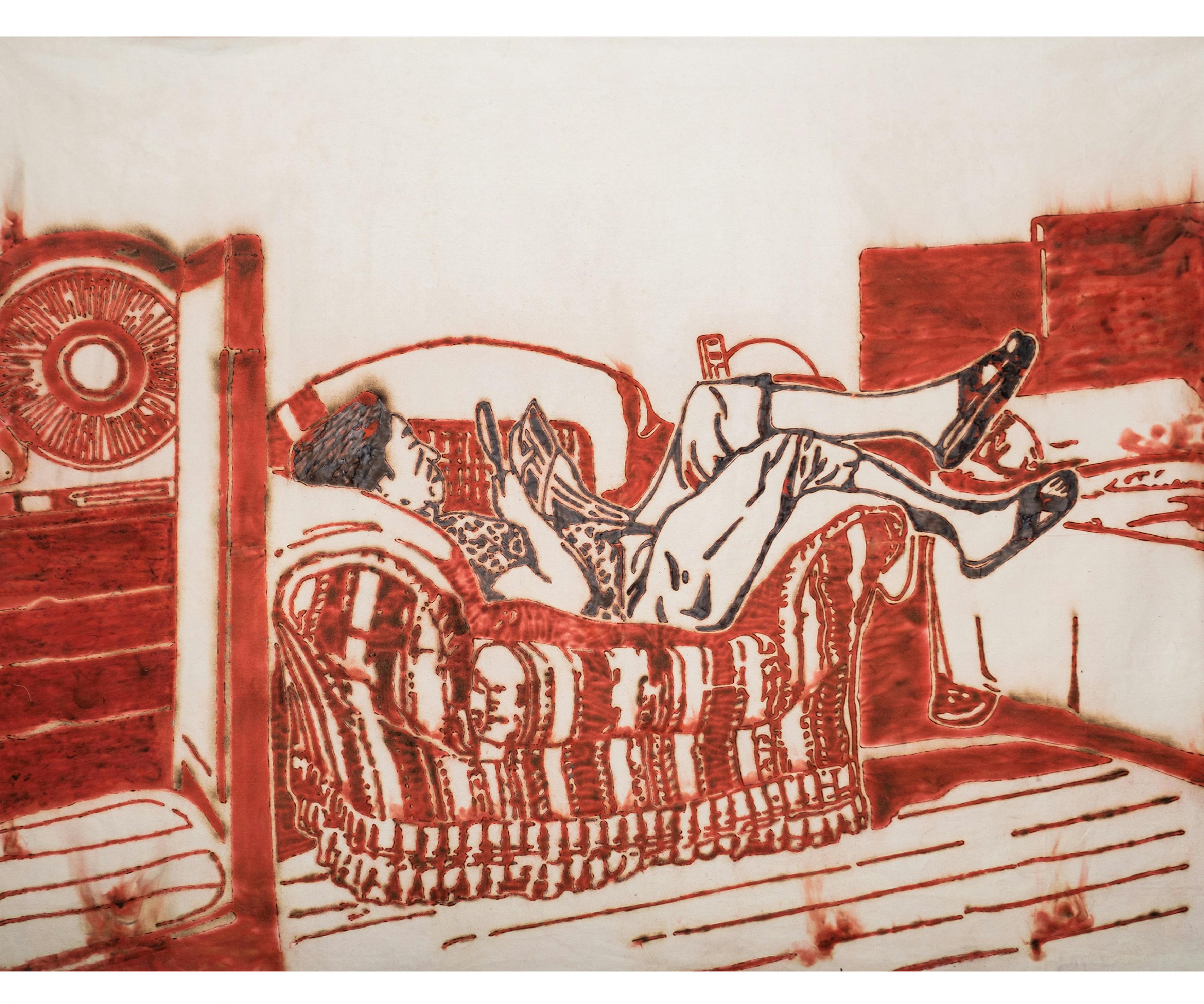 There are eight artworks displayed in this installation. They  were "painted" with burnt red calligraphy paper, a material I began using just this year. I hope that through these artworks, you will get to experience a glimpse of the relationships that are most intimate and important to me, and the mixed feelings of  longing and confusion I still get while reflecting on circumstances that led to my family migrating to Malaysia at the beginning of the Cultural Revolution.

These eight artworks are also available for sale. If you would like more information, please emailinfo@redhongyi.comfor a detailed catalogue.
- Red Hong Yi
Art Jamming With Students At Studio Red
21 Sep 2022
On the morning of 9th September, our studio at Sam Mansion was transformed into a vibrant art jamming space, as 35 spunky high school students from Dalat International School visited for an arts field trip.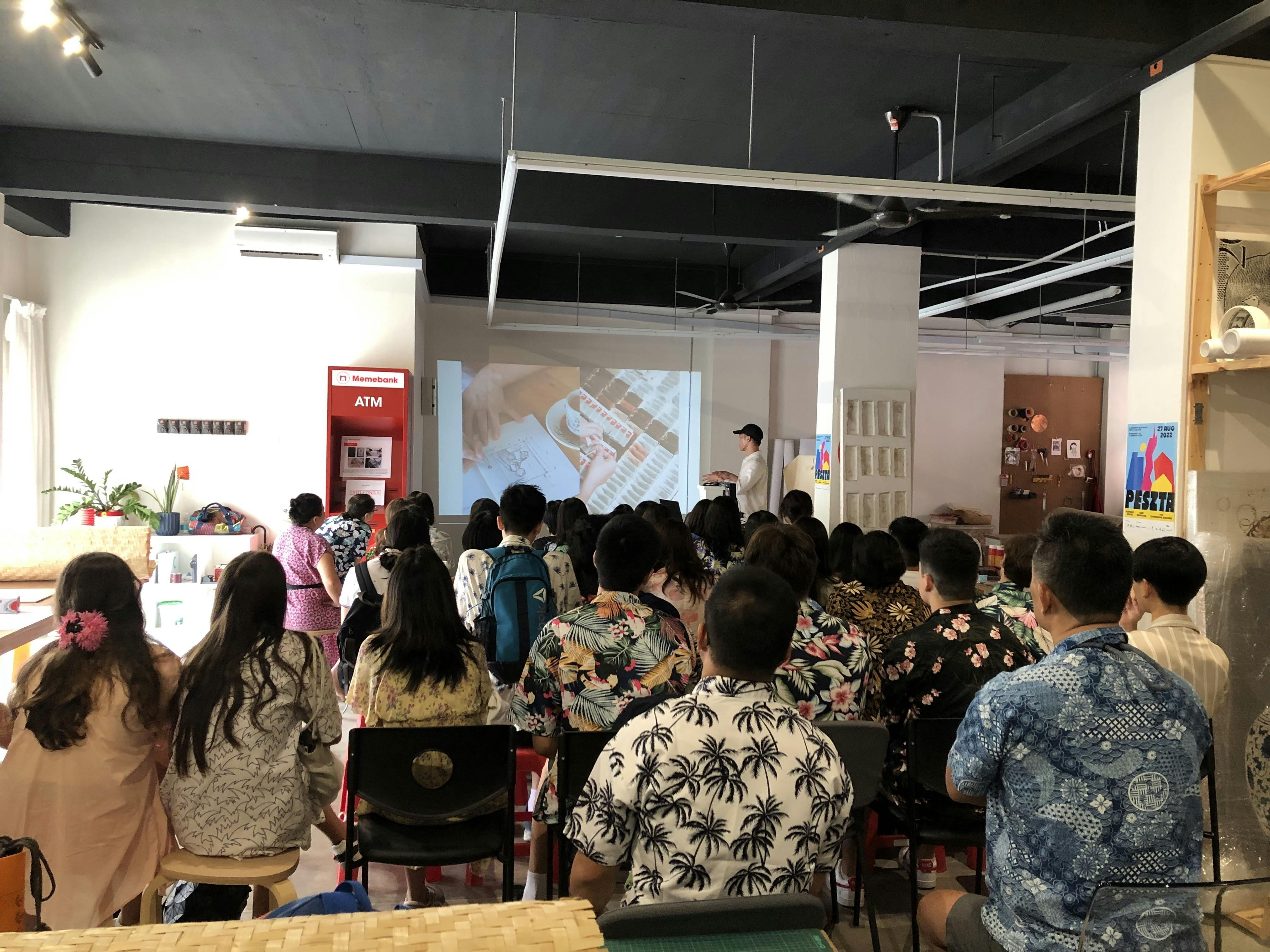 One of our studio team designers, Cedric, explaining the technique of staining tea bags to the attentive students.
The morning kicked off with a short introduction and welcome presentation by the studio team. We explained the research and creative process behind our studio's art projects, and also showed the students pictures of our artworks created using different materials and mediums, such as gyotaku (fish stamping), stained tea bag portraits, soil canvases and so on.

It was definitely fun to see their fascinated reactions! Some of the more curious students raised their hands and asked questions, ranging from the serious ('did you use dye to stain the teabags?') to the more light-hearted ('did you eat the fish afterwards?').

Next, it was time for our guests to get a hands-on experience of making art themselves! We divided them into groups and gave them two hours to create an original art piece, using the technique of stenciling and spray painting on a bamboo weave canvas. To make things even more interesting, each group was assigned an emotion- 'Bliss', 'Trust', 'Confusion' and 'Anger'-to inspire their creative process.

It was interesting how each of the groups brainstormed their assignment differently. For instance, a student from the group Trust said thoughtfully, "When I eat something, I trust that it's not bad. When I sit on a chair, I trust that it doesn't fall. Maybe we could all think of things that we trust and sketch it out?" With that, the team grabbed their pencils and started mapping out key words on paper to help visualize their emotion.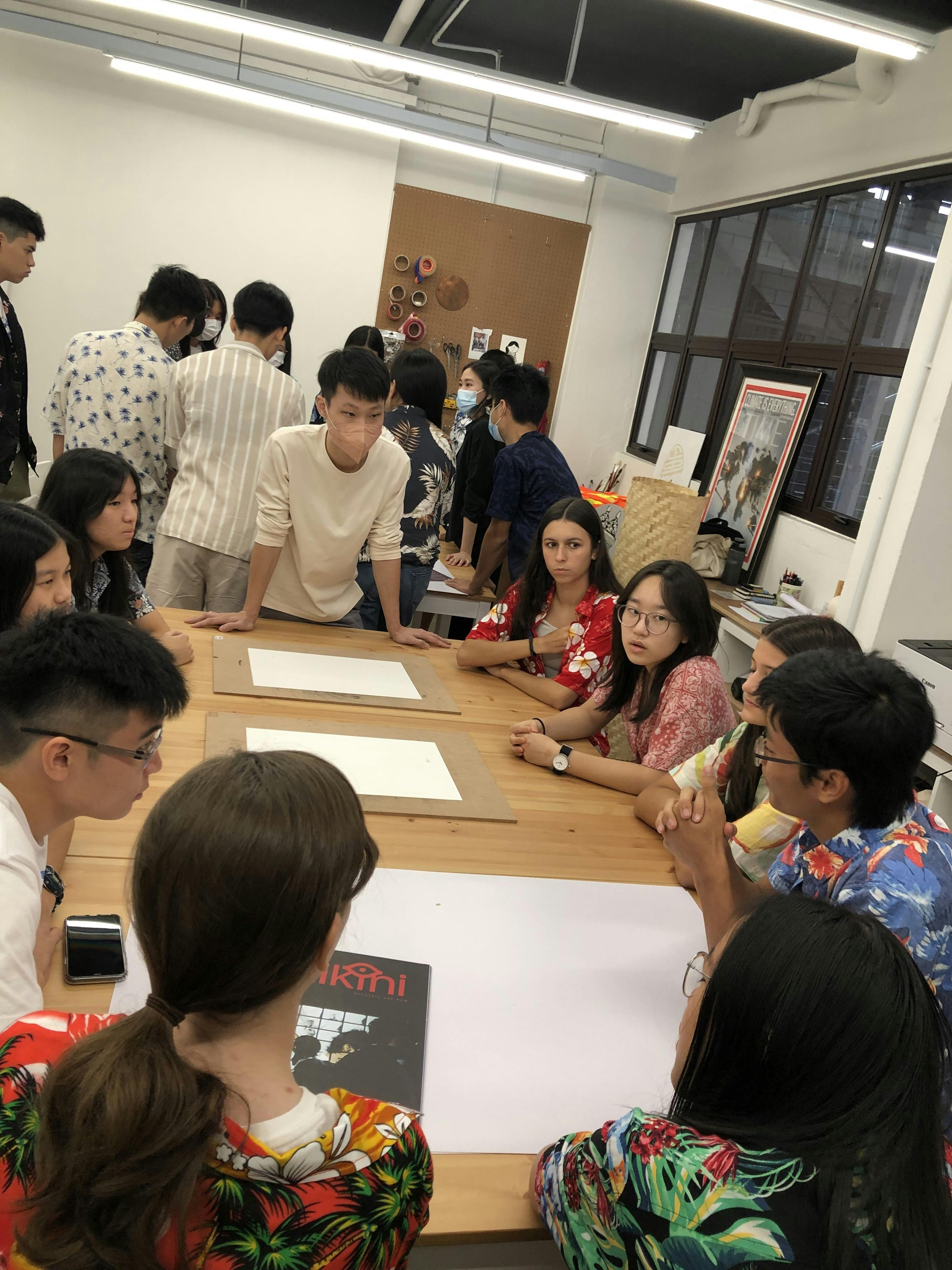 Students from the Trust group brainstorming concepts for their artwork, guided by Chee Chung, one of our studio team designers. 
Likewise, the Confusion group had a creative process that involved making random doodles of physical features ("Put the eyes on the head, make them wider and scared. And maybe draw a pair of hands!") Their final visual was of a person navigating a maze of tangled paths, with arrowheads pointing in different directions. However, in contrast to the first two groups, Bliss took a more practical and methodical approach, opting to search online for reference images. They also made use of technical design aspects such as silhouette, composition and negative space, to create a collage of motifs surrounding the Chinese characters for 'Bliss'.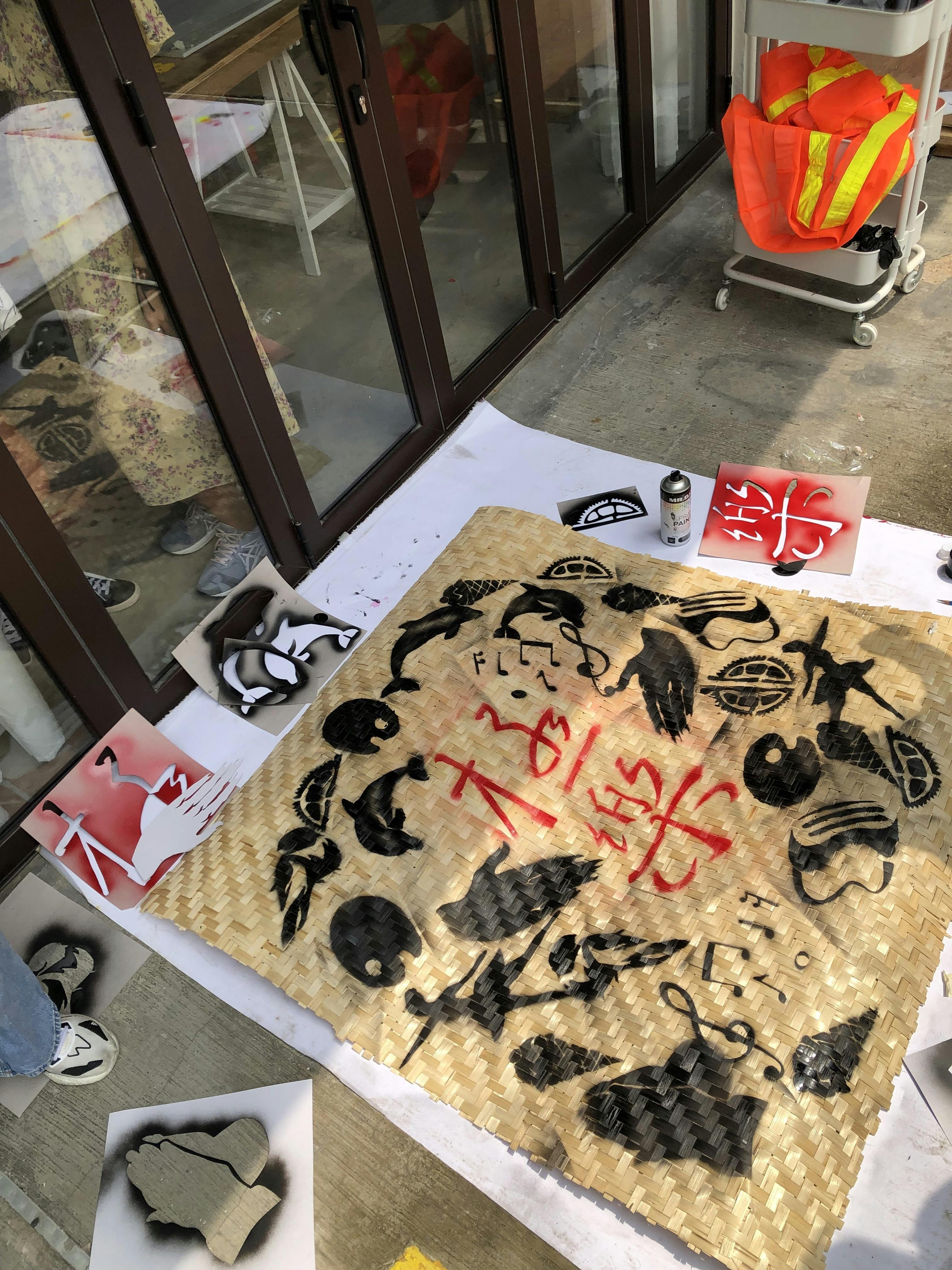 The Bliss group came up with a unique collage of motifs and symbols to portray their assigned emotion.
In the last hour, the students took their stencils outdoors to 'paint' their cut-out images onto bamboo weaves. Some groups made impressive final touches, choosing specific colours to heighten the emotions in their artwork. The Anger group, for example, used a palette of red, orange and yellow and black to depict a human silhouette unleashing its wrath and fury, whereas Confusion, true to their emotion, bombarded their canvas with a haphazard array of colours!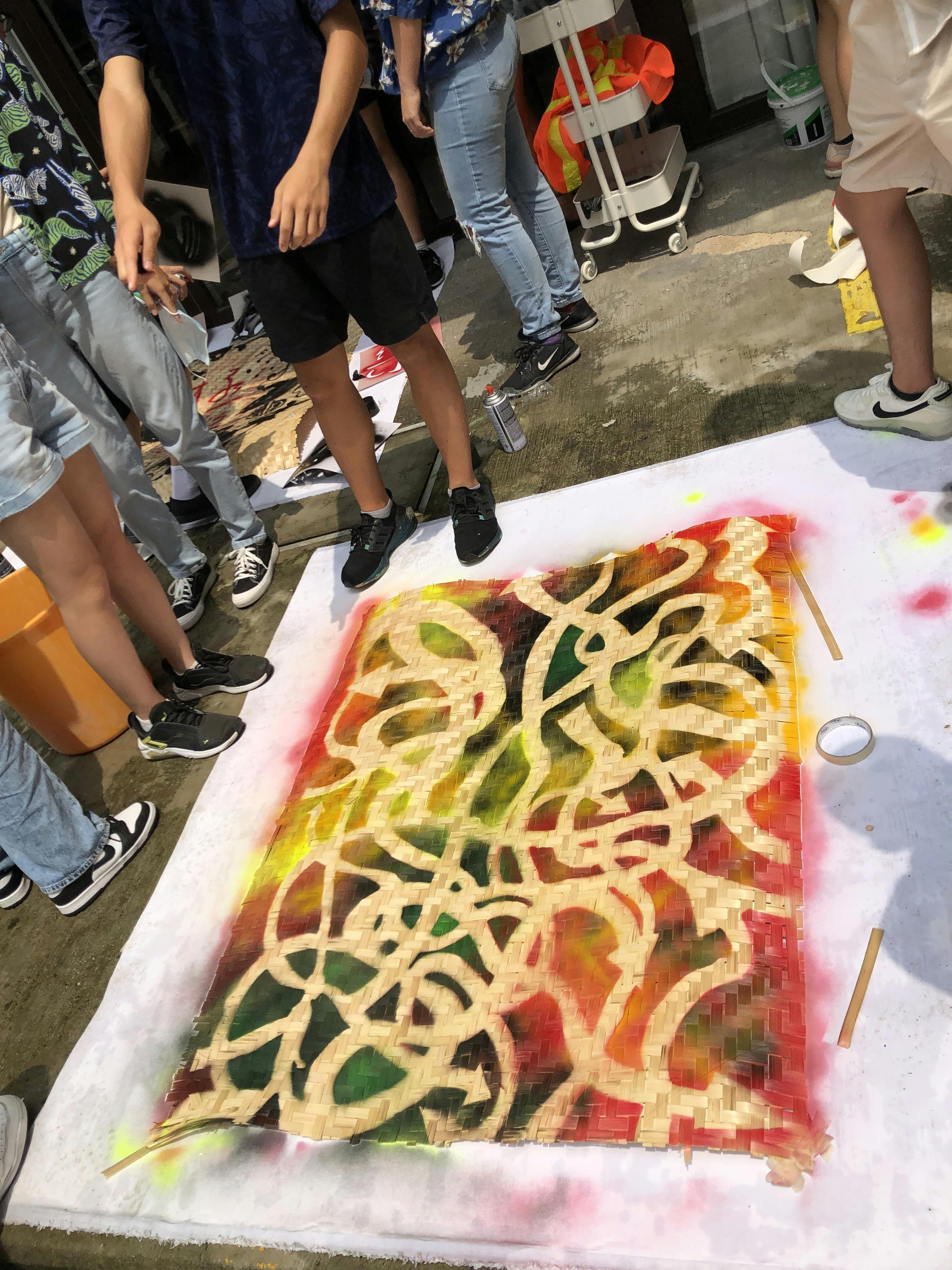 A disorienting tapestry of colours produced by students from the group Confusion.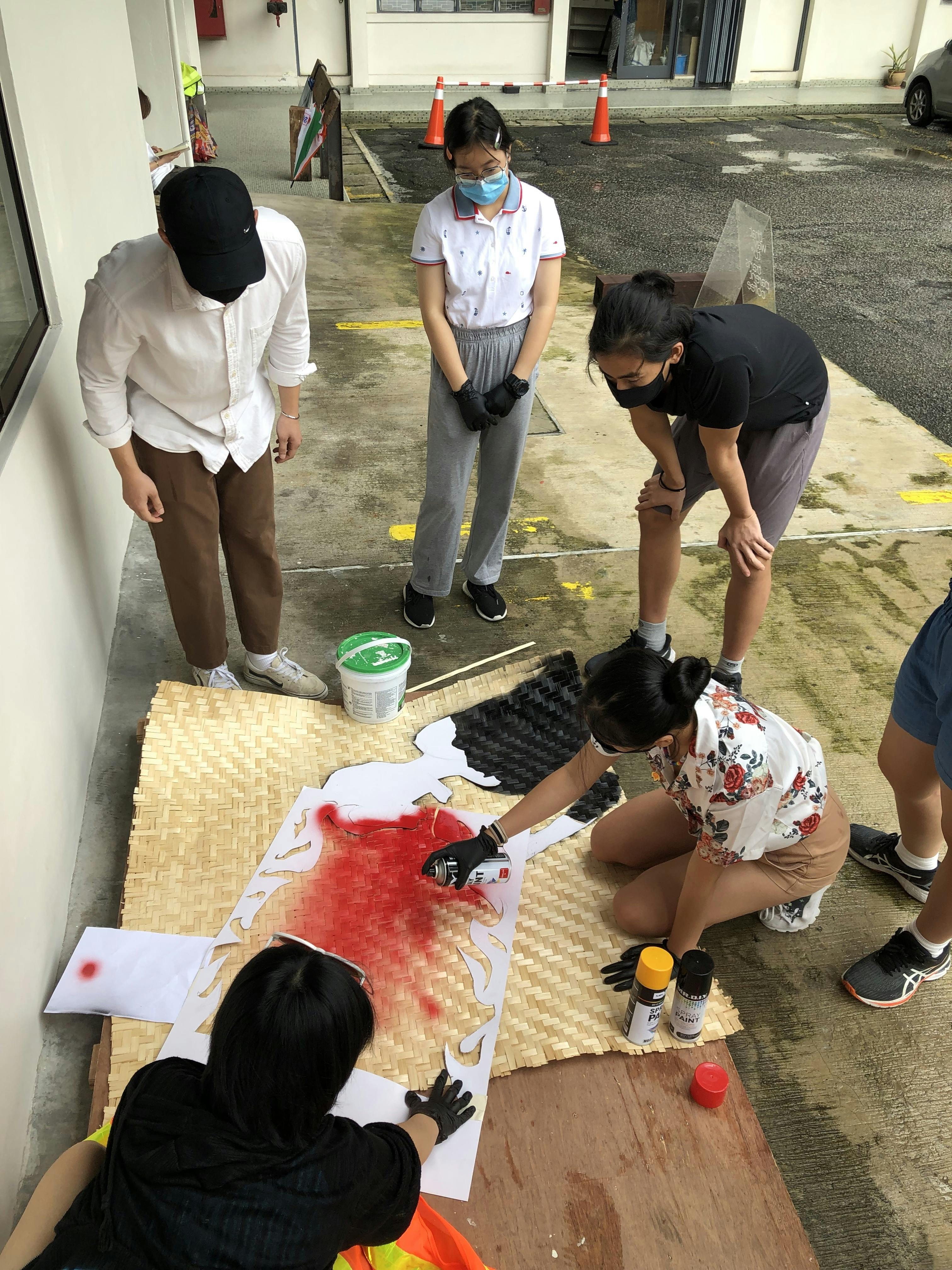 Students from the group Anger chose energizing, vibrant colours to represent their assigned emotion.
When the time came for the students to present their final artwork, we were truly impressed by the high level of skill and creativity reflected in each piece- each group had created masterpieces in their own right! Speaking for myself, it was amazing to see what these teenagers could do with a blank canvas and the freedom to create without having to worry about getting 'graded' on their work.

All good things must come to an end, and at the stroke of noon, the 'art jam' ended with a photoshoot and de-briefing session. After exchanging goodbyes and well wishes, our guests took their artworks home with them. It was definitely a fun experience, and we are looking forward to welcoming more young creatives to our studio!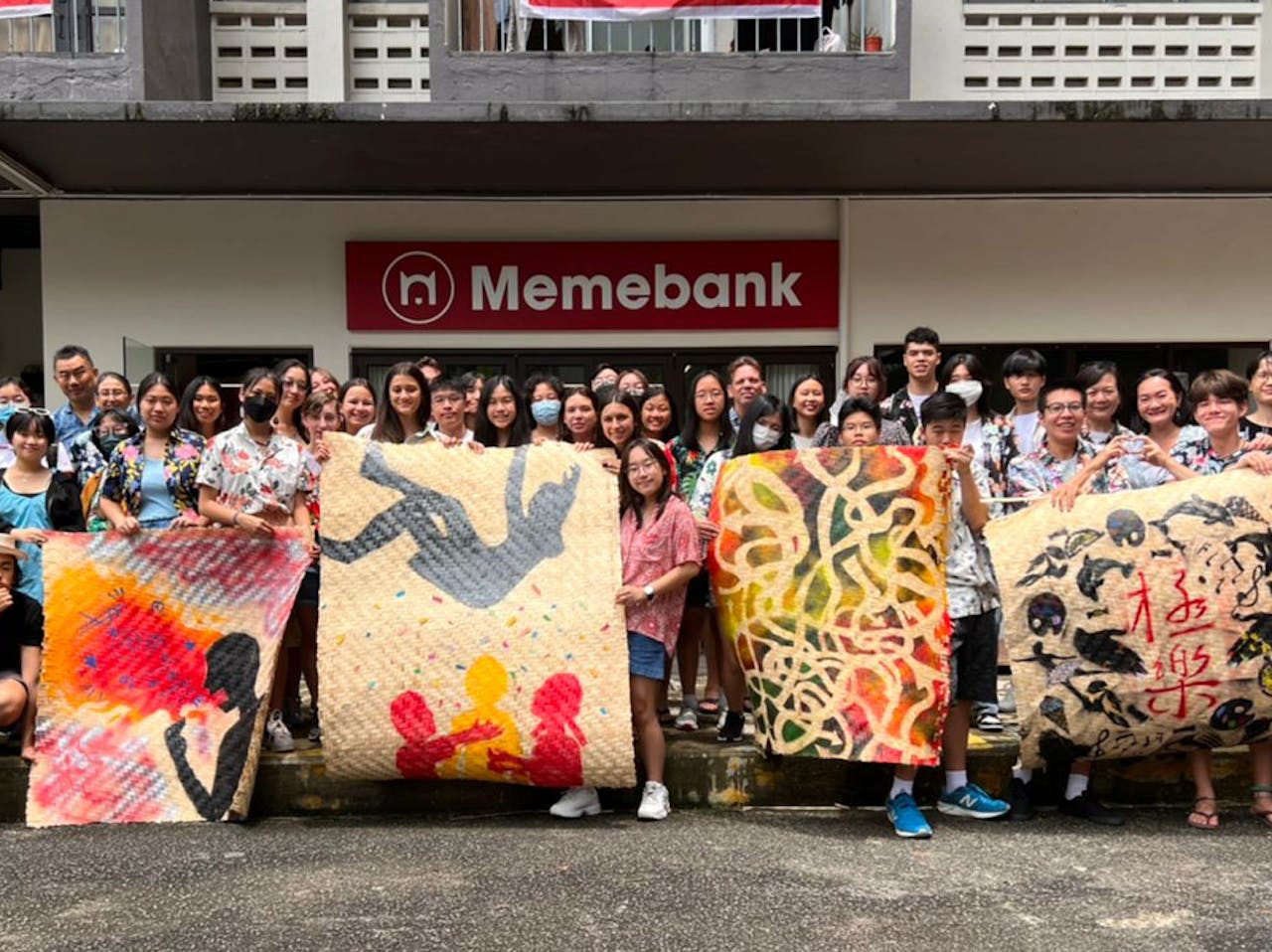 MEMEBANK Exhibition And Print Sales Online
20 Jan 2022
Can you believe it - we built a bank!
Or more like an art exhibition in the form of a bank...to critique our current monetary systems.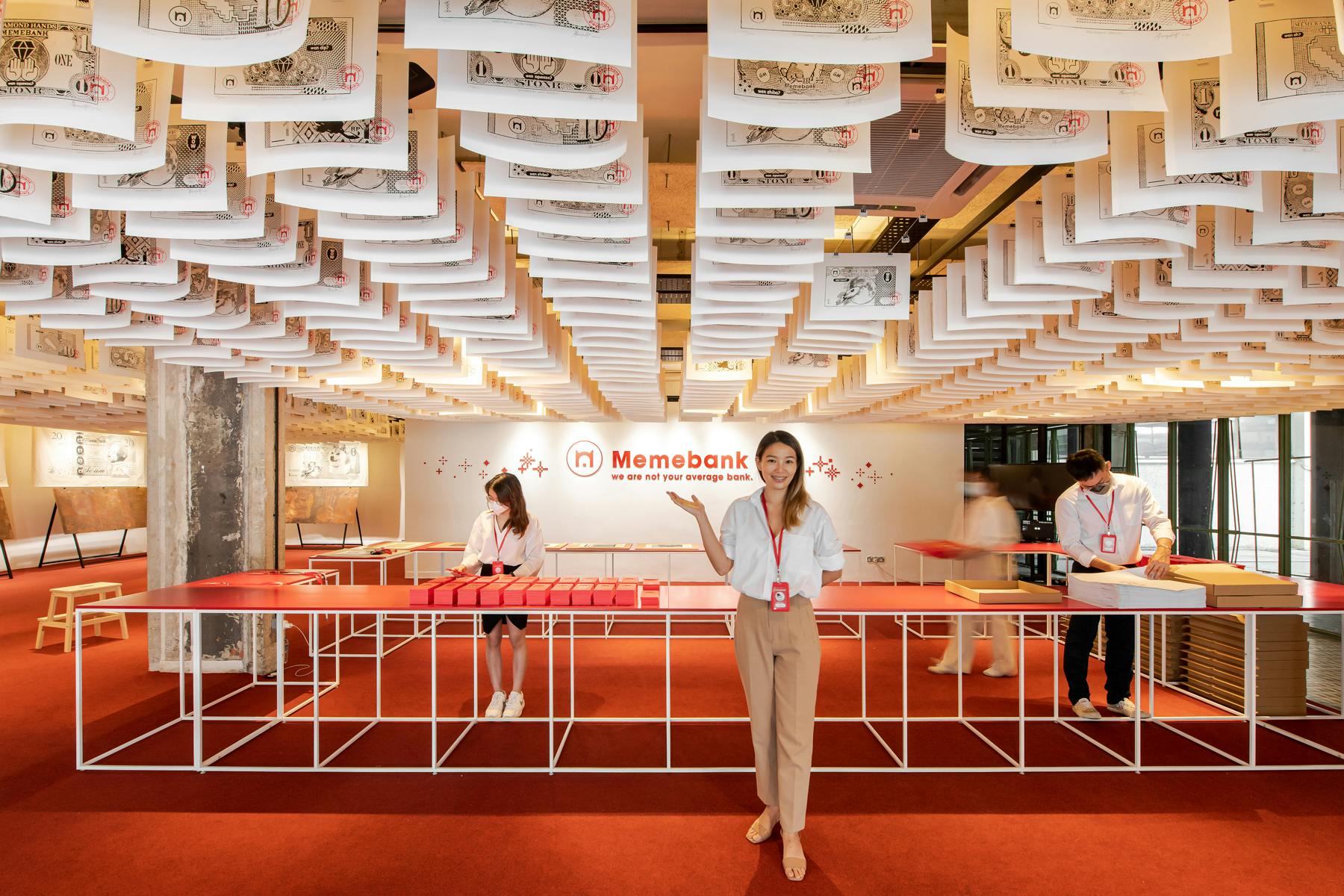 Memebank will be opening its doors at APW Bangsar, Kuala Lumpur from 21st-23rd January 2022 from 10am-6pm. If you're in town, do make an appointment to visit our friendly bankers at memebank.setmore.com.
We're excited to be displaying all six copper plate banknotes that were sold via NFTs last year. We also have mini versions of these 6 prints in limited editions and red packets that will be available for purchase at the exhibition. All proceeds will be donated to Mercy Malaysia's Flood Relief Fund.
We have also made it possible to purchase these prints online for international shipping! Head over to our store at memebank.store; prints will be released online at 21st Jan 2022 10am GMT+8 (that's 20th Jan 9pm EST).
If you have any questions during the exhibition, feel free to approach any of our friendly Memebankers who will always be there for you. You can check out this video to get to know some of our bankers a bit more. Don't forget to say hi when you visit!
A virtual exhibition will also be available to the public for those who can not attend physically at this link. You can also follow us on Instagram where I'll be reposting our latest updates everytime someone tags me!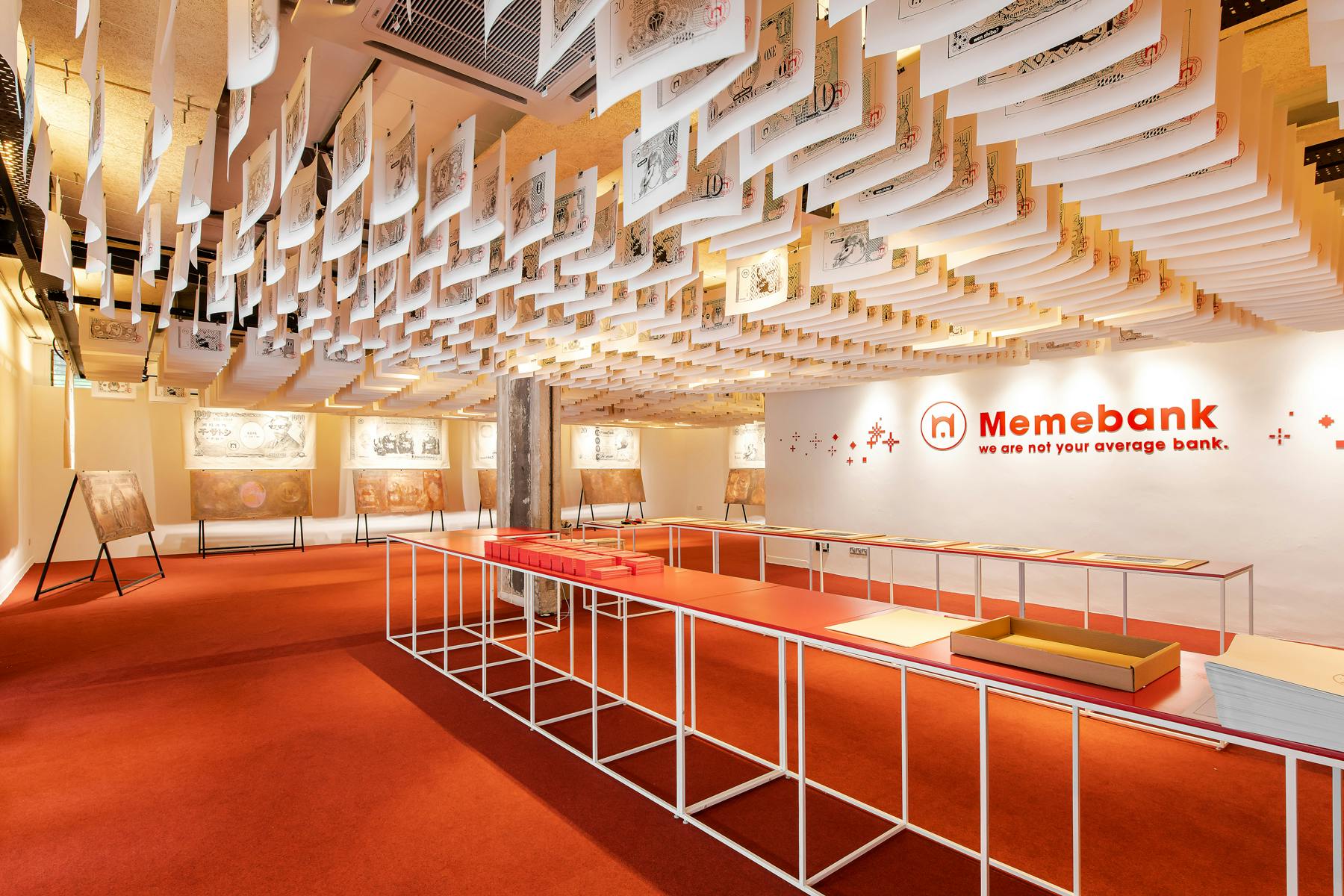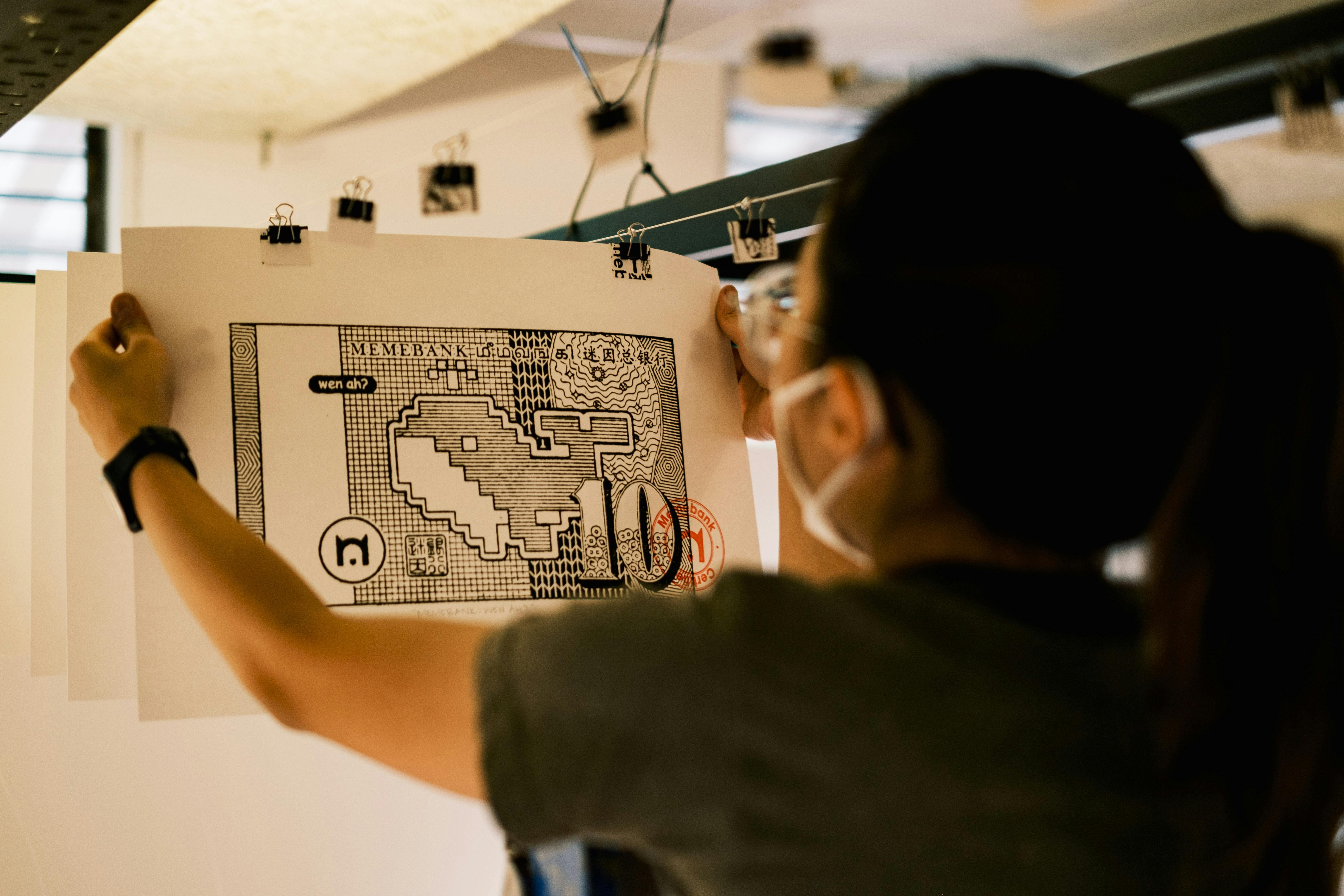 Memebank is fully funded and initiated by Studio Red Hong Yi and we would like to thank the support of everyone for making this possible: our collectors, supporters, and of course, the amazing team of artists and designers that built Memebank from the ground up. It's been a dream come true to be able to launch my first solo exhibition, raise awareness about financial education, and create art for a good cause. I cannot be more grateful.
Red Hong Yi
CEO of Memebank
Memebank Auction Closing
22 Nov 2021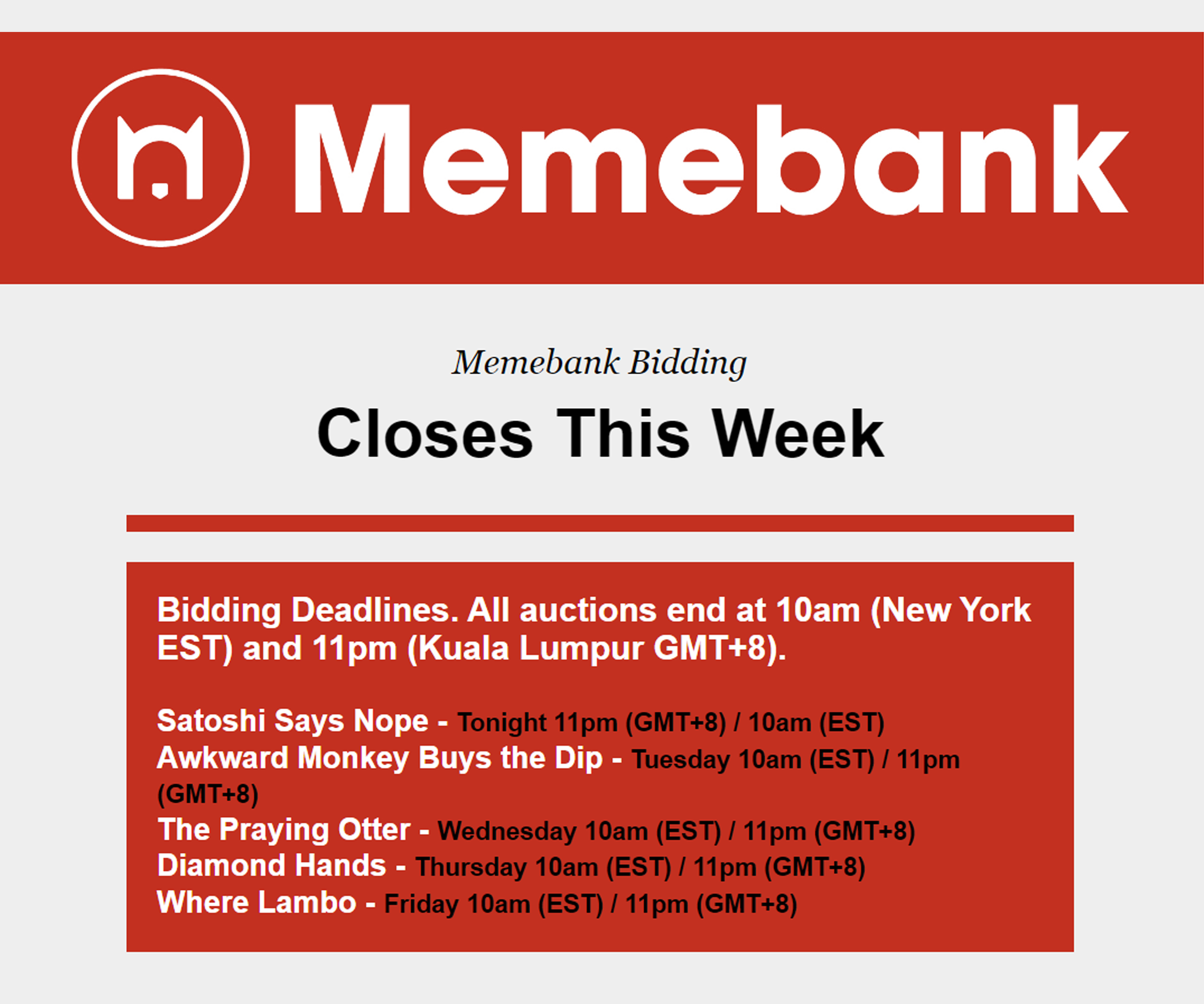 The final 5 copper banknotes will conclude their auctions every weekday this week at 10am (New York EST) / 11PM (Kuala Lumpur GMT+8), starting with "Satoshi Says Nope" tonight.

Opensea Links
Satoshi Says Nope
Awkward Monkey Buys The Dip
The Praying Otter
Diamond Hands
Where Lambo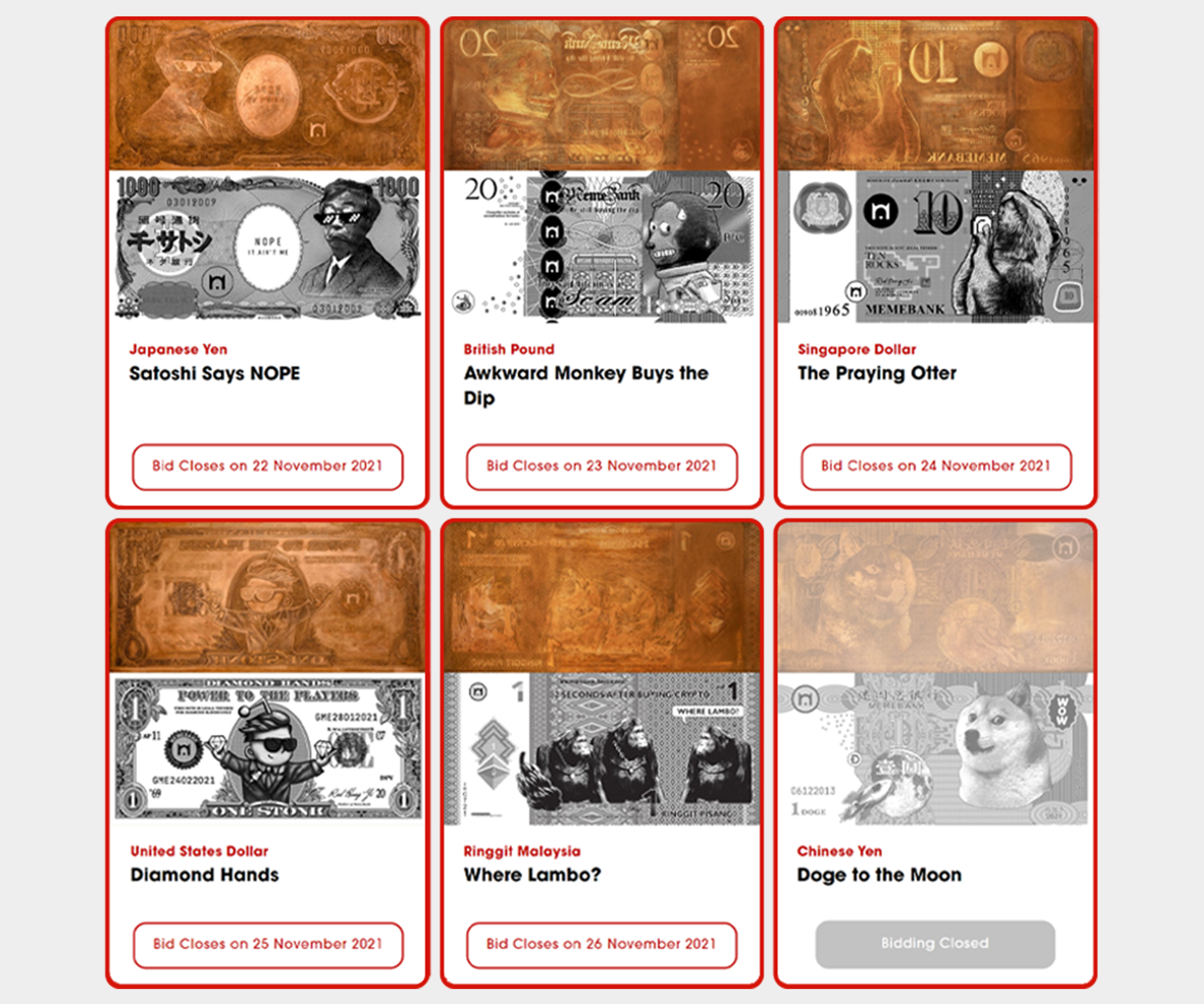 _________________________________________________________________
Memebank
Why I Became A Banker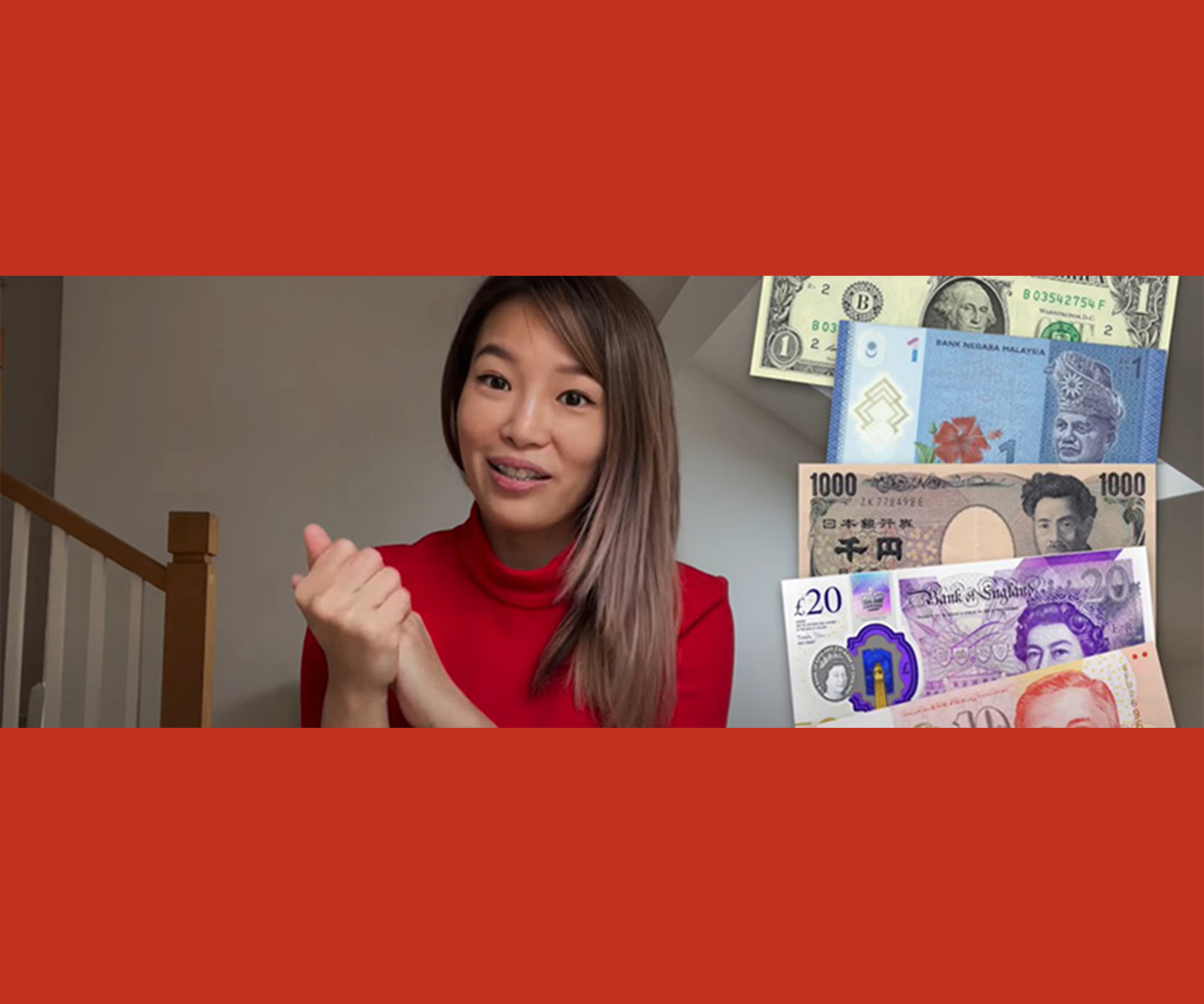 If you haven't seen this yet, we created a new video for this set of banknotes. The video also shows a peek of what it has been like working in the studio. On the surface, Memebank is a in a fun, easy-to-understand project. Dig beneath the surface and you will realise we are addressing a more serious and complex issue of inflation with the current modes of banking. I didn't understand much about our banking system, and always thought that the goal was to work hard, save up and deposit what I have earned... until I learned more about finance and banking from a group of technologists and economists here in KL. So I wanted to create art that could educate others but in a fun, easily-understandable way.

Why I Quit My Artist Career To Start A Bank (Youtube)
_________________________________________________________________
Memebank
Physical Exhibition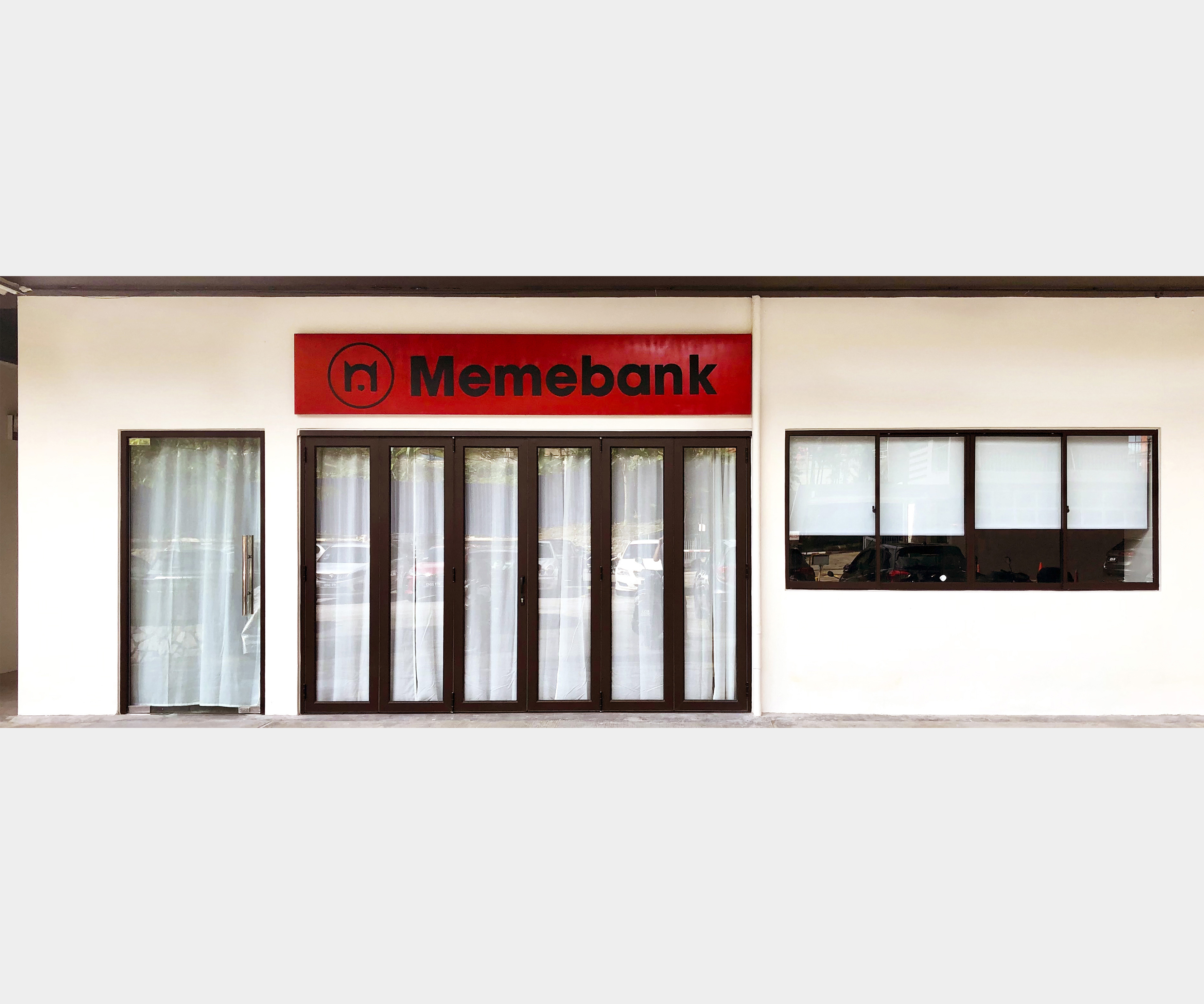 All the copper banknotes and canvas prints will be showcased in a special physical exhibition from 21-23 January 2022. Limited edition mini banknote prints will also be exhibited and available for purchase. Exact location of the show will be revealed in the coming weeks.

Booking Opens 7th of January 2022
_________________________________________________________________
Artists of SEA
1000 Tiny Artworks

Last but not least, we are gearing up towards the very first exhibition under our new platform, Artists of SEA. Featuring 100 Malaysian artists, 1000 Tiny Artworks aims to highlight our diverse local creative talents and to give the public an affordable entry into owning art. All artworks are 10x10cm and priced at RM100. As a way to support our local artists, 100% of all sales proceeds will go back to the artists. For full lineup of artists, visit Artists of SEA's Instagram.

1000 Tiny Artworks will be held at The Back Room, Zhongshan Building from the 17th to the 19th of December. 

Booking Opens 10th December 2021.

Red Hong Yi
Founder of Memebank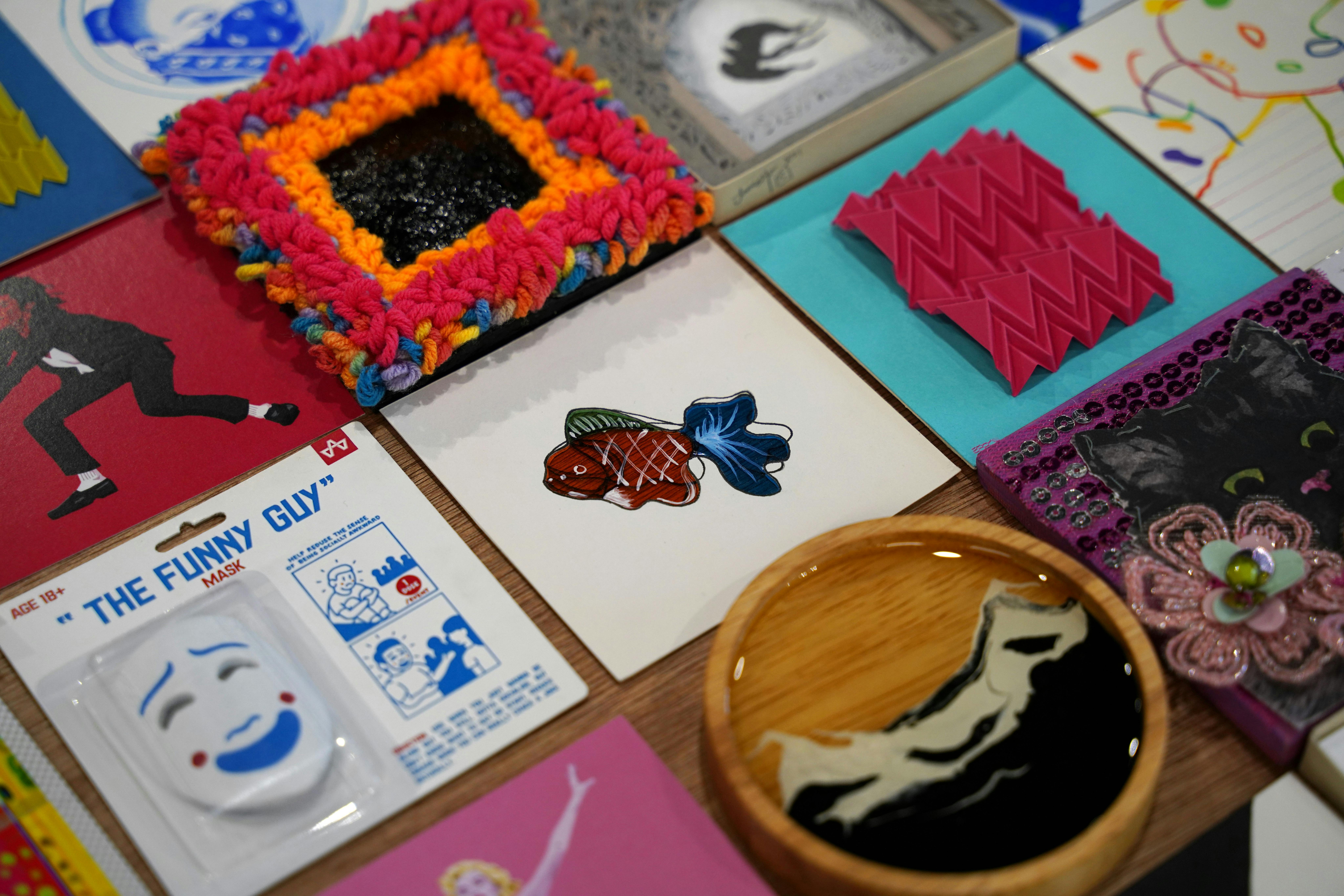 Memebank Launch Full
10 Nov 2021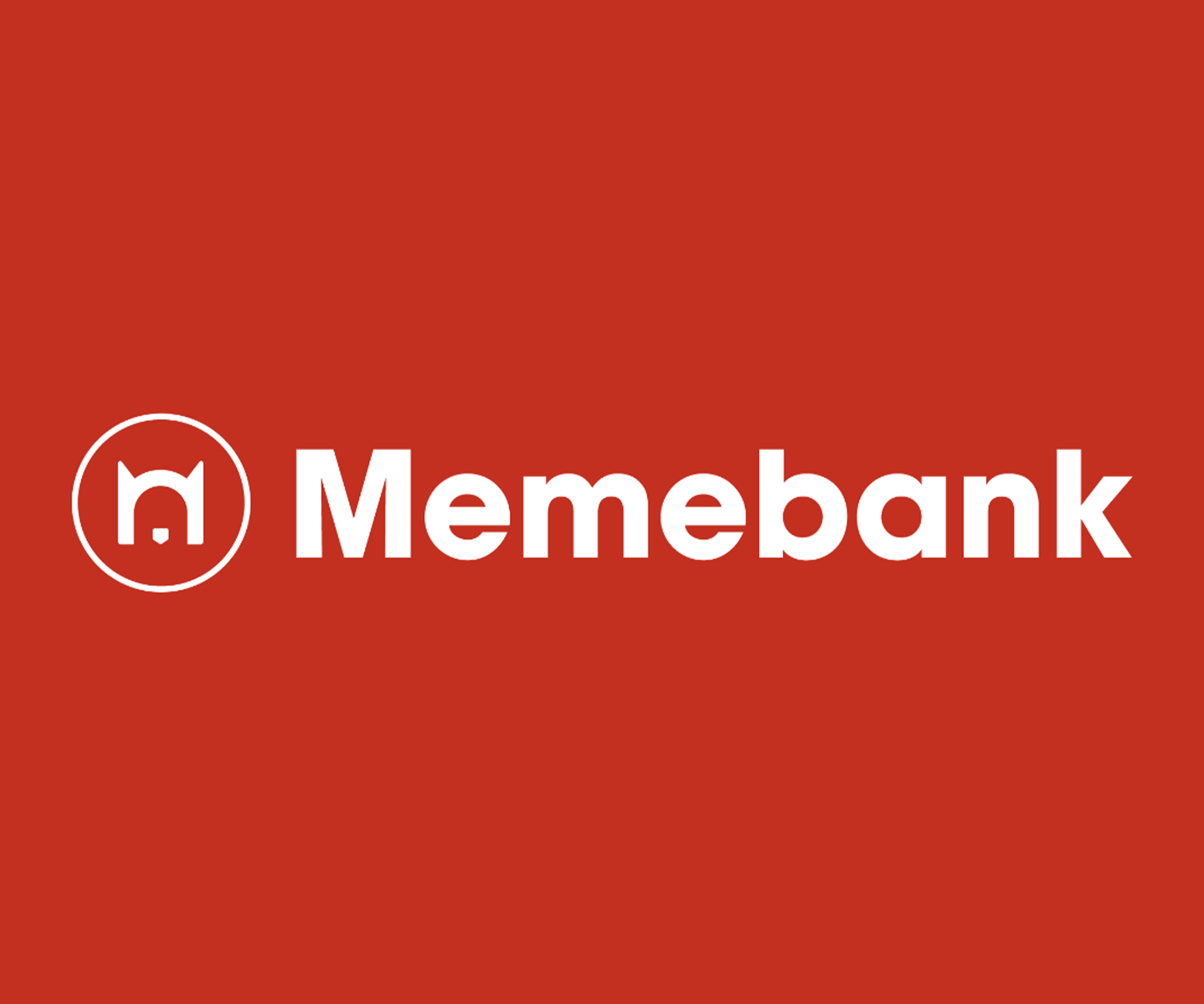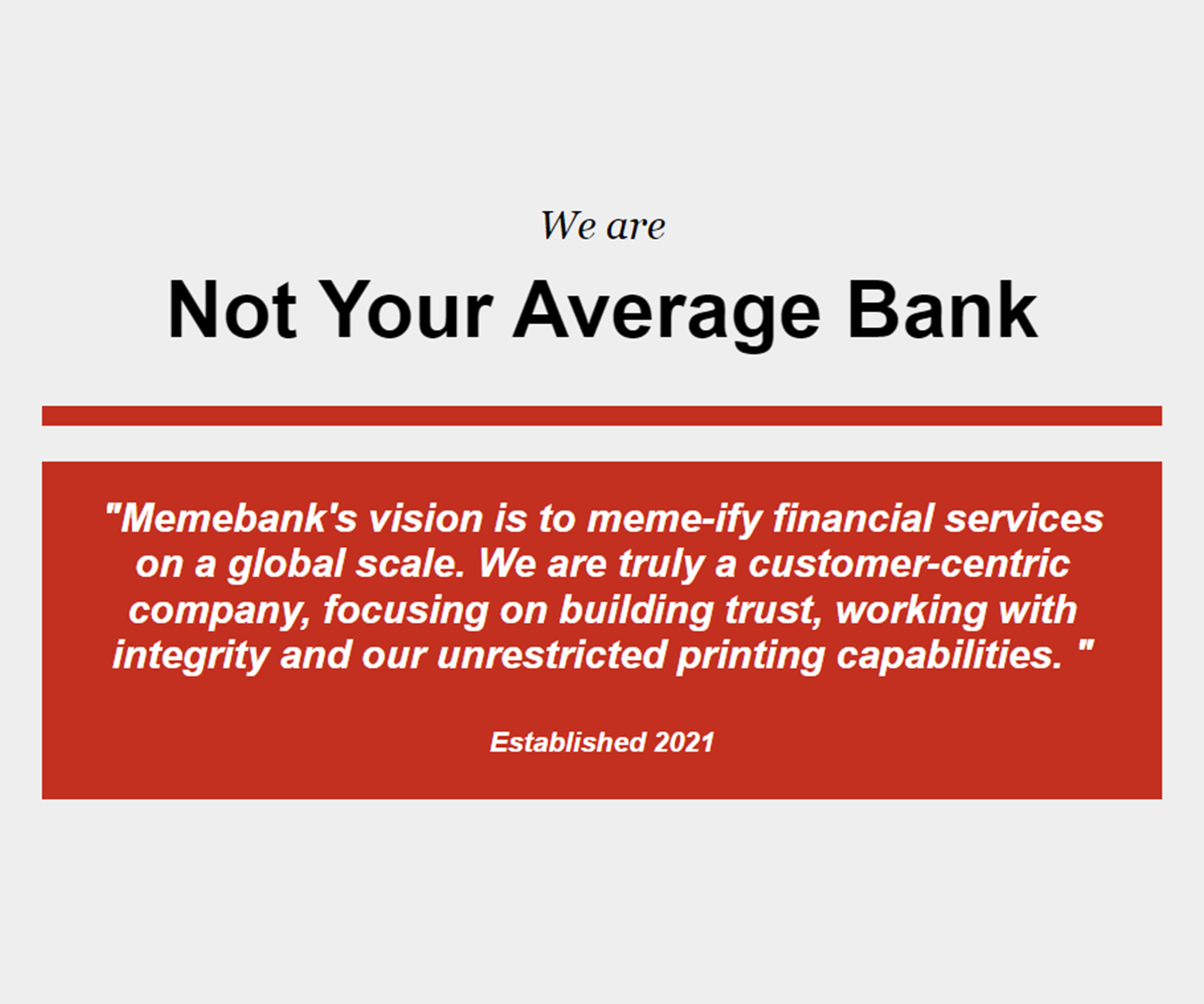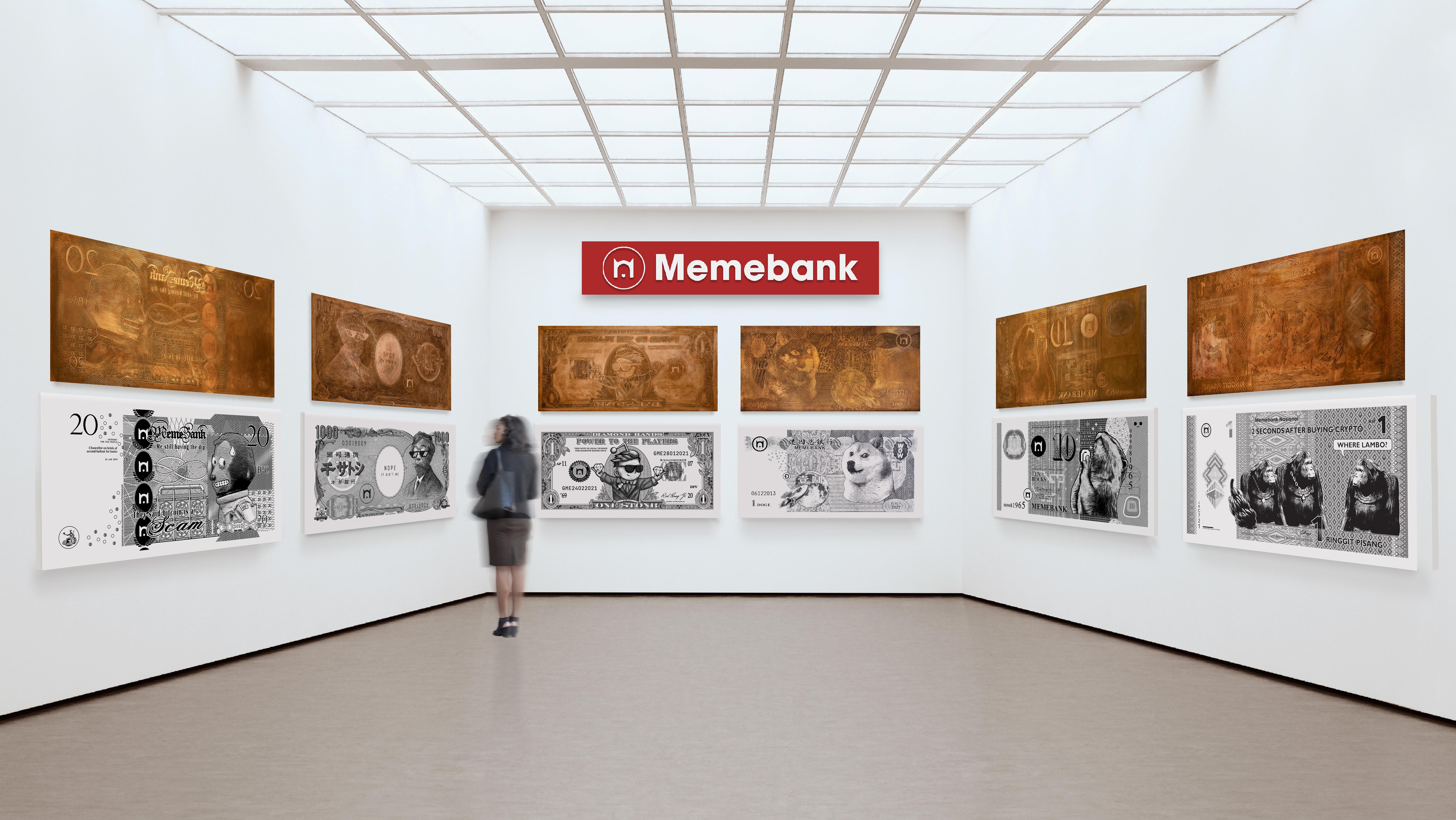 We launched a bank! A fictional bank, that is! Memebank is an art project that aims to spoof banks, central banks and their centralised control of fiat currency supplies. The advent of the blockchain, cryptocurrencies and NFTs have prompted the world to consider the roles centralised systems have in our collective future. Here, at the frontier of art, culture and technology, newly formed digital communities wrestle at the establishment to regain control of individual authority. 

Four months ago, Memebank released its first parody banknote inspired by the Chinese Yuan, titled, "Doge to the Moon". Today, Memebank will be launching five new parody banknotes inspired by the Japanese Yen, British Sterling Pound, Singapore Dollar, US Dollar and Malaysian Ringgit. These five banknotes are all infused with meme characters and will be the final NFT artworks that will complete the Memebank series. 

In similar fashion to the very first ancient banknotes from China, we made printing copper plates of our own banknote designs. Memebank highlights the concern of continued printing of fiat money by central banks, which economists warn may lead to inflation. The owners of our Memebank copper plates will become the new central banks. They will own the copper plate, and be sent only one full canvas print. After that, they will control the printing volume of each banknote, determining the value of each currency. 

The reverse image of each banknote is acid etched in pure copper sheets spanning 62 inches (1575mm) wide and 29 ½ inches (750mm) tall. Every copper plate is accompanied by a 1/1 edition canvas print and contractually bonded to an NFT token.

_______________________________________________________________
Memebank NFTs
Now Open for Bidding
Owners of the Memebank NFTs will receive the following:
1. Master Copper Plate - 62 x 29 ½" (1575 x 750mm)
2. 1/1 Edition Print on Cotton Canvas
3. NFT Token Certifying Authenticity and Ownership
#1 Satoshi Says "NOPE"
#2 Awkward Monkey Buys The Dip
#3 The Praying Otter
#4 Diamond Hands
#5 Where Lambo?
_______________________________________________________________
The end
Of A New Beginning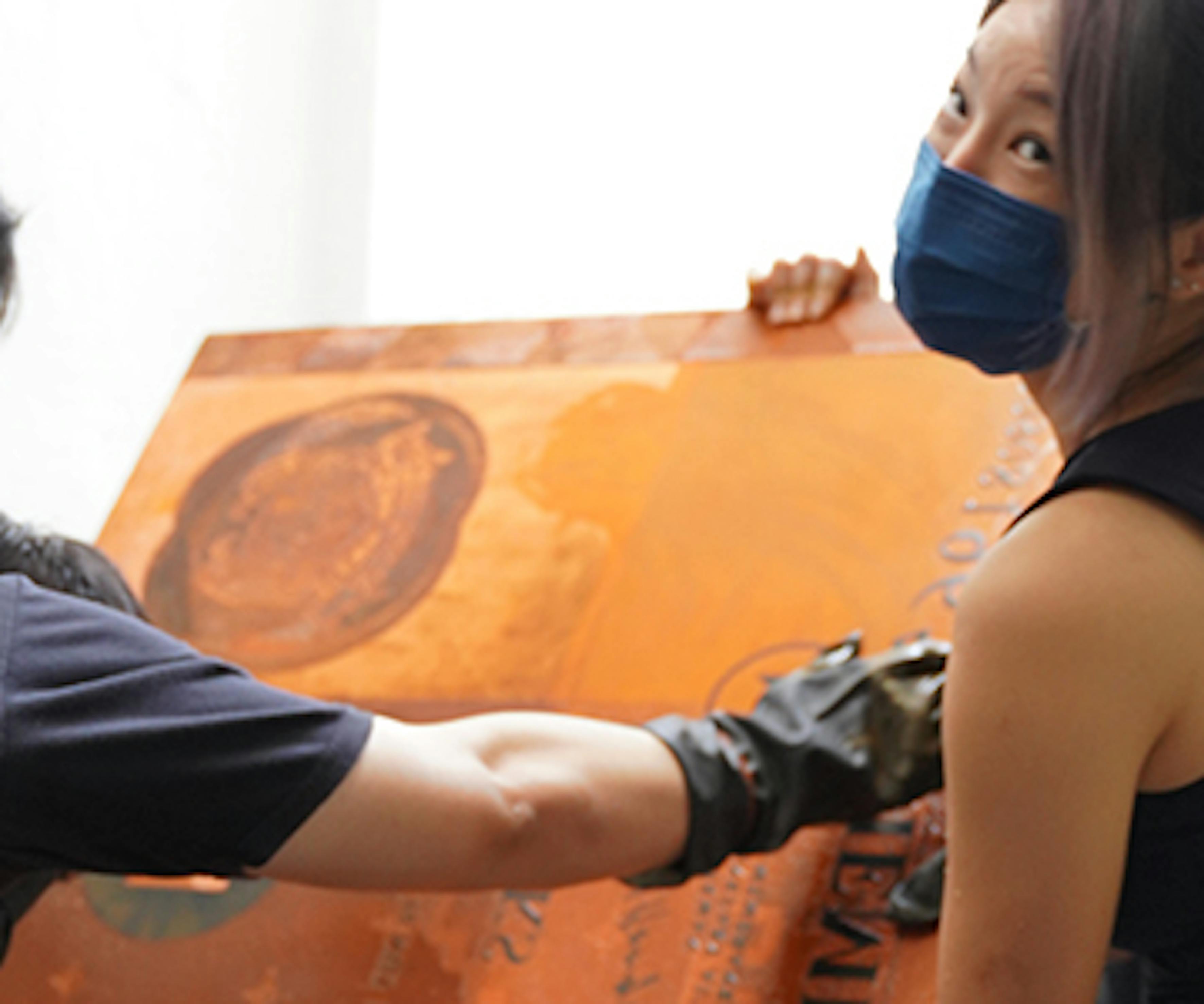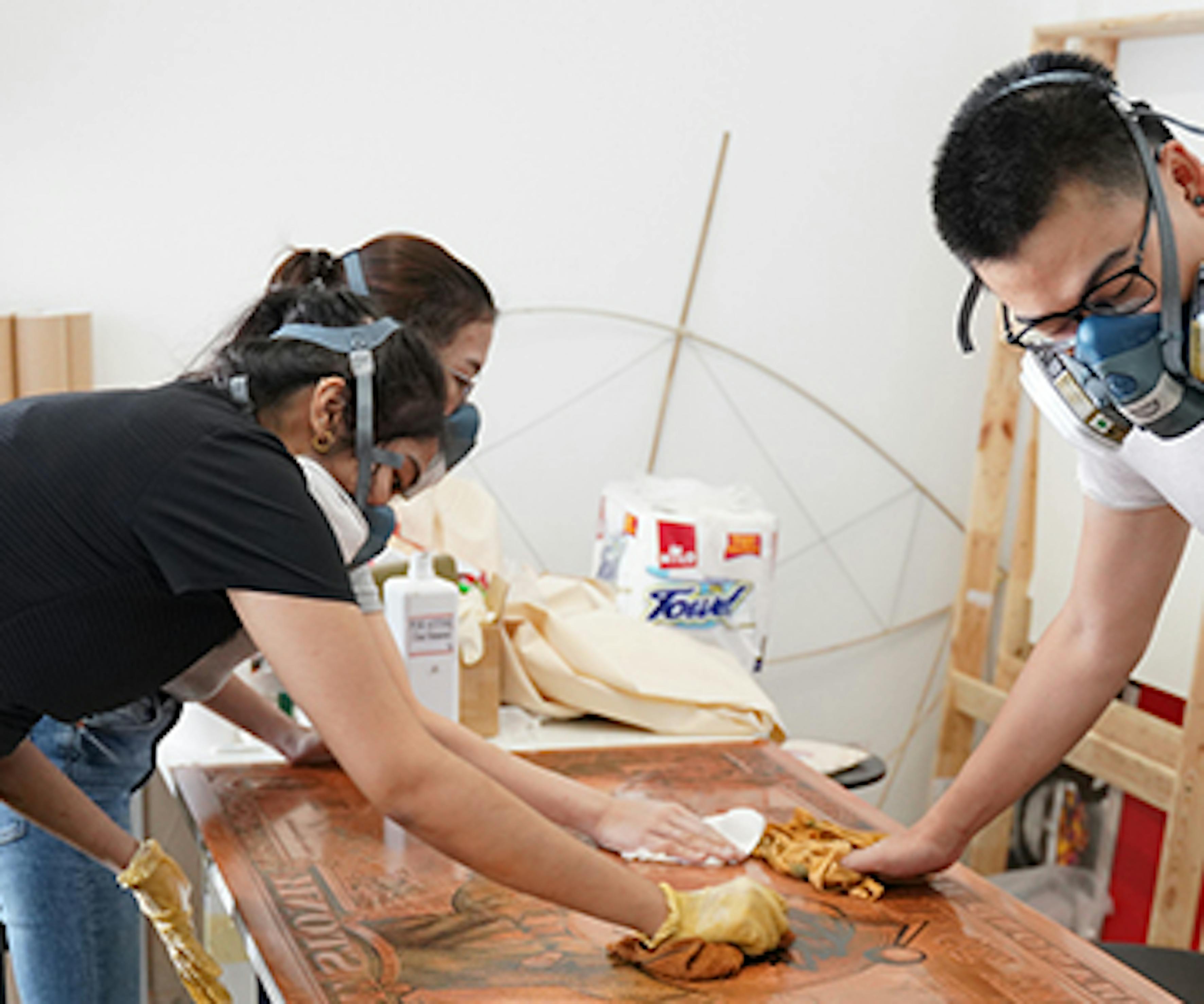 I am really proud of what we have accomplished for this collection. From the sheer technical feat of etching the massive copper plates to embracing new technologies in how art is sold and owned, we have kept an open mind to doing things that have never been done before. The themes we explored with Memebank will remain part of the studio's future endeavours and continue to push us in exciting new directions. This is only the beginning.

Red Hong Yi
Founder of Memebank
TIME NFT Pieces
22 Sep 2021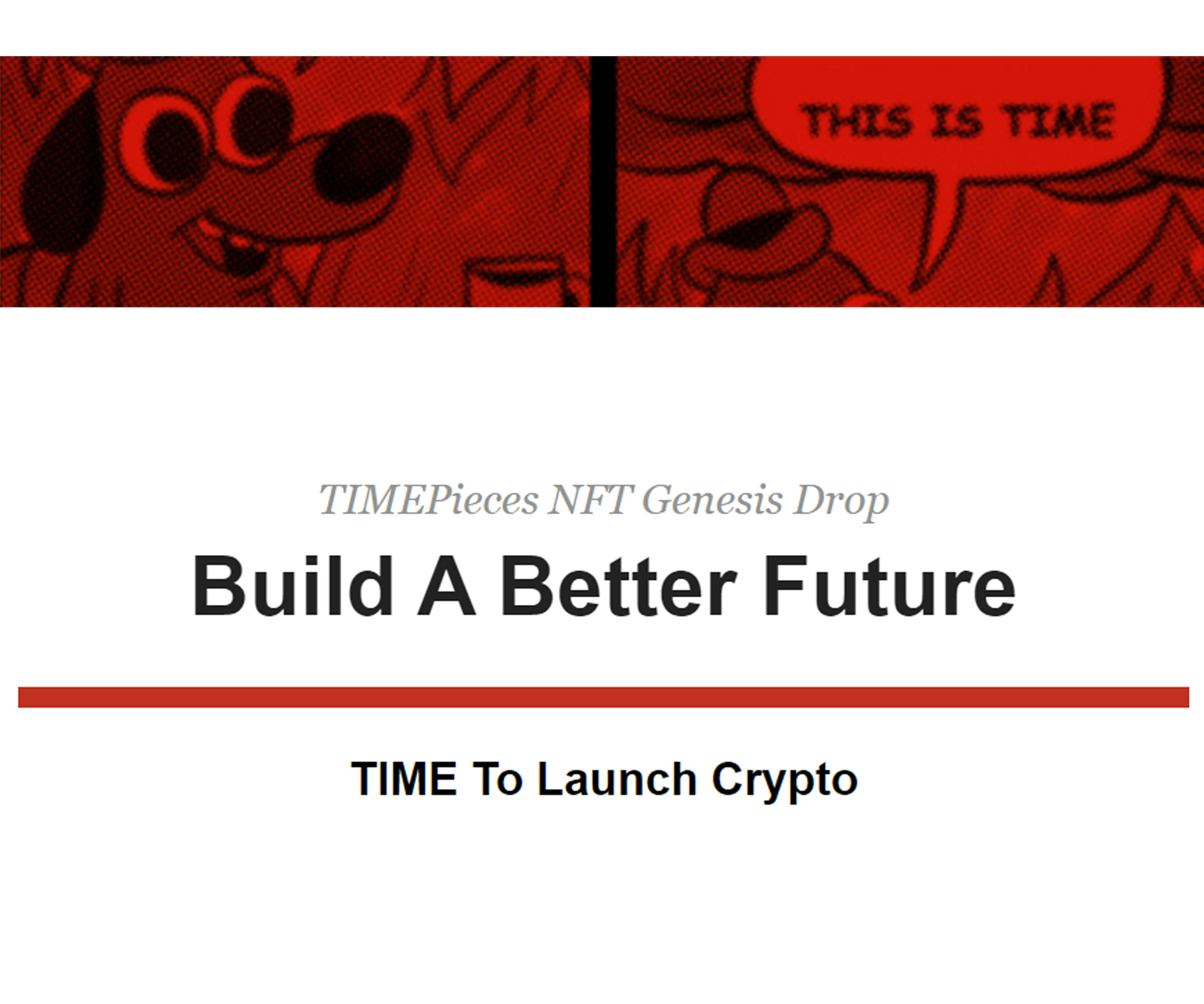 Awhile back, TIME Magazine dipped their toes in the crypto pond by releasing 3 special edition covers as NFT's. For an establishment with a long history and rich heritage, it was a bold statement of their adaptability and fearlessness in exploring new technological frontiers.

Today, TIME is going all out with the launch of their genesis drop, titled TIME Pieces Build A Better Future. Kenji Chai and I, alongside 40 other artists and creatives of various disciplines, have each created a new artwork in collaboration with TIME. The launch will be a blind drop, with each NFT priced at 0.1 ETH. Each artists' editions will range from 1 to 100. 

TIME Pieces Build A Better Future is now available for sale on Thursday, September 23rd at 12PM ET here. For more information, visit nft.time.com.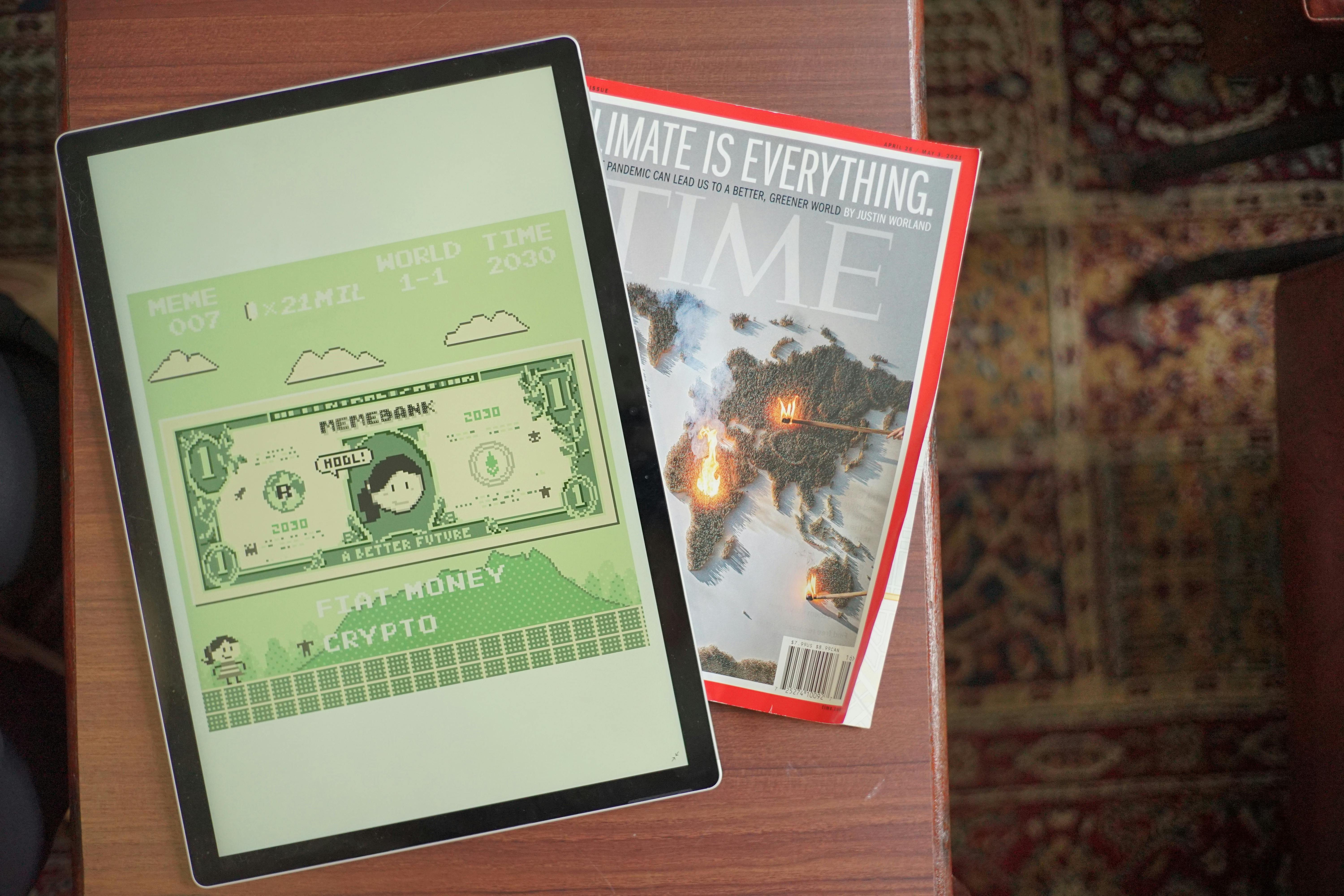 Little Red Chooses Her Future
My piece for TIME is called "Little Red Chooses Her Future" and there will be 10 editions of it within the collection. As an artist who has worked exclusively with physical material and made only physical artworks, this piece is significant because this is the first time I have done something completely digitally.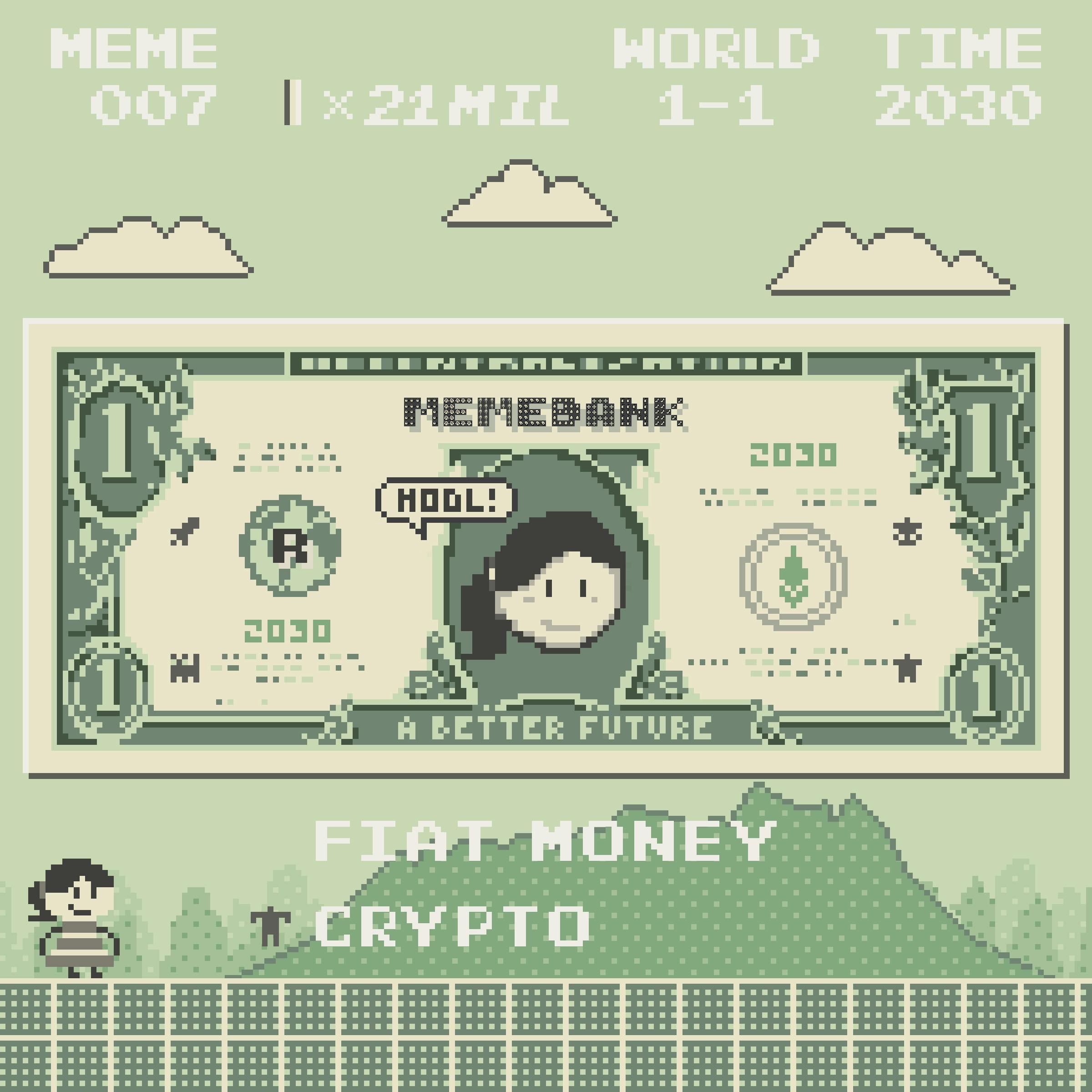 In the artwork, a little pixelated girl with a pixelated mountain in the background looks excitedly into the future as she is given the option to begin her adventure with either fiat money or crypto. This little girl is from Borneo, and the mountain in the background is Mount Kinabalu, the highest mountain in Borneo. Lush forests surround the mountain, and the land is rich and healthy. The banknote in the center reflects a changing perception of currencies and their role in our time. This banknote is issued by Memebank, a parody central bank that pokes fun at fiat currencies with crypto meme culture.
Hidden in this banknote are "easter eggs" such as morse codes, a very pixelated "decentralized" text, and even smaller pixelated icons. I hope we will build a better future so that little girls will be empowered to choose their own adventures in a world that celebrates nature, technology, and the human race.
Featured list of artists for TIMEPieces
Addie Wagenkenct · Allison Dayka · Baeige · Bisa Butler · Cath Simard · Charly Palmer · Destiny Kirumira · Diana Sinclair · Drue Kataoka · Dylan Urquidi · Ed Gabel & Ian Brown · Edel Rodriguez · Emonee LaRussa · FVCKRENDER · Houda Bakkali · Isabel & Marcos Samaras · J.N. Silva · John Knopf · John Mavroudis · Julie Pacino · Justin Aversano & Nicole Buffett · Kendall Chambers · Kenji Chai · Lethabo Huma · Marc Burckhardt · Mari Katamaya · Micah Johnson · Olive Allen · Oscar Mar · Parin Haderi · Red Hong Yi · WhereIDraw · Sarah Kanu · Shana Wilson · Steve Warner · Tim O'Brien · Tyler Gordan · Victor Mosquera · Viktoria Modesta · Yvette Hammond
Pos Malaysia And War Veterans
16 Sep 2021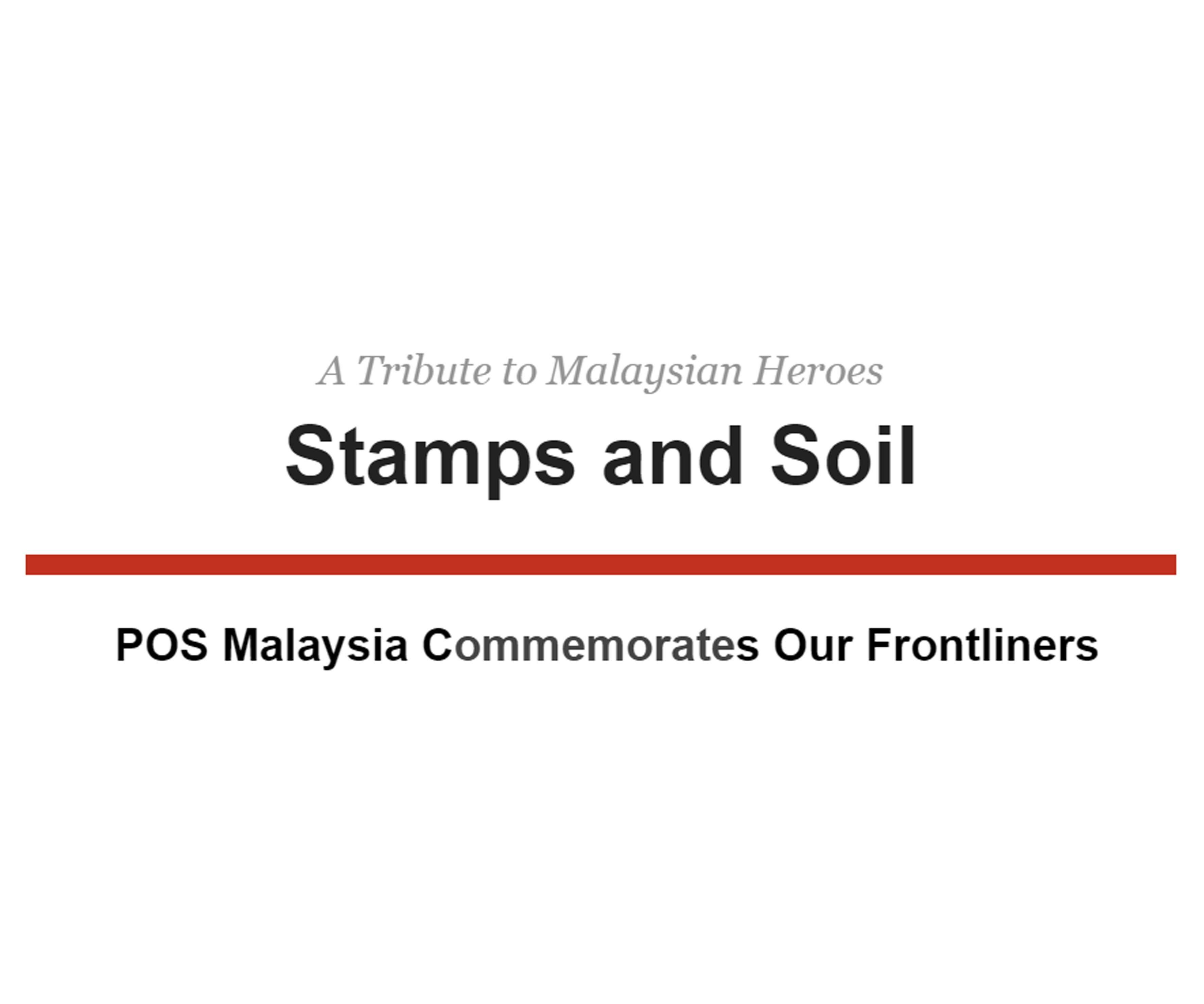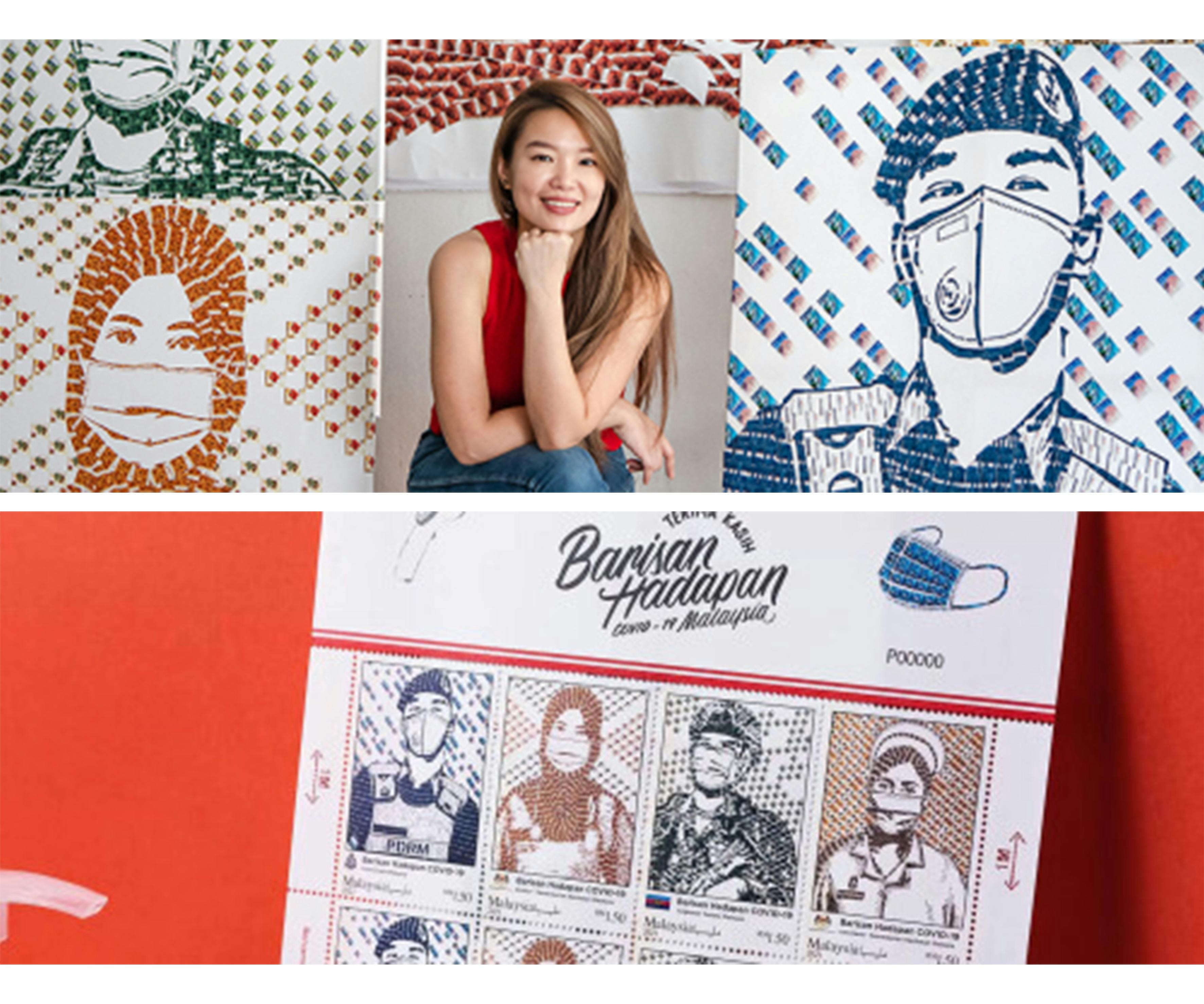 Last April, we were approached by POS Malaysia to work on a special series of commemorative stamps to pay tribute to our Malaysian frontliners and the sacrifices they have made in the fight against COVID-19. After months of planning, sketching and stenciling, we created four portraits of stamps made out of stamps. There's a collective effort shown in the artwork, with individual pieces coming together to form something larger than the sum of its parts. In many ways, our frontliners have been doing just that the past 18 months, uniting in their common goal to save Malaysian lives.

To our frontliners - thank you so much for all you've braved through during these crazy times. You can purchase these stamps from selected Malaysian post offices or from the Pos Malaysia website.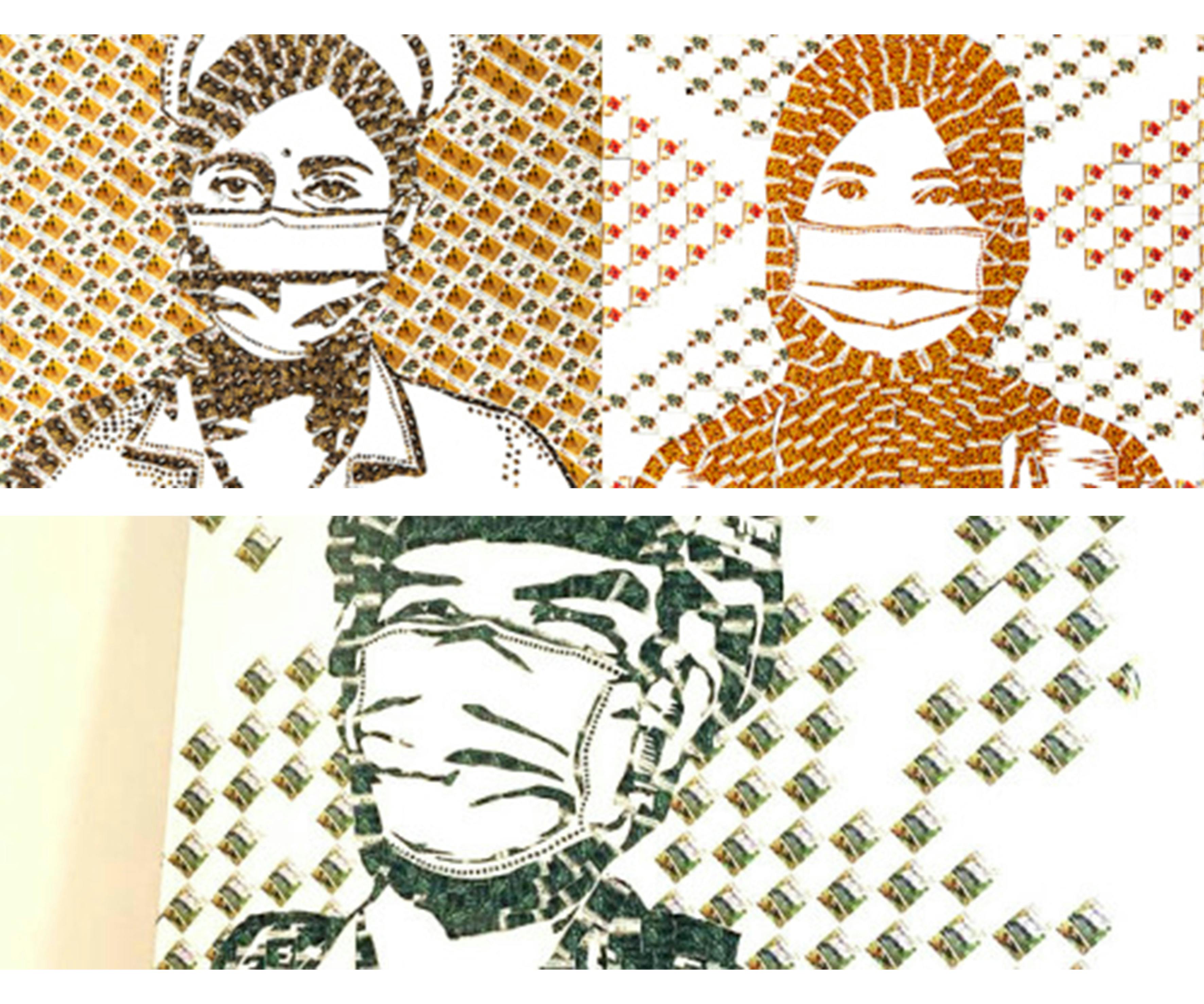 Many thanks to Joanne and Ideology for their help with the layout of the stamp collection and to Wilson, Alvin, Drew and David who worked with me on this project. 
________________________________________________________________
Remembering Our Veterans On Malaysia Day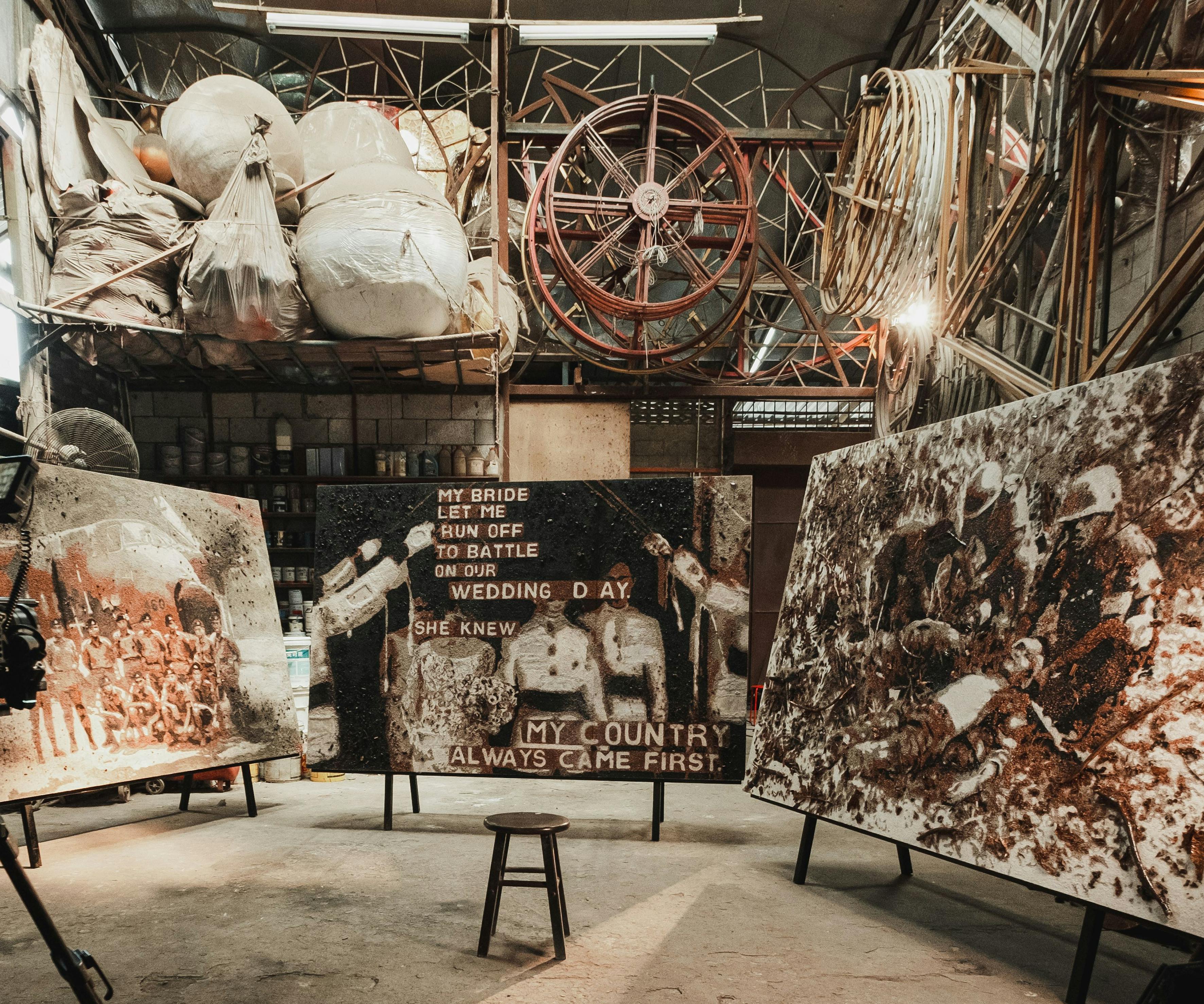 As we celebrate Malaysia Day today, the team and I are incredibly honored to have the opportunity to create and present three artworks to our nation's veterans. In collaboration with Astro and Naga DDB Tribal, the artworks were made in response to a documentary chronicling the struggles and difficulties faced by our veterans and their families during the era of Konfrontasi and the insurgency of communists.
We chose to focus on the concepts of Tanah Tumpahnya Darah Ku and Tanah Air Ku, to illustrate the unbreakable connection between our veterans and the land they chose to serve and protect. The artworks show three photographs of actual events, drawn in soil sourced from West and East Malaysia and sealed in resin.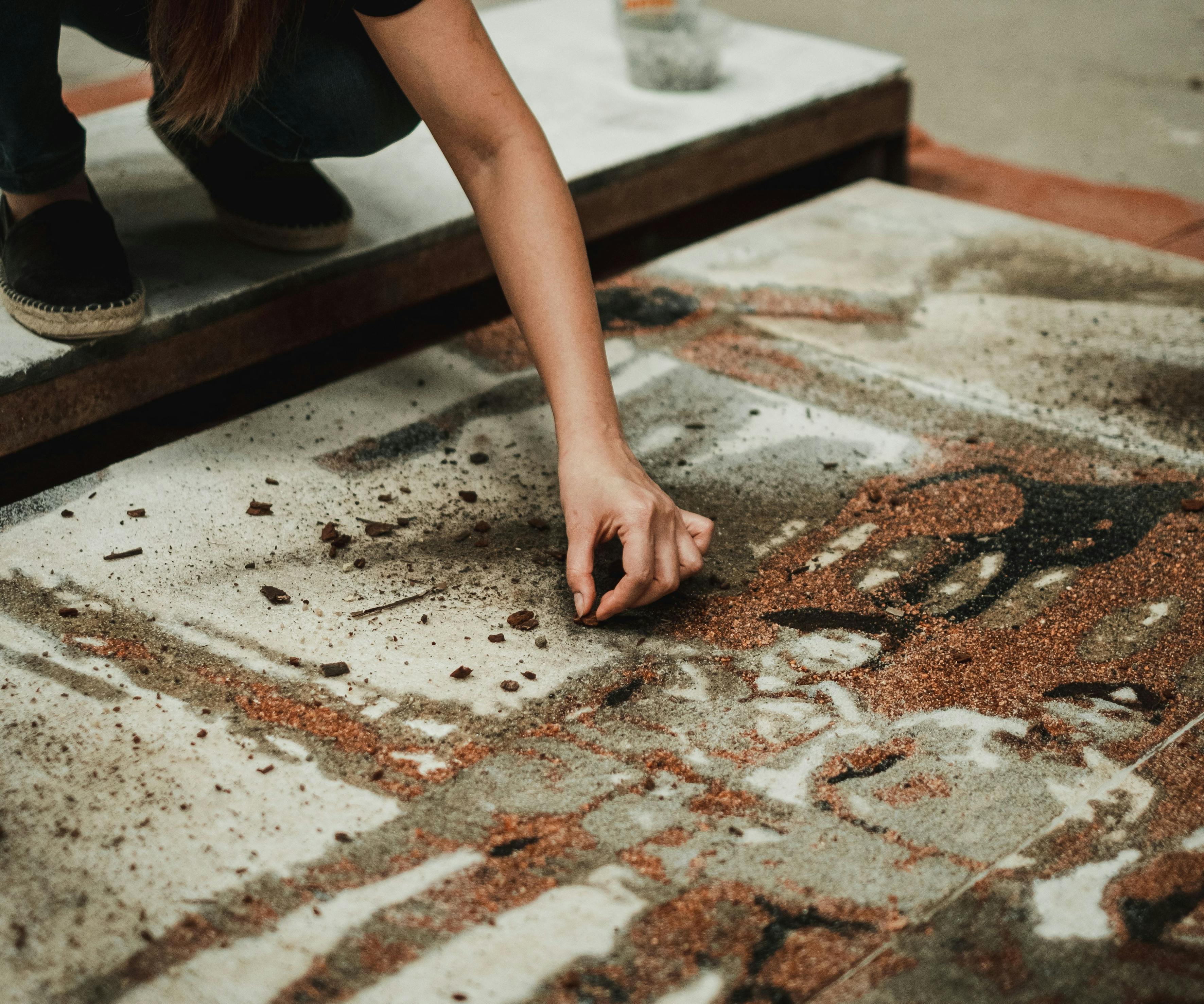 We had the privilege of talking to a few of our veterans in the research process and got to hear some incredibly inspiring and heartbreaking stories. Stories of not seeing families for months on end, missing the childhood years of their children and losing close friends in combat. They understood the cost but they also knew that someone had to do it. It was most touching to me to see how these veterans came from all different races, backgrounds and various parts of Malaysia - peninsula, Sabah and Sarawak. One of them told me, "Why would race matter when you're fighting for your country?"
To all of them, their relationship with Malaysia is one of loyalty, servitude and love. Their sacrifices then secured our peace now. I hope we get to treasure their legacies and to follow in their footsteps in building a better nation - or nations - together.

- Red Hong Yi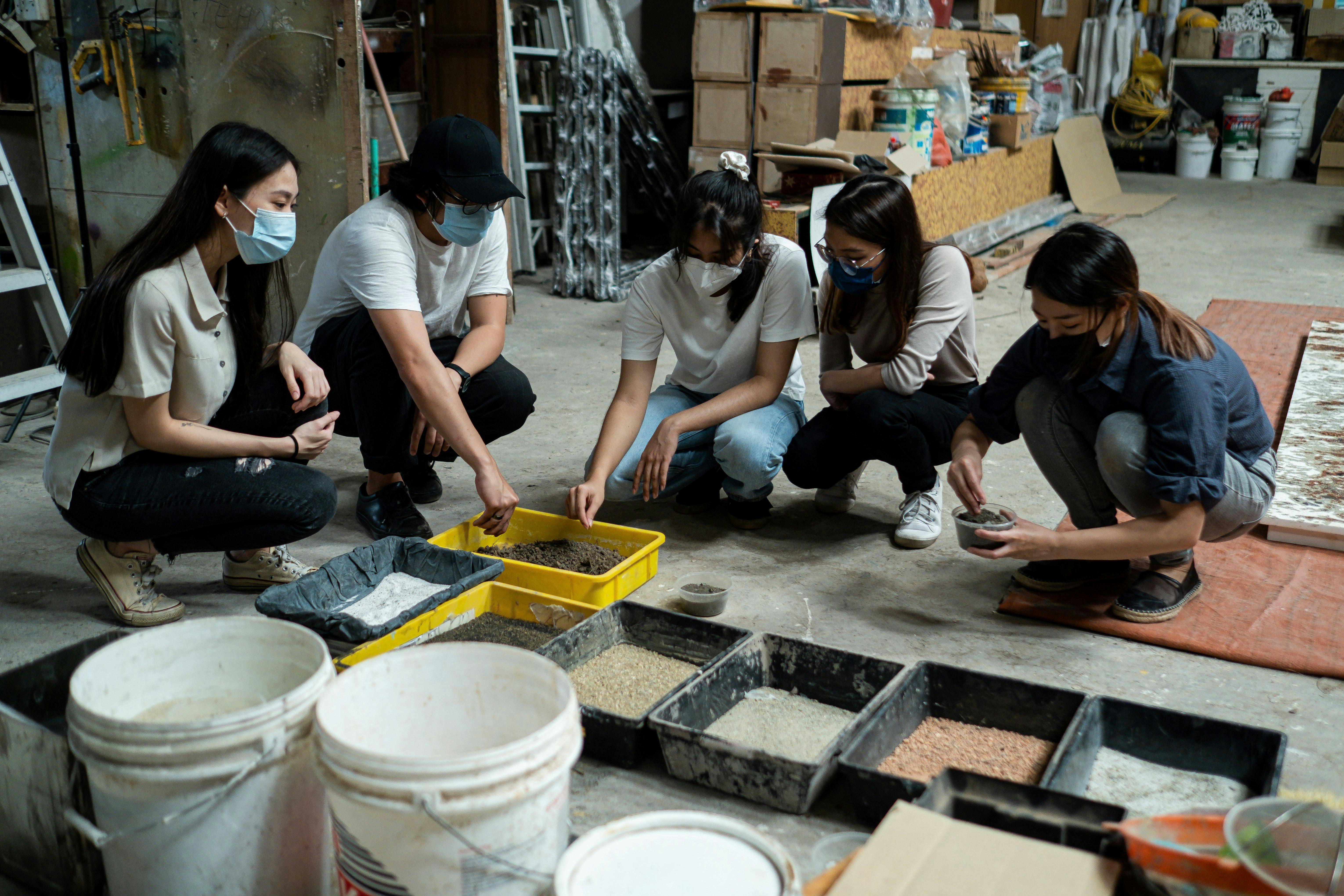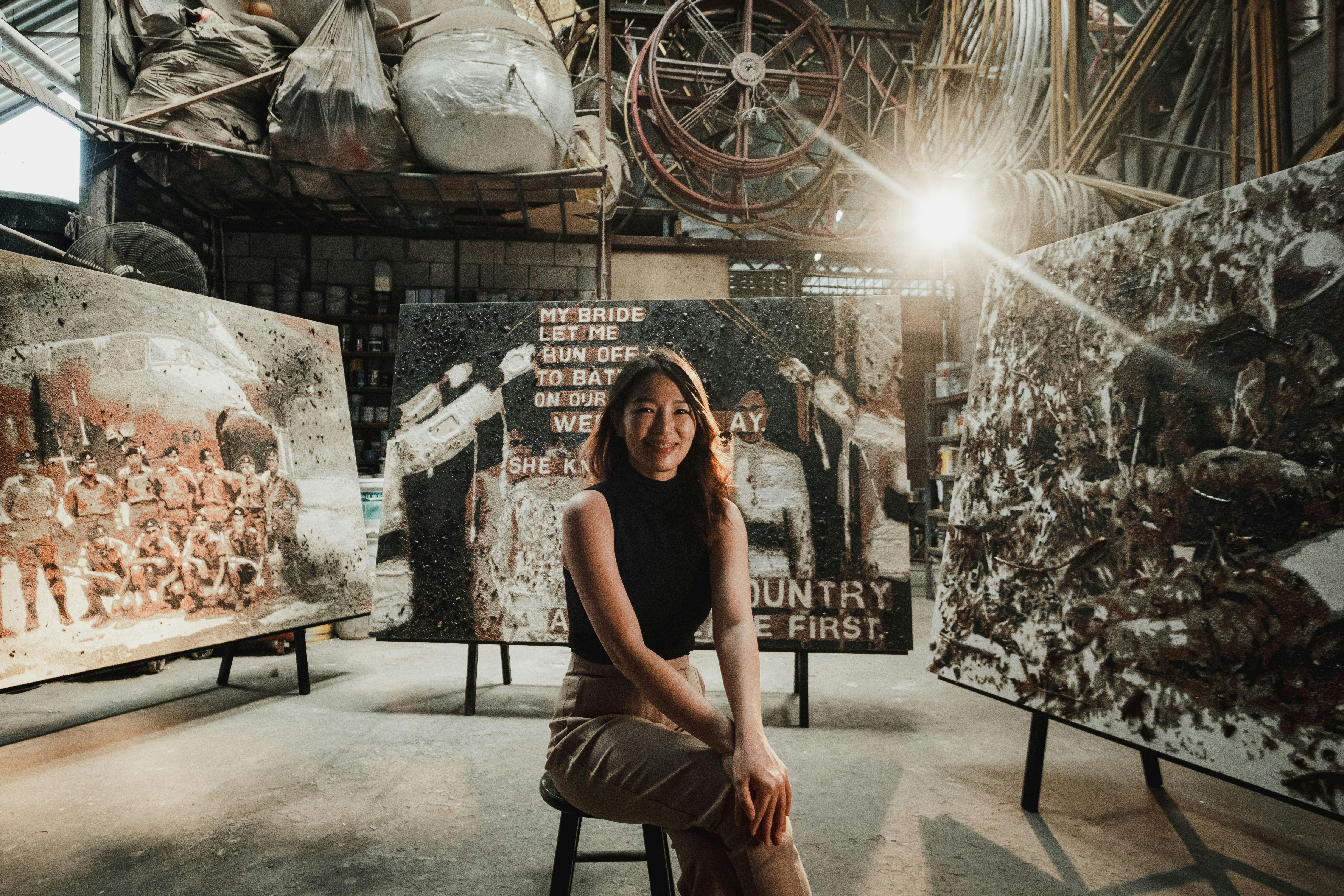 Memebank Auction Closing
19 Jul 2021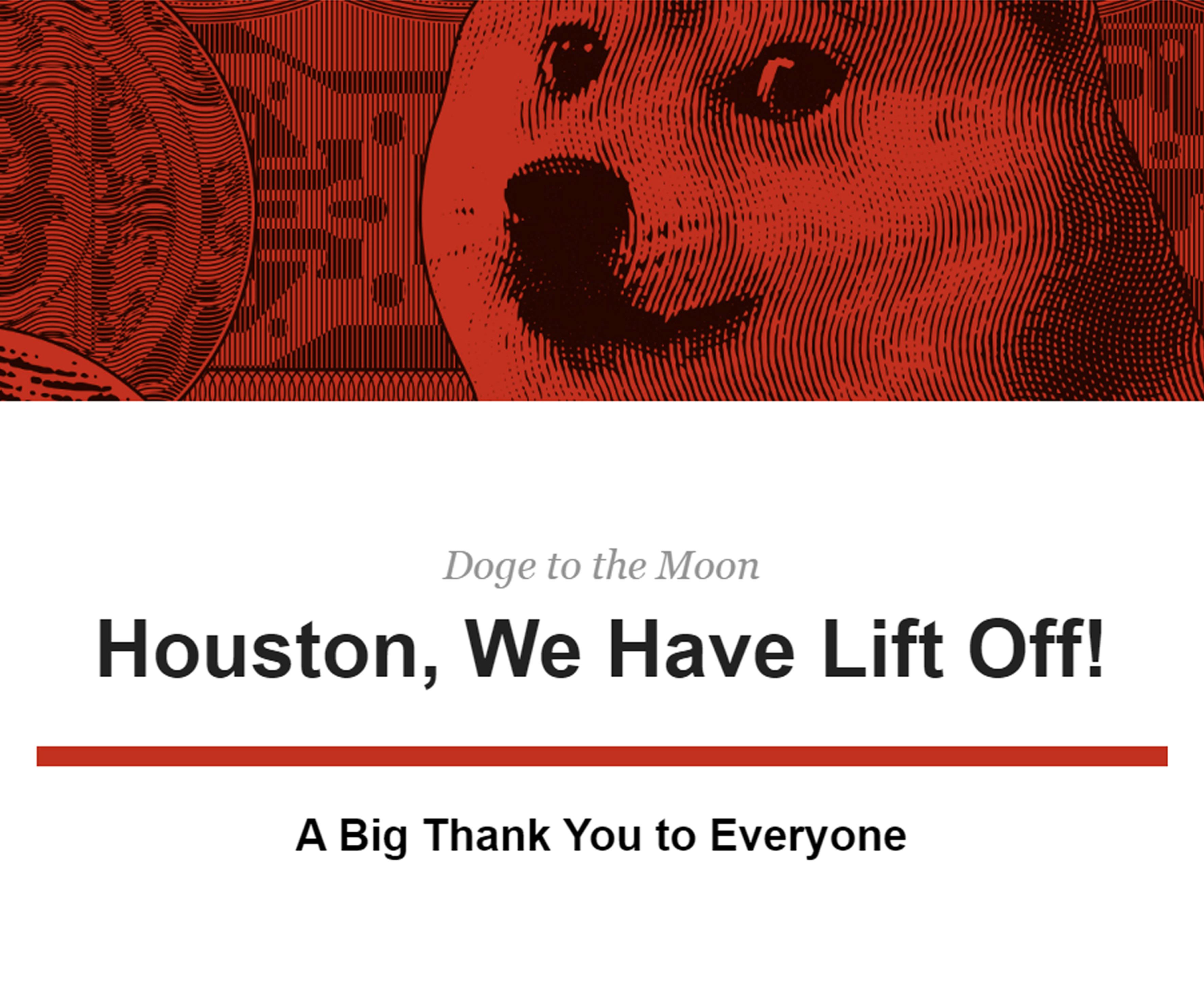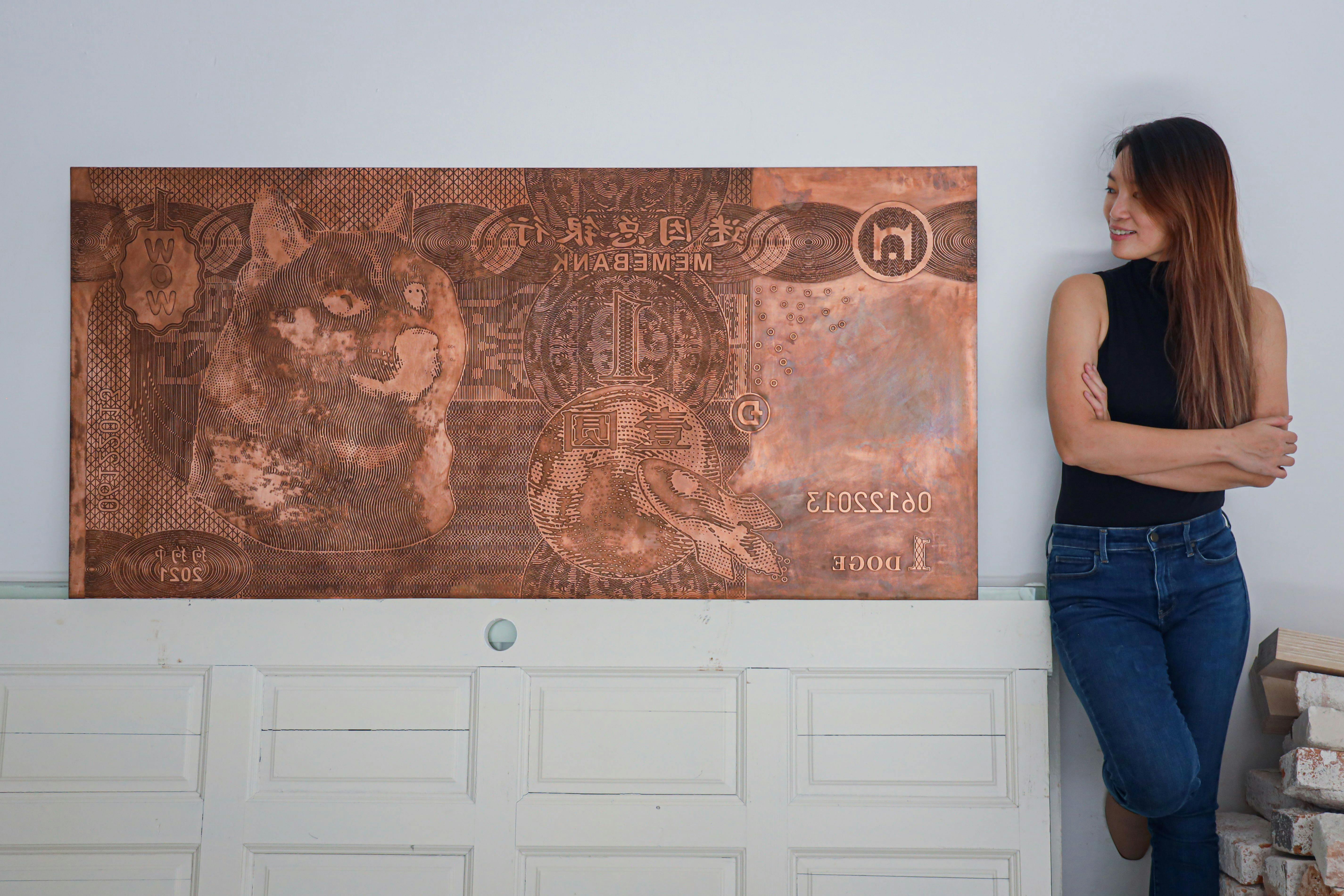 Auction for Doge to the Moon ended on 11th July 2021 in the most dramatic fashion possible with a final bid placed at the last 10 seconds. To read more about how it went down, click here for the bid history and here to go to The Star Malaysia's article on it.

To everyone who shared messages of encouragement and showed support for my first NFT release, thank you so much for being part of the journey. No one in the studio expected the response we got as we approached the deadline for the sale. We knew we were venturing into unexplored territory, etching copper in such a scale, satirizing fiat currencies with memes and using NFTs to authenticate and prove ownership of a physical art piece. The amazing reception is proof that the people are excited for new or alternate art forms that challenge the status quo. 

Thank you all for getting Doge to the Moon. We can't wait to show you what we have planned for the rest of the collection!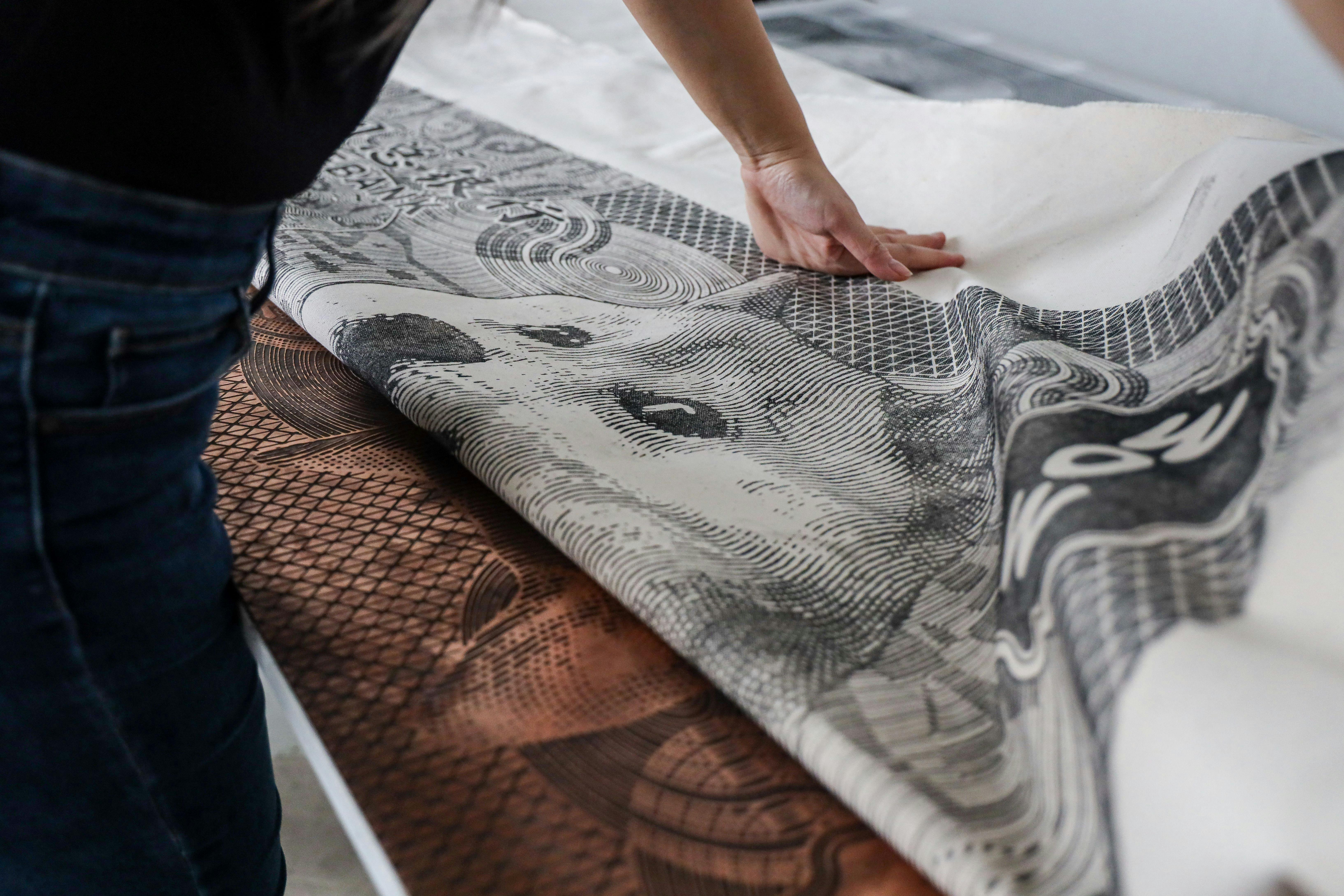 I will be donating a portion from the sale to Mercy Malaysia's COVID-19 Pandemic Relief Fund. You may find the donation page here if you wish to make a contribution as well. 

The team and I will also be looking at ways to help the local art and design community. There are so many talented and dedicated creatives here in Malaysia that can do with every bit of support we can give so I hope we can do just that very soon. 

With what is happening, the challenges that so many are faced with right now, I hope that the spirit of togetherness and kita jaga kita can keep us fighting until we see better days.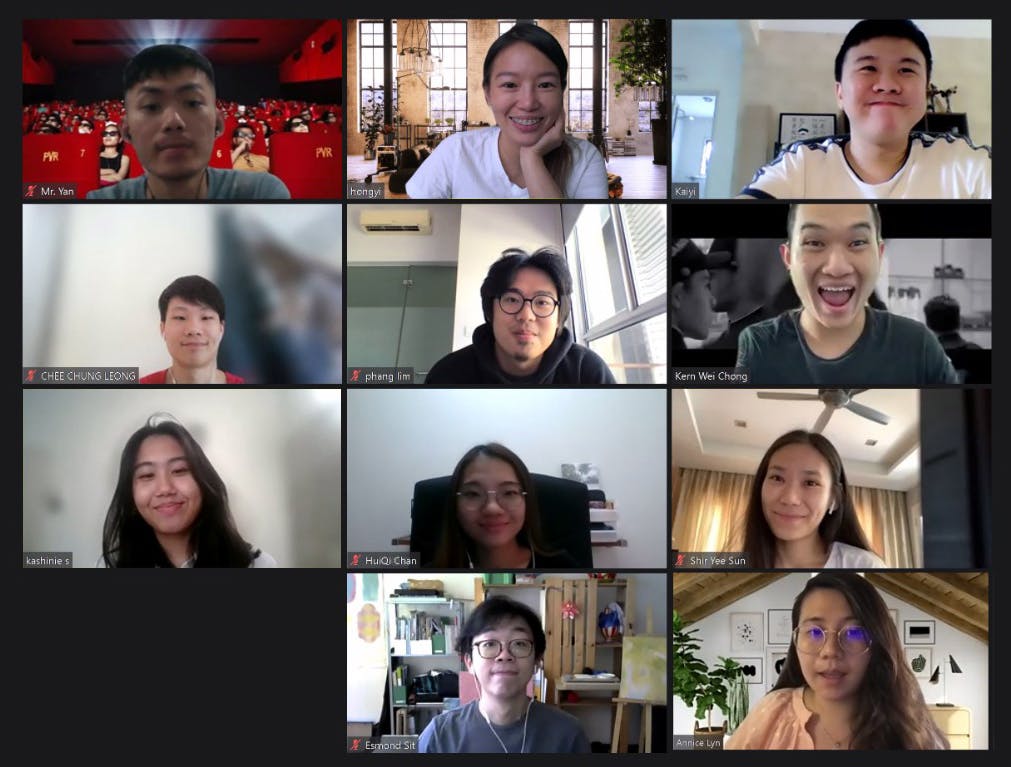 The Studio Red Hong Yi team has grown! We had 4 apprentices join us earlier this month on a 6 months apprenticeship program sponsored and organized by Cendana and they will be working with the team on all current and upcoming projects. We are excited to keep pushing for greater things and making more art so we will see you in the next one!

- Red Hong Yi


Memebank 27th June Launch
27 Jun 2021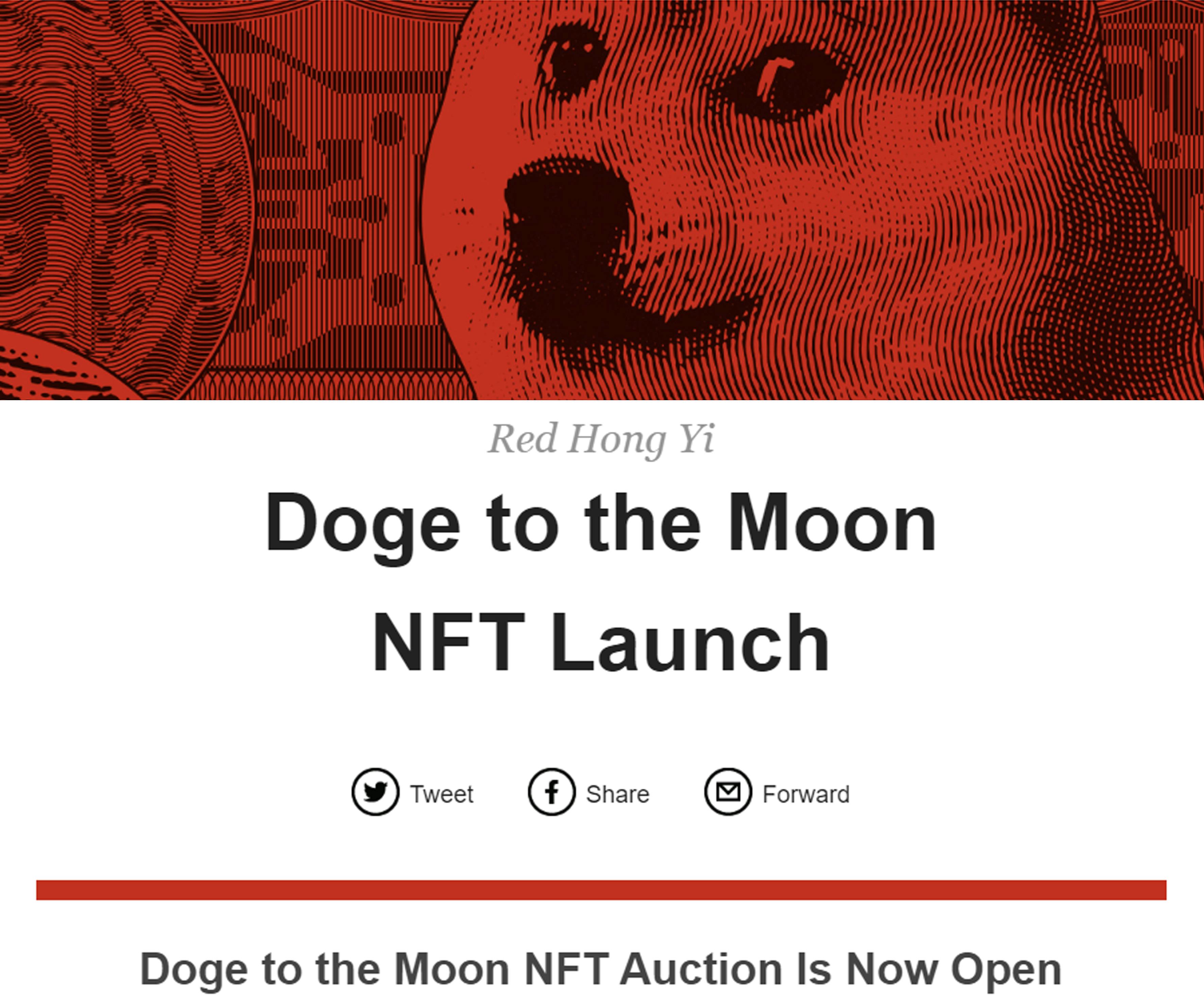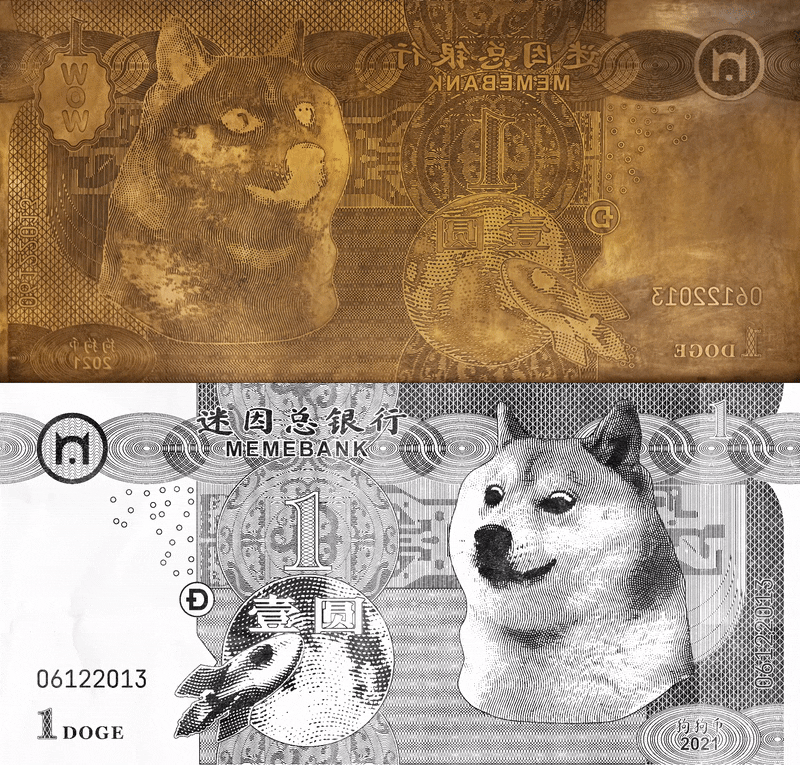 Doge to the Moon
First of 6 in the series is Doge to the Moon. Inspired by the recent surge of interest in Dogecoin and its subsequent effects on the cryptocurrency market, Doge to the Moon plays on the power of memes in driving market forces and juxtaposes its probable significance in driving the Chinese government's efforts in developing their version of cryptocurrency. 

Doge to the Moon is now up for auction on the Binance NFT marketplace. There will be two versions of the art piece available to collectors.

*Auction ends 11th July 2021 at 9:00pm (GMT +8)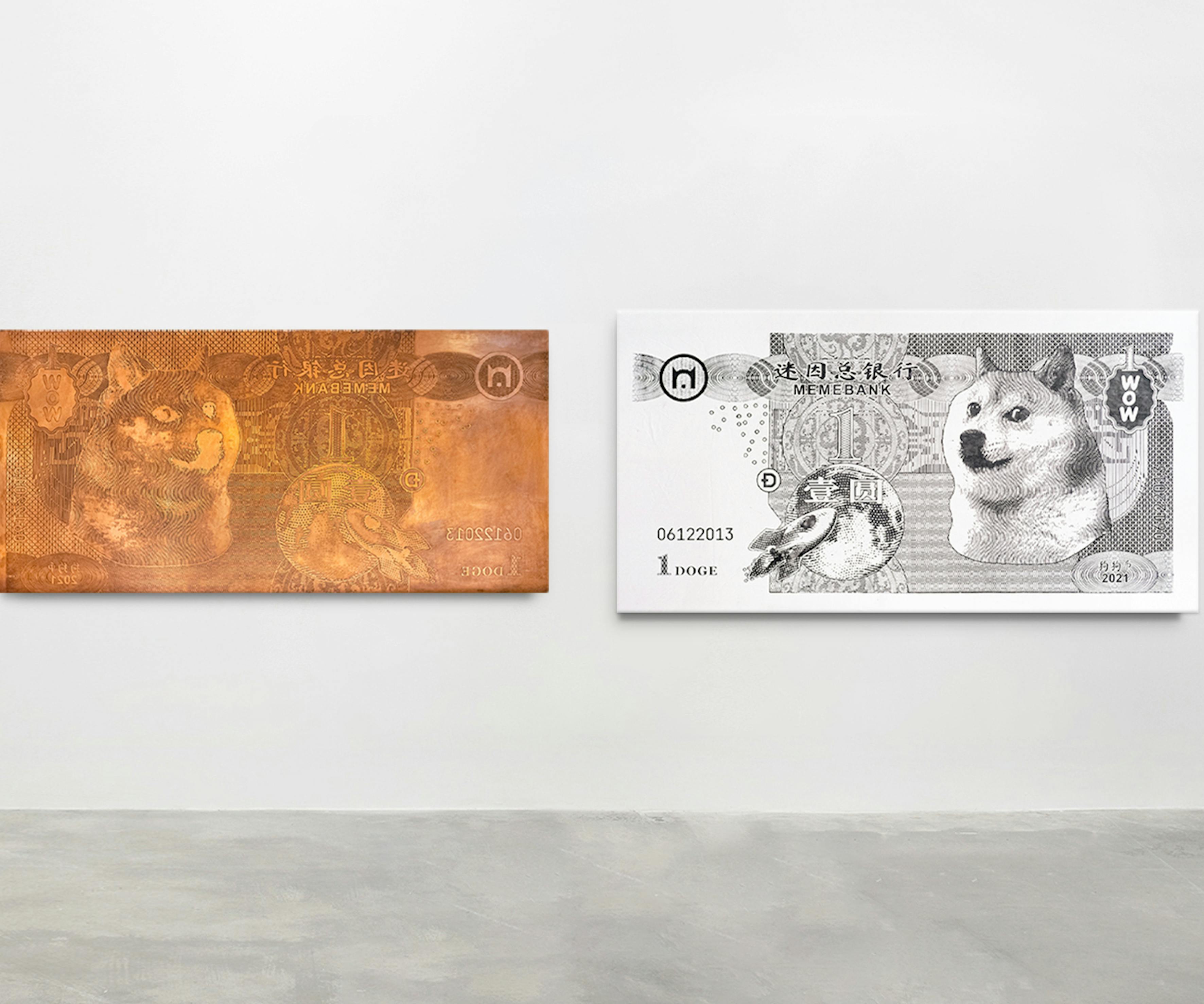 Doge to the Moon - Master Copper Printing Plate Edition of 1
。Exclusive ownership of the one-off copper printing plate
。Exclusive ownership of Doge to the Moon animated digital artwork
。Ownership of a 1:1 physical print on silk
。To be delivered to the winning bidder anywhere in the world.
。Includes NFT token certifying authenticity and proof of ownership
。Dimensions: 157.5cm x 75cm x 0.15cm
*Auction ends 11th July 2021 at 9:00pm (GMT +8)
Doge to the Moon - NFT Digital Artwork Edition of 10
。Ownership of 1 of 10 editions of the digital artwork
。Includes NFT token certifying authenticity and proof of ownership
。Resolution: 5270 x 2740
*Auction ends 11th July 2021 at 9:00pm (GMT +8)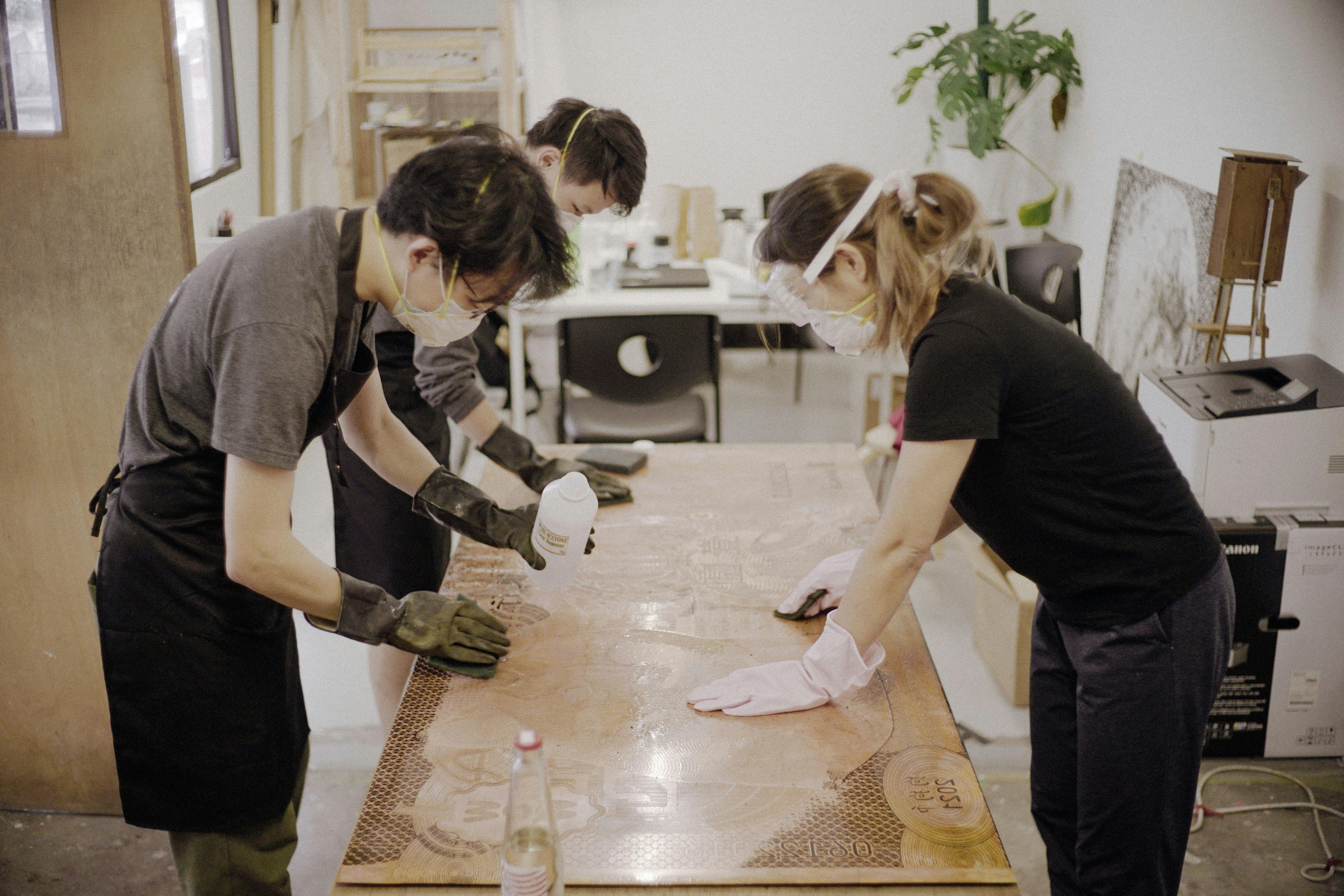 __________________________________________________________________
Memebank NFT Series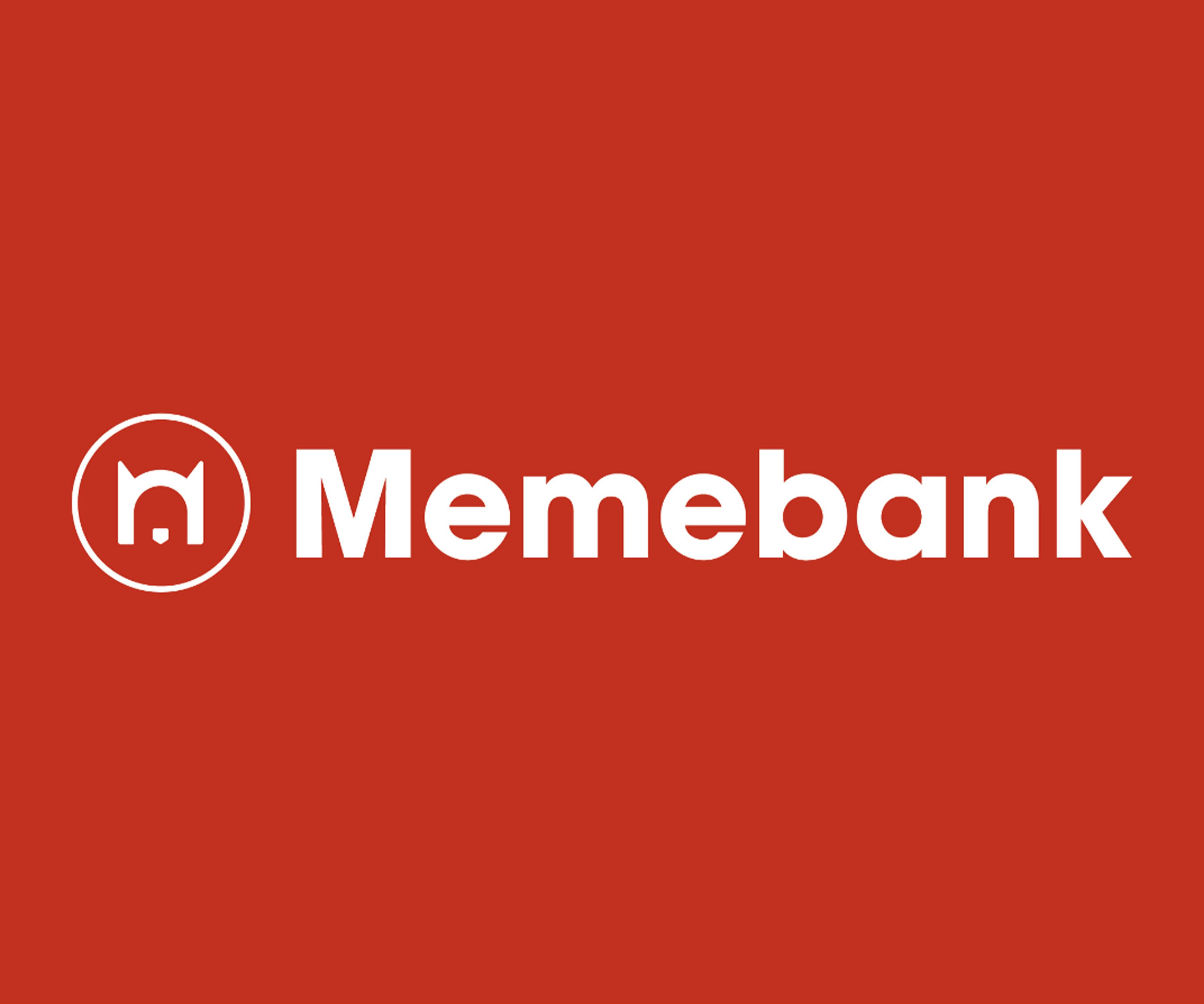 Coming Later to the Collection
NFT promises to make the collecting of art transparent and traceable, utilizing the decentralized, distributed and public nature of blockchains to authenticate works of art. For the "Memebank" series, there will be limited editions of 
。6 Unique Meme-inspired Banknotes Etched in Solid Copper Plate (Edition of 1)
- #1 Chinese Yuan (RMB) - "Doge to the Moon"
- #2 Japanese Yen (JPY) - To-Be-Announced
- #3 US Dollar (USD) - To-Be-Announced
- #4 Malaysian Ringgit (MYR) - To-Be-Announced
- #5 Euro (EUR) - To-Be-Announced
- #6 British Pound (GBP) - To-Be-Announced
。NFT Digital Artworks for All Banknote Designs (Edition of 10)
All editions of the artworks will be minted with their own unique NFT tokens, certifying authenticity and proof of ownership. 

A New Exhibition Experience
A physical exhibition is being planned for early-October 2021 in KL and will feature all the physical art pieces on display, alongside limited and open edition art prints, branded merchandise and more. 

More details will be announced soon so look out for further updates on my social platforms and future newsletters! 

- Red Hong Yi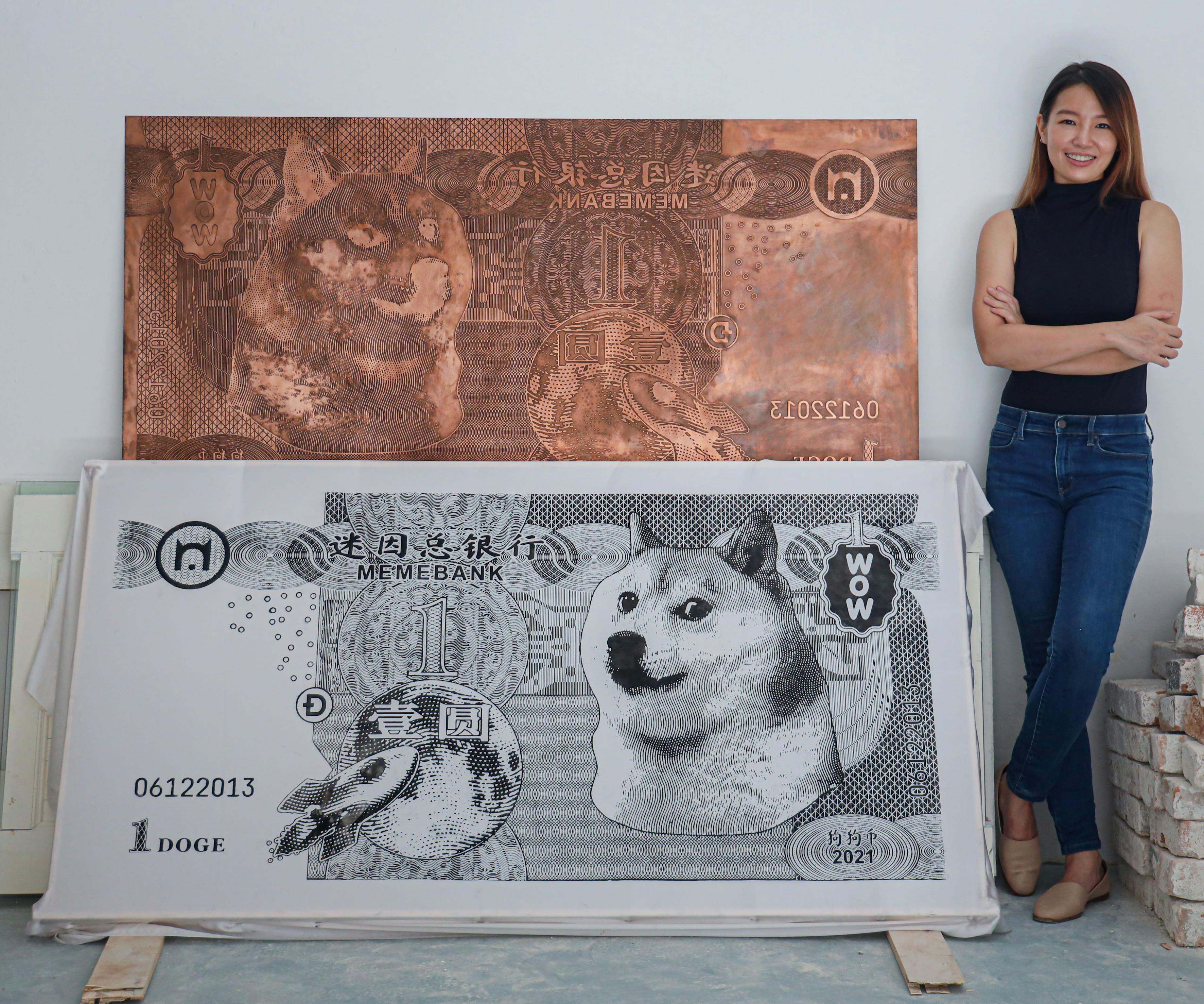 The Future of Art, Currency and Everything Else
24 Jun 2021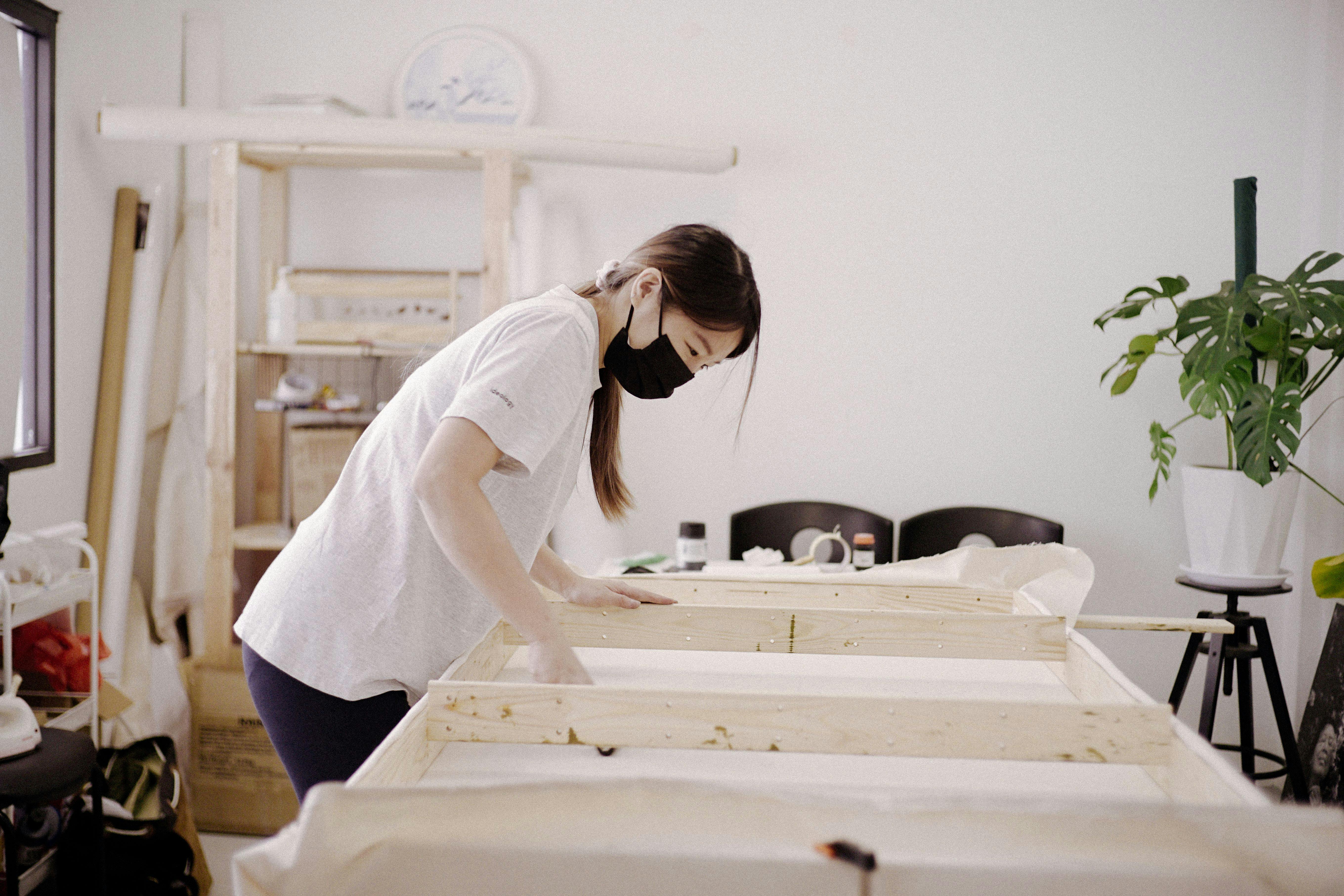 Out with the Old and in with New
Out with the Old and in with the New
Every now and then, something comes along and promises to challenge the status quo. Systems that have served us for decades, now bloated and inefficient, need to make way for new and radical approaches. We are at the cusp of such a change. Blockchain technology made waves in the financial industry when it proposed a new system to manage and exchange money. Decentralized, distributed and public, cryptocurrency sought to depose the major institutions and to put power back into the hands of the people. 

More recently, the fine art and art collecting industry embraced the potential of blockchain technology, in the form of non-fungible tokens (NFT). I spoke about how they introduce new, novel ways to collect art, giving artists and art forms that have previously had little to no representation in the art collecting world a platform to showcase their work. It also gives artists in general access to these new art types, breaking down old barriers and making way for more experimentation.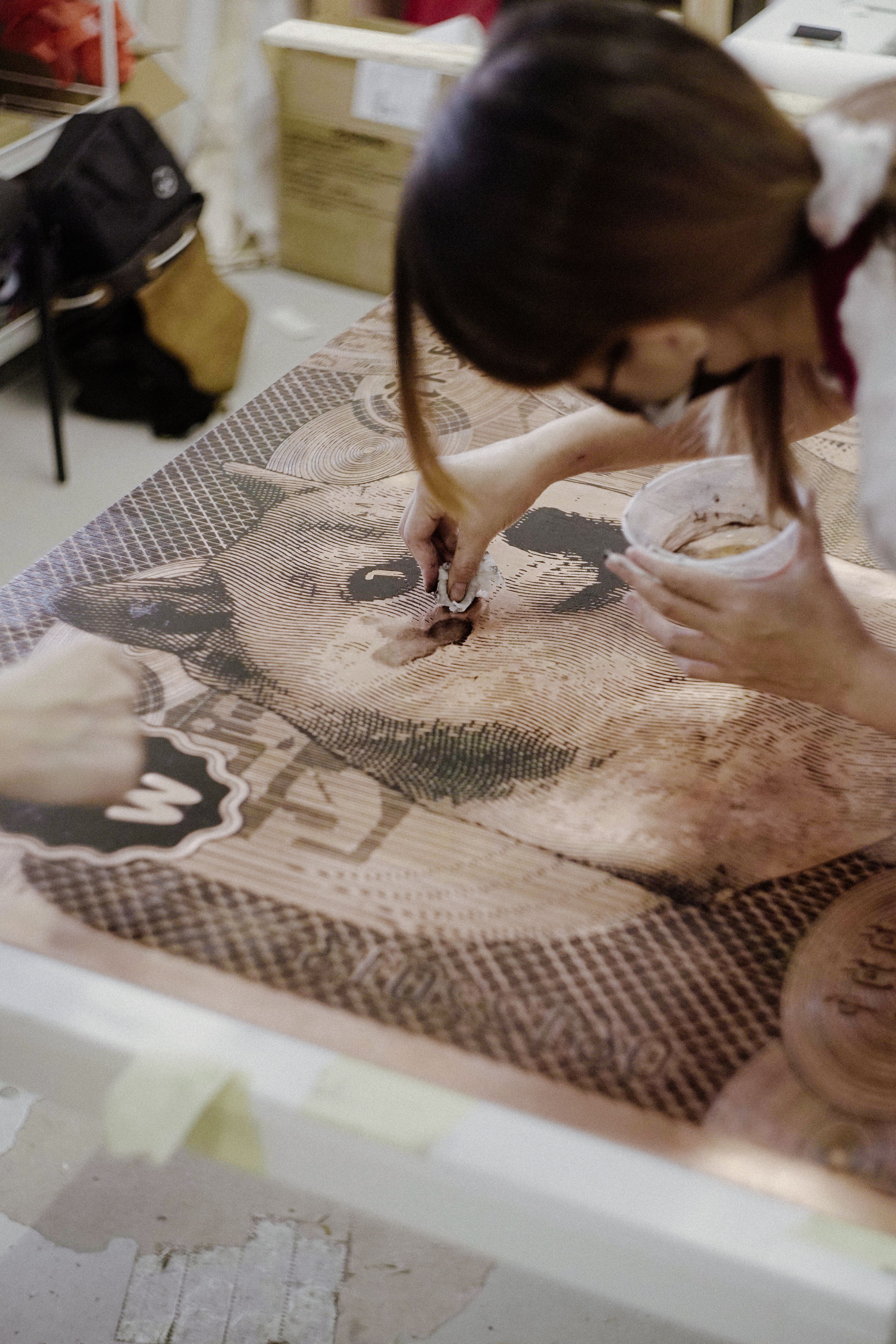 Printing Money (Wait, is that legal?)
One concern about fiat money is the continuous printing of paper money, which economists warn lead to inflation. This has led to a large community of people to seek out alternative investments. Communities on places like Reddit now significantly move markets with their force being demonstrated on trades like GameStop (GME). This combined with the virality of meme culture has made and lost many individuals their fortune.

The earliest found paper money were printed through carvings done on metal plates. I will be designing meme-inspired banknotes and etching them onto copper plates which will allow me to print as many banknotes as I want to but there will only ever be one master plate.  Much like how the government controls the right to print money, the owner of the NFT will also hold exclusive ownership and rights to print more meme currency with the master copper plate.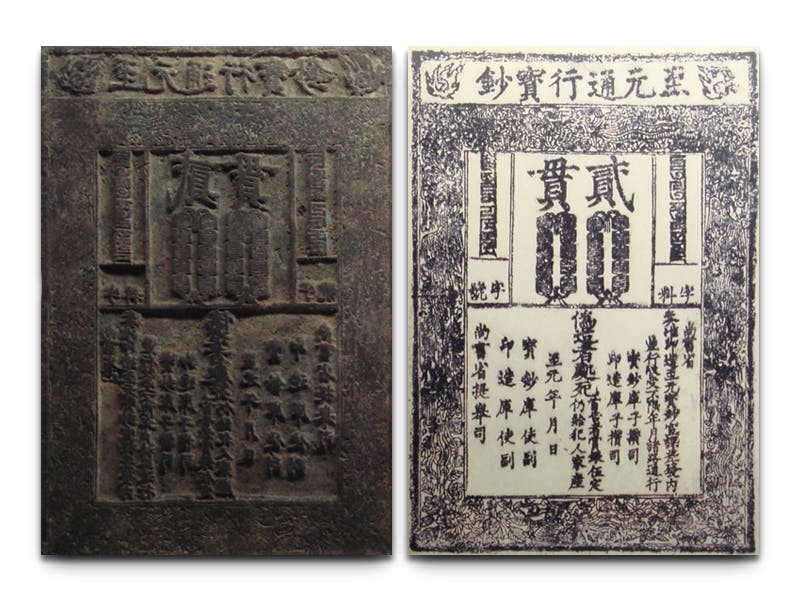 Exciting Times Ahead
With the launch of my first NFT, I look forward to exploring new ways and issues to create art with. Artists all over the world are also just beginning to tap into the potential of crypto art and every day we see new territories being uncovered, boundaries pushed and barriers taken down. I hope you'll come along with us on the journey and share this wonderful new world with us. 

- Red Hong Yi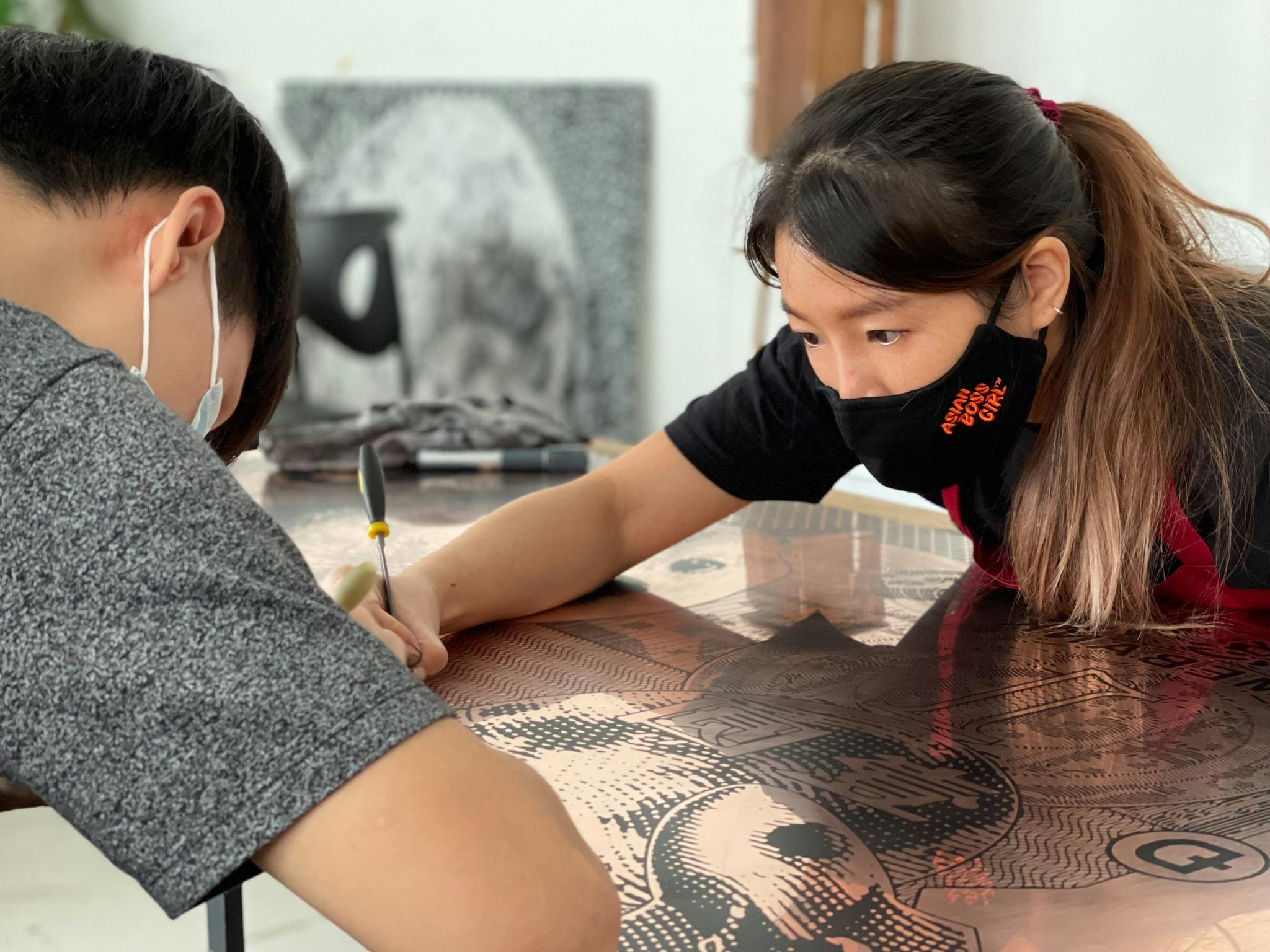 Five Things I Red: Issue 5, January 2021
01 Feb 2021
Five Things I Red
A monthly dose of five art, design and lifestyle-related things that have piqued my interest.
Here are my January picks:

1. Crypto Art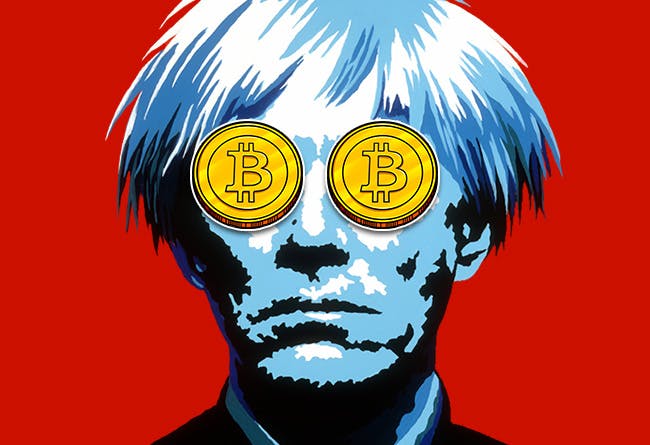 Source: Fully Crypto
 
I spent a good chuck of January reading up about cryptocurrency and inevitably ran into crypto art (thanks to my crypto friends SA and JL for introducing this strange, exciting world to me). One of my goals this year? To create crypto art.
So what the heck is crypto art?!
In short, crypto art is digital art with unique and provably rare tokens that exist on the blockchain. Just like an original physical painting signed by an artist that can have its authenticity and ownership authenticated, crypto art can be verified in the same way using an NFT or a non-fungible token.
If that sounds like a bunch of gibberish to you, that's because I condensed hours of digging around the internet into two sentences.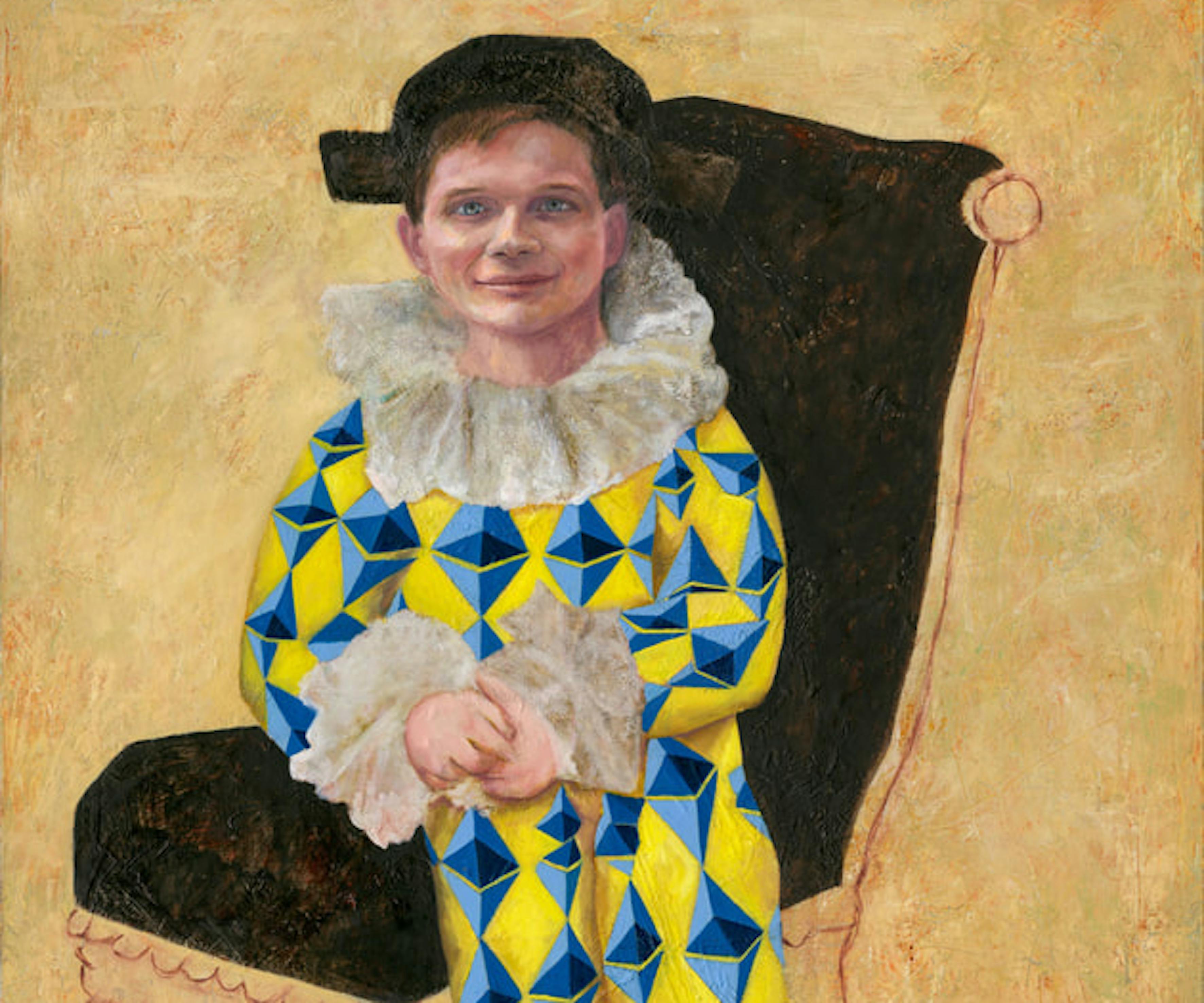 Here is an NFT painting featuring Ethereum co-founder Vitalik Buterin, dressed like a medieval harlequin. This is the default painting (or more accurately...the original painting?), but on special days - like Vitalik's birthday on 31st January (today,, in time of writing!), Vitalik will be seen holding a cupcake, as seen below: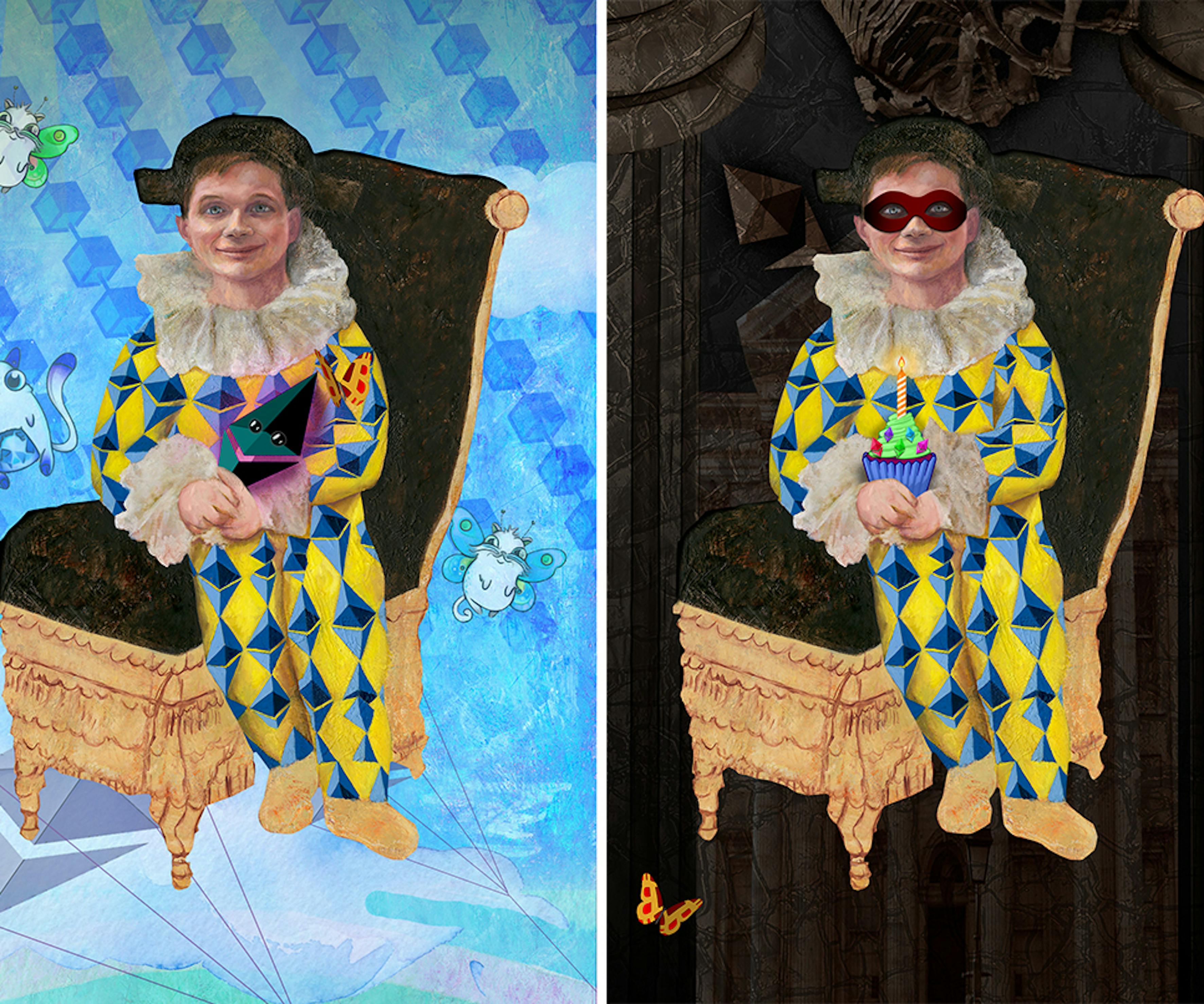 The piece sold for 260 ETH or approximately $141,536.20 in November 2020. "Ethboy" is the most paid, in dollar terms, for a work of crypto art to date.
Other artists who have been making headlines in the crypto art space are Beeple, who is known for creating one digital art a day for years now (each is so detailed, impressive is an understatement), and 18 year old surrealist artist FEWOCiOUS.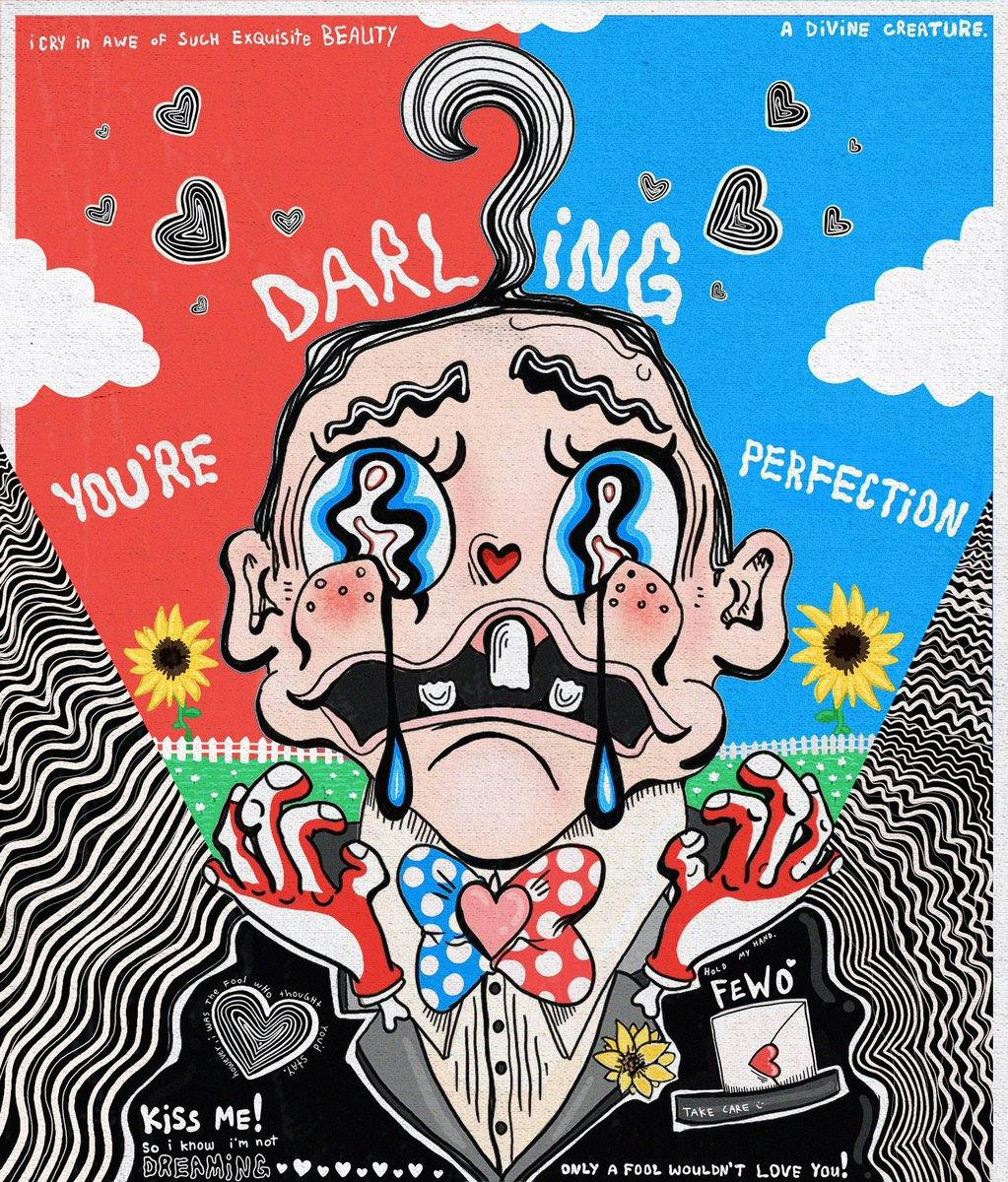 Source: FEWOCiOUS
2. "3 Science-Based Strategies to Increase Your Creativity" by Steven Kotler via TED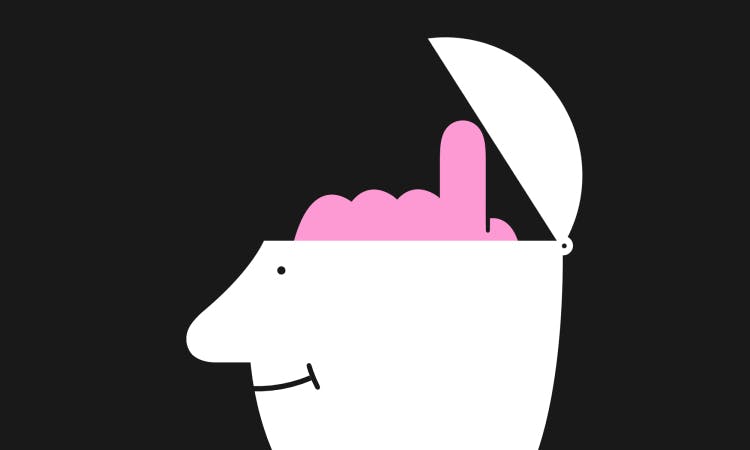 Illustration by Angus Greig
My best ideas come to me when I'm in the shower, and turns out there are science-backed reasons as to why. Steven Kotler mentions three strategies:
#1: Befriend your brain's anterior cingulate cortex (ACC). What fires up the ACC? The answer: A good mood. So was the idea of the lonely emo genius artist just a myth?
#2: Understand the importance of non-time and no one. I totally concur, and I'm even more glad my team has one day off exploring and experimenting on projects all by ourselves.
#3: Think side the box. Constraints and limitations drive creativity. Heck, the pandemic and lockdowns might be a time that will drive our most creative ideas.
3. Clubhouse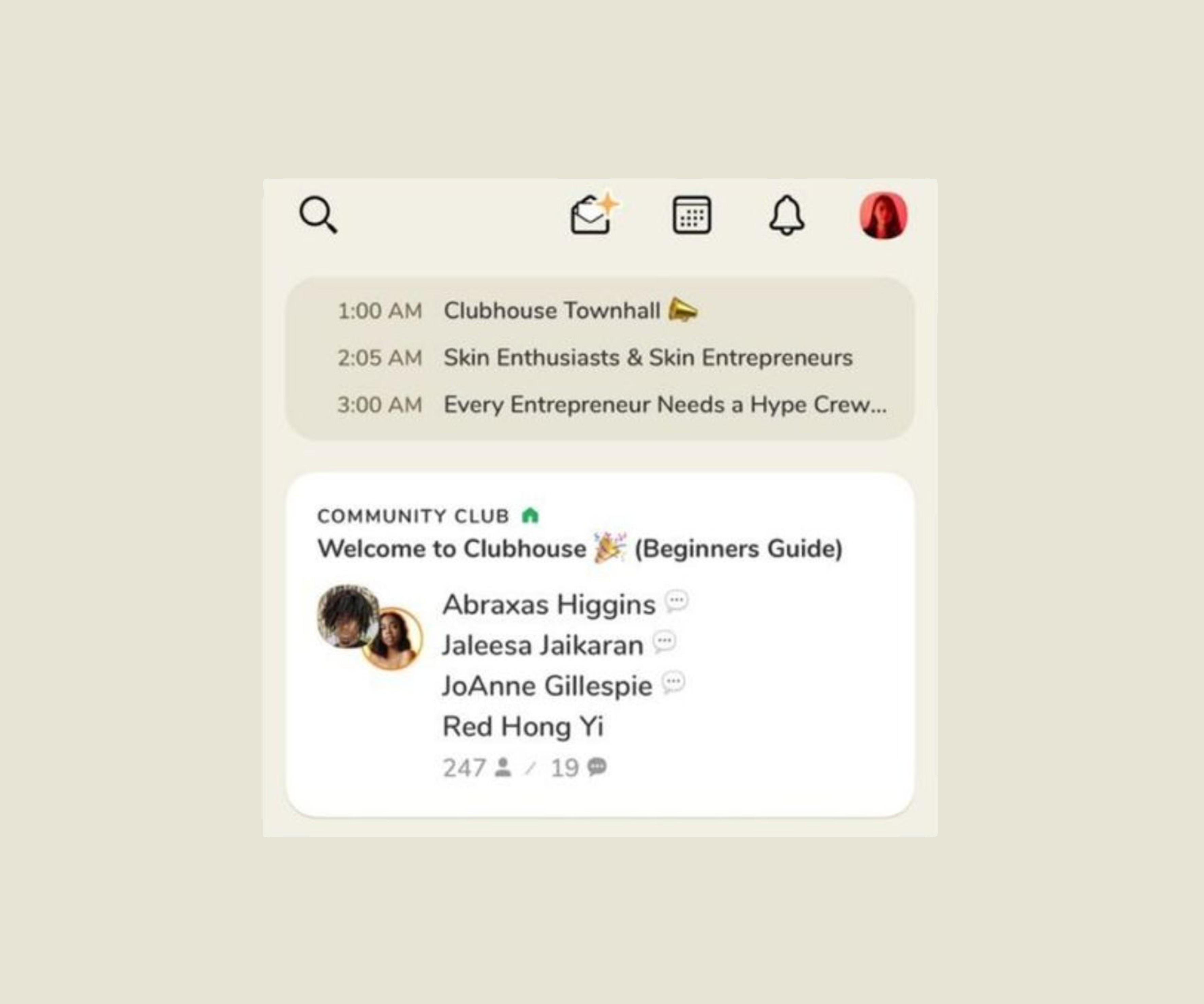 If you haven't heard of Clubhouse yet, now you have! Imagine joining a conference with many rooms where a bunch of speakers and audience congregate to discuss a certain topic. You occasionally get big names like Jared Leto, Marc Andreesen and even Elon Musk joining in on live discussions. Sometimes audiences get handed the mic to ask questions. It's on 24/7. That's Clubhouse.
The app is currently invite-only, but I wouldn't be surprised if goes public in the near future. If you're on it, let me know. I might host an art/design/creative-themed room sometime in the future!
4.  "How to Be A Better Human" - a new podcast by TED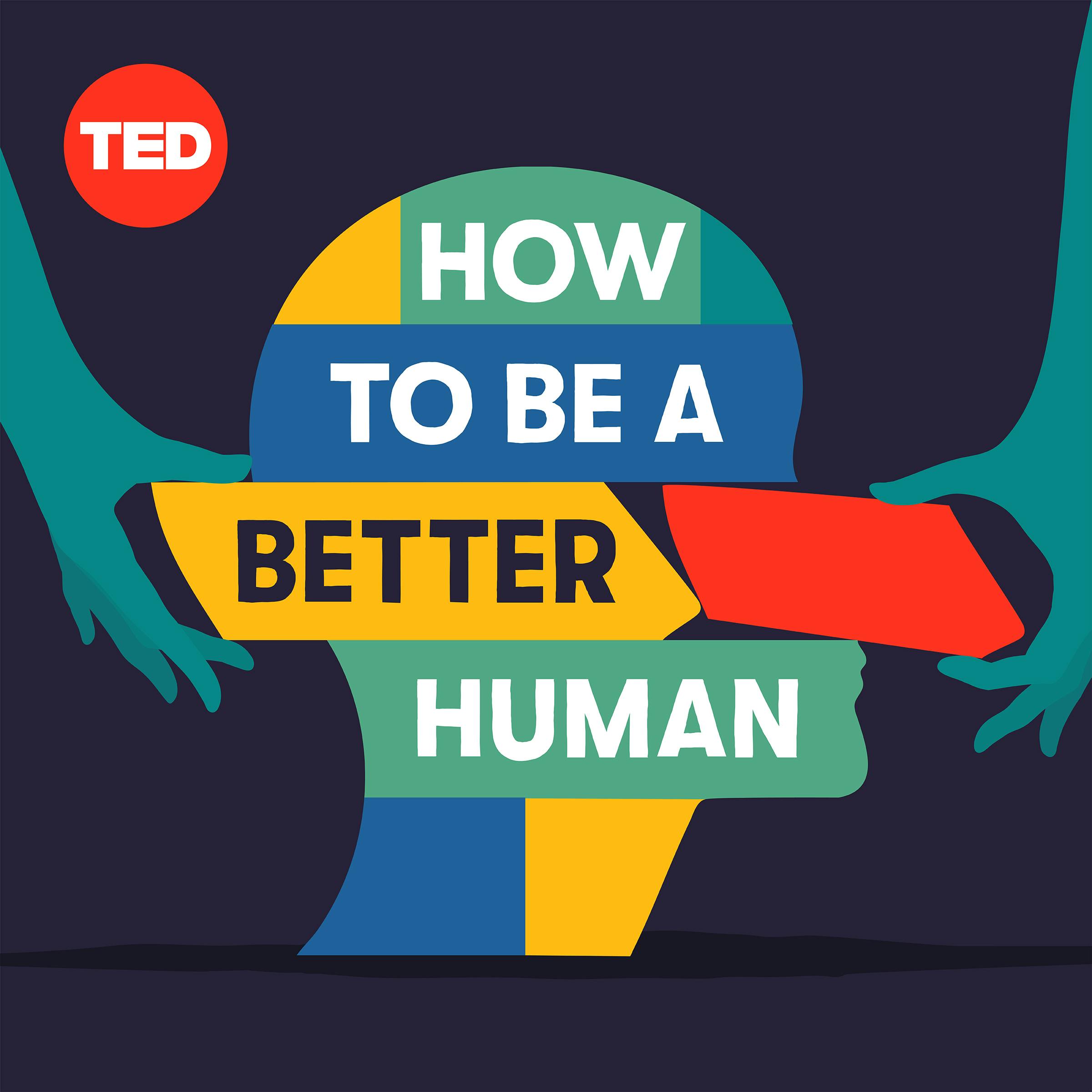 True story: I googled "how to be a better human being" last year and didn't find anything very helpful. Perhaps the pandemic triggered some sort of existentialism in me, forcing me to pause and reflect on what I wanted to get out of life. There's only three episodes on it as of today; I've tuned into two: "How to fund the emotional support you need right now (with Guy Winch)" and "How to challenge conventional wisdom - and change any industry (with Franklin Leonard)". Valuable advice and lessons.

I also want to do Yale's wildly popular course, "The Science of Wellbeing" one day when my next few projects are done.
5. "Why art has the power to change the world" - an essay by Olafur Eliasson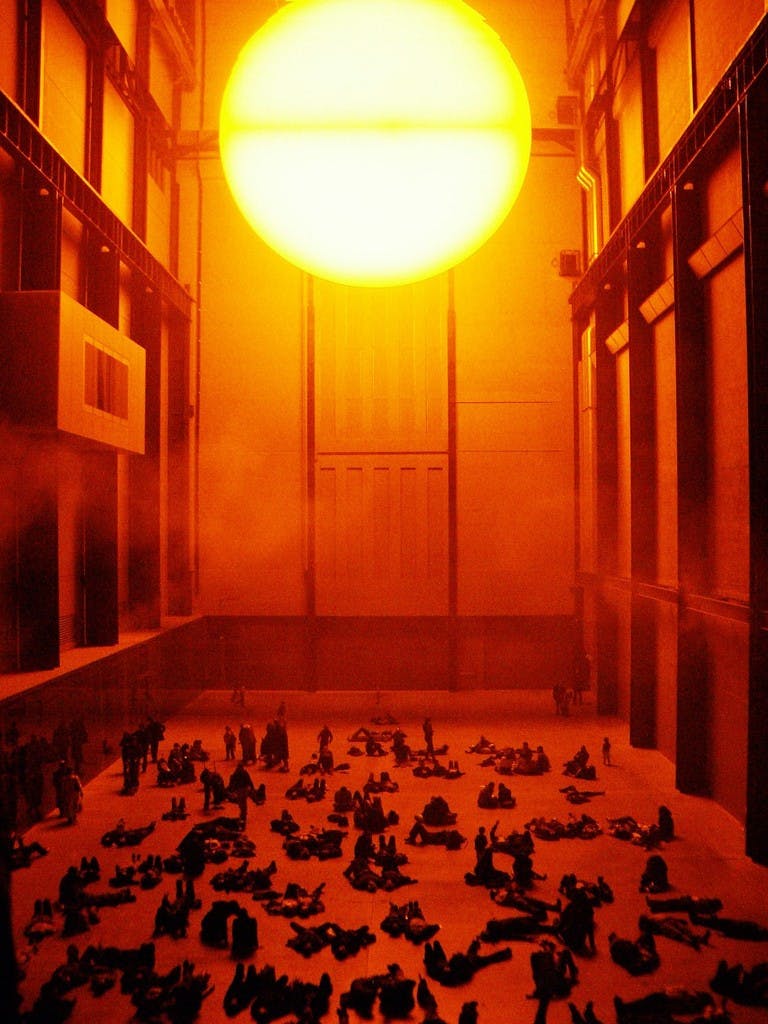 Source: uscannenbergmedia
Olafur reminds us the artist's role is unique and important, and that it is a responsibility to help people understand something with their minds, and to feel it emotionally and physically.

 
From Olafur:
"One of the great challenges today is that we often feel untouched by the problems of others and by global issues like climate change, even when we could easily do something to help.
Giving people access to data most often leaves them feeling overwhelmed and disconnected, not empowered and poised for action. This is where art can make a difference.
Art does not show people what to do, yet engaging with a good work of art can connect you to your senses, body, and mind. It can make the world felt. And this felt feeling may spur thinking, engagement, and even action."
Pizza Fairy Updates!
Thank you all for the Pizza Fairy submissions! We had three winners last month: @wann_yingg, @fievel_w and @vincento_. A special thanks to Provisions Pizza who will be delivering pizzas to our three winners in Klang Valley, Malaysia. The Pizza Fairy couldn't go international because she's in lockdown in Malaysia...but next month, she's hoping to fly around the globe to deliver pizzas, so stay tuned for the next Pizza Fairy announcement!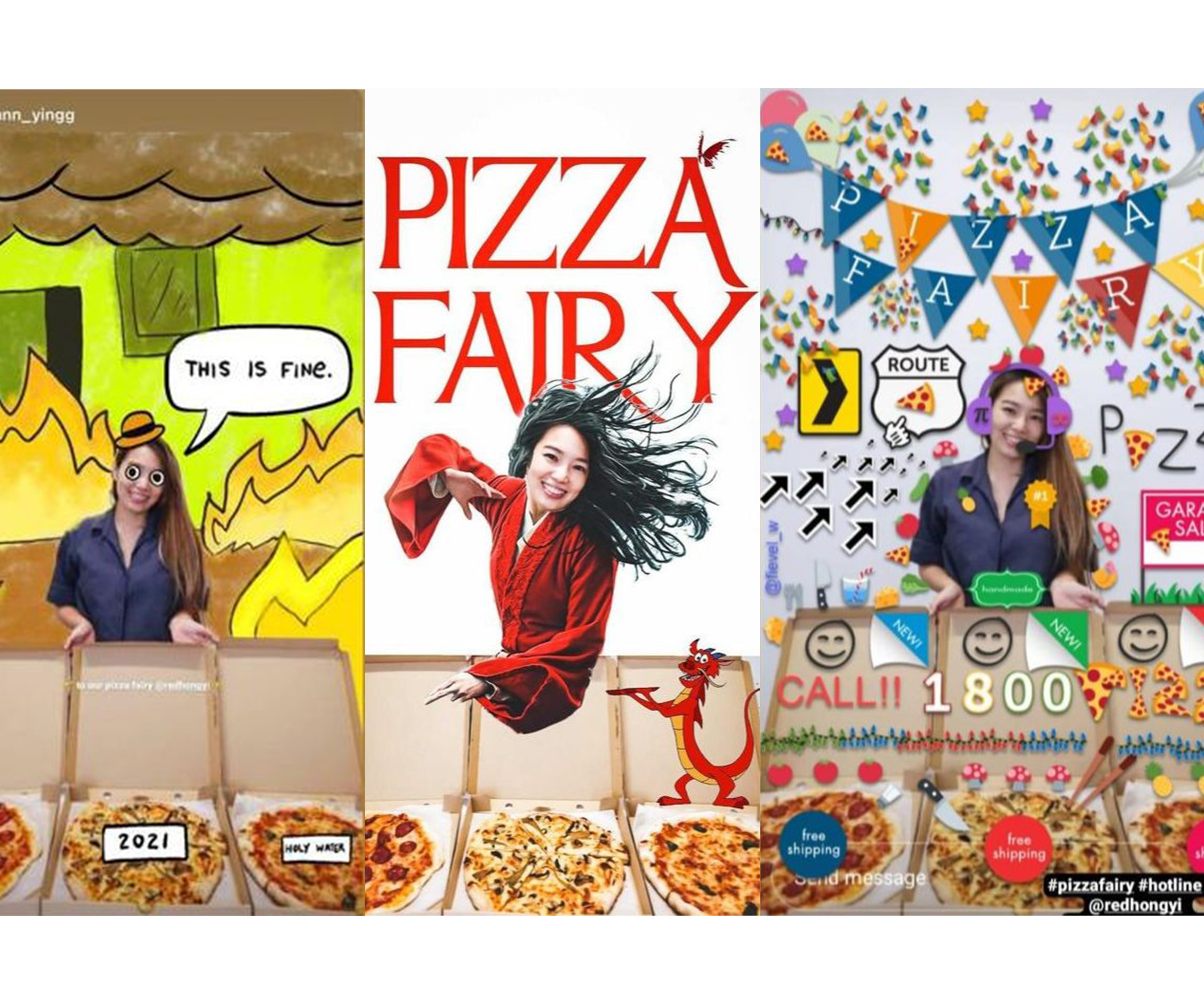 Much love,
Red a.k.a. Pizza Fairy
Five Things I Red: Issue 4
03 Nov 2020
Five Things I Red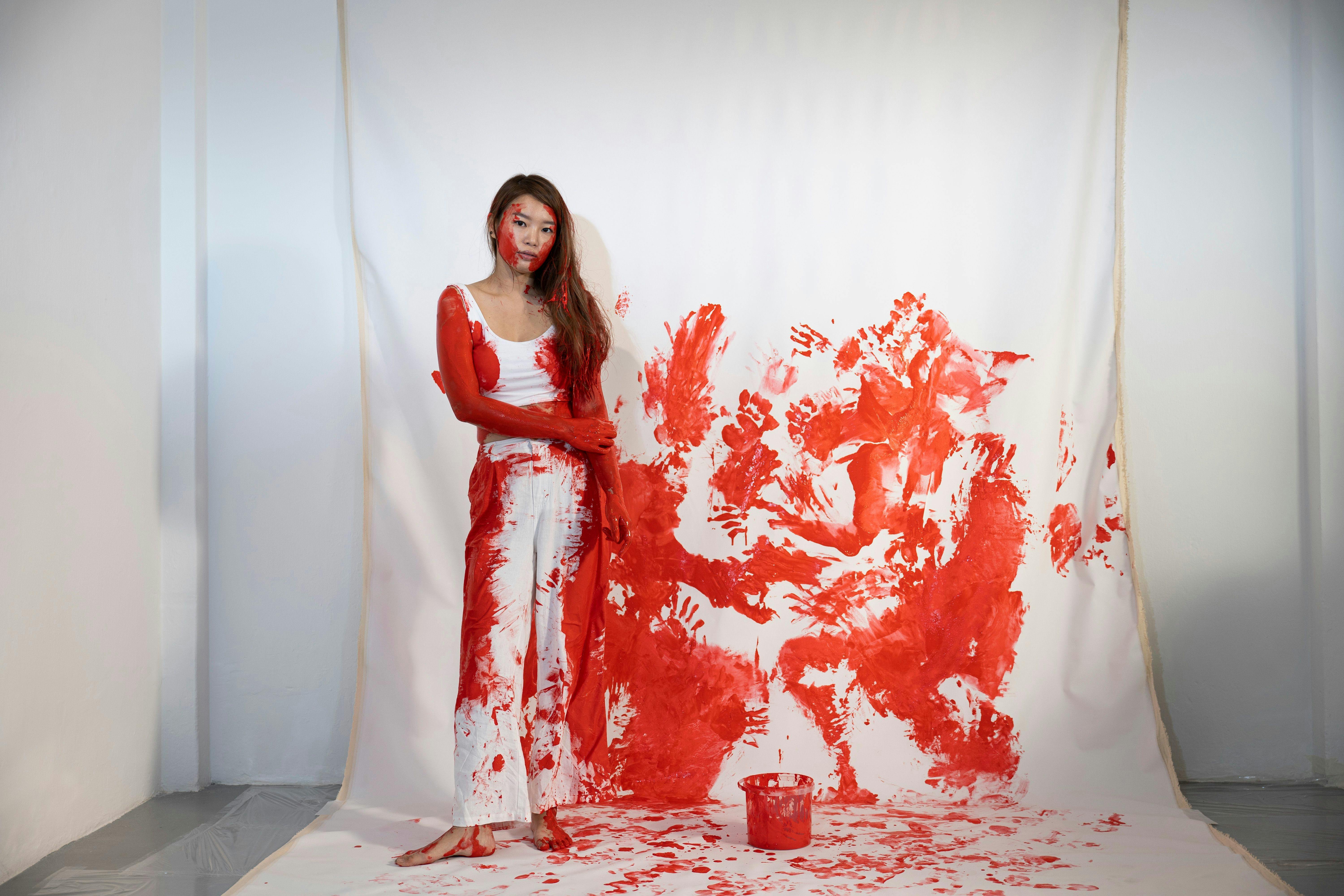 Here is a recap of five things in October that I have discovered and would love to share:

1. The Art of Movement and Abstraction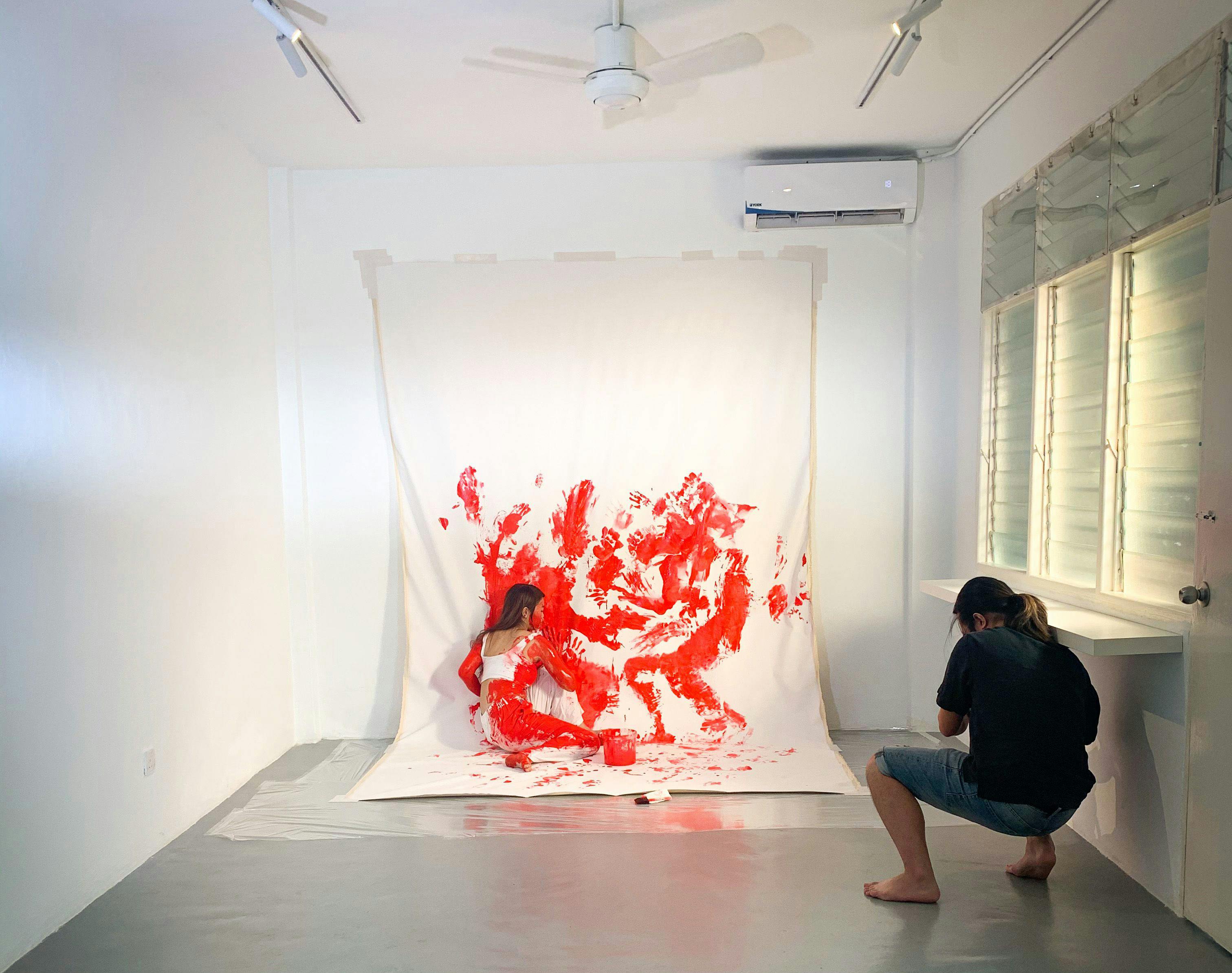 A few weeks ago, I experimented by using my body as a brush to physically engage with my artwork. The piece, "In Conversation",  is probably my most honest depicting the emotions I felt the first few months in lockdown, of confusion, heartbreak, grief, anger, hurt and acceptance. The piece is part performance and painting, an ongoing experiment that is different from what I usually do. I have been drawn lately to work with concept over form, to leave viewers to come up with meanings on their own. The following artists inspired me to push the boundaries of my art: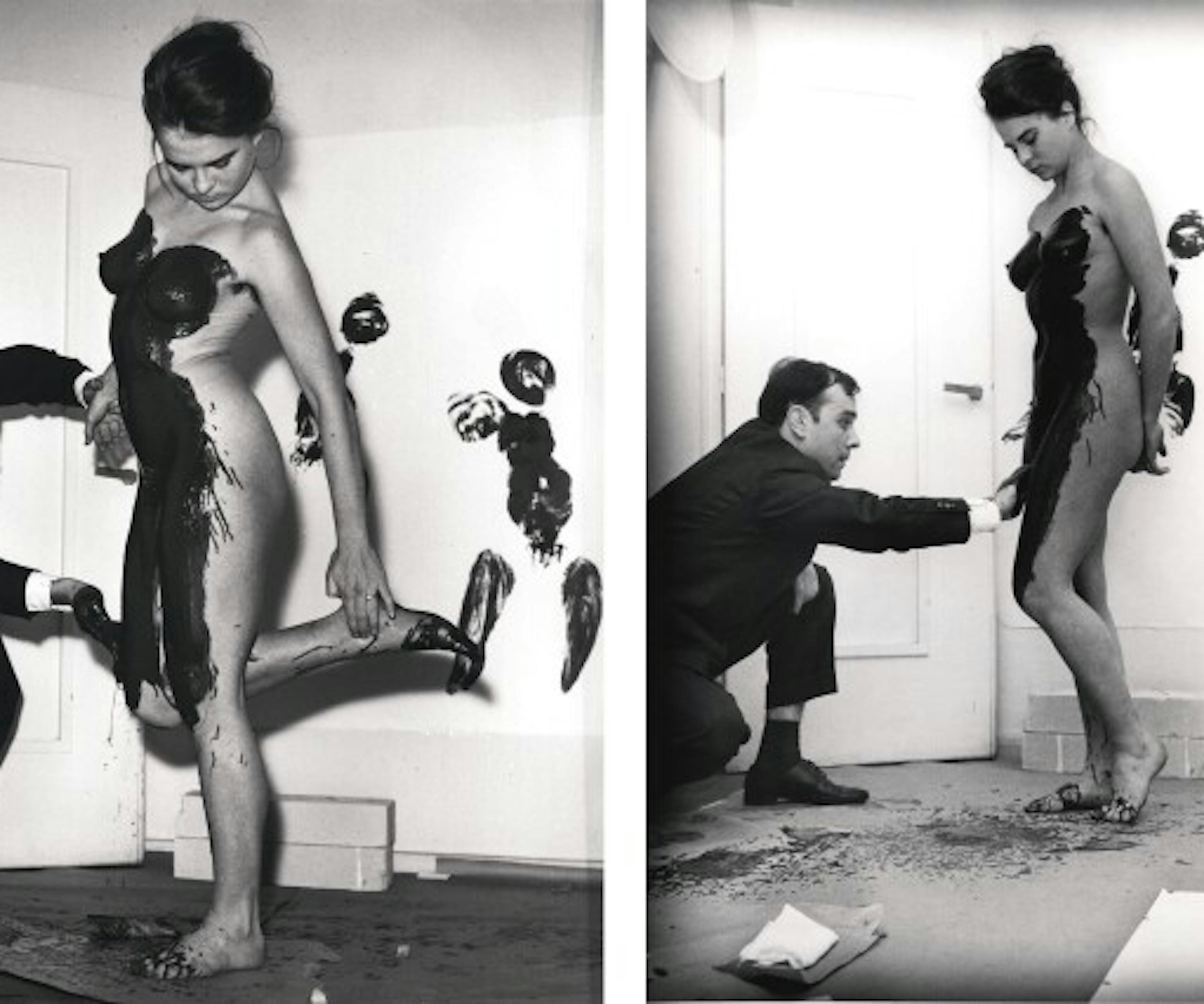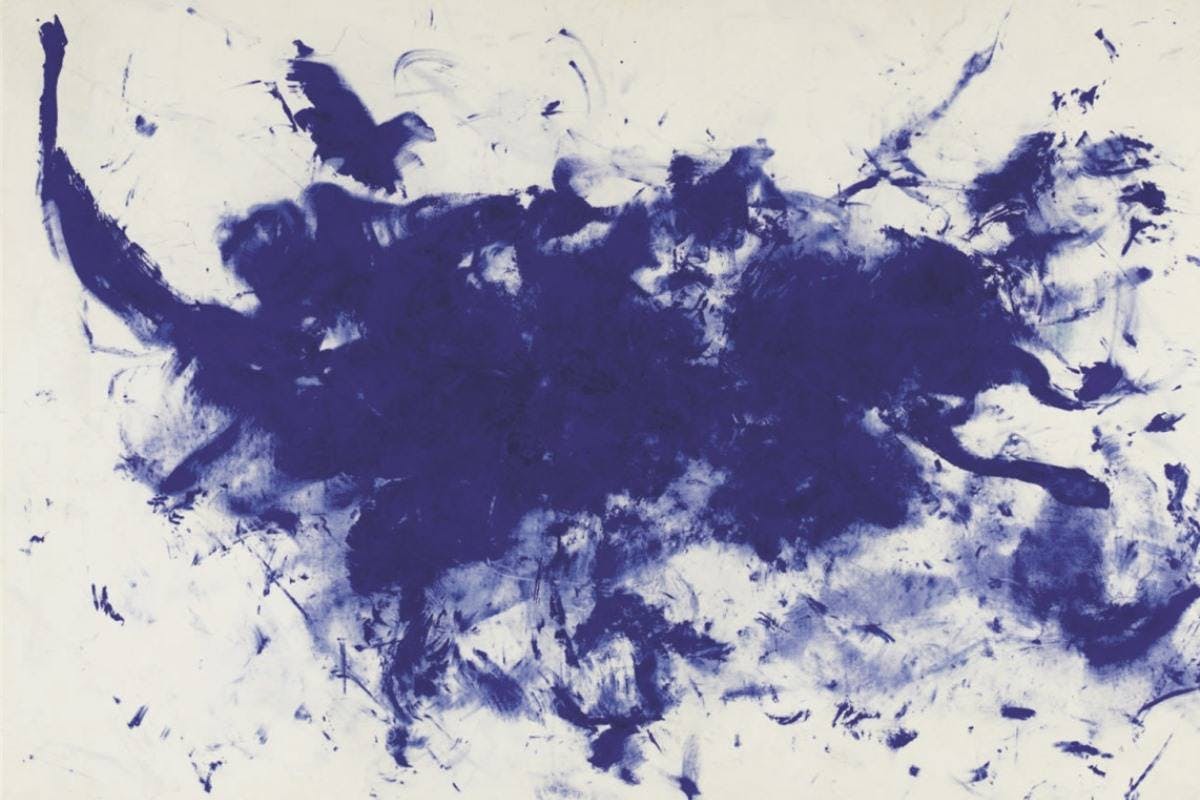 Yves Klein

Via Tate:
"Yves Klein used naked women as 'human paintbrushes' to make his 'Anthropometry' paintings, which were produced as elaborate performances in front of an audience. Klein, in bow-tie and suit, would conduct the women as they covered themselves in paint (a colour he patented as 'International Klein Blue') and made imprints of their bodies, whilst musicians played his 'Monotone Symphony' -- a single note played for twenty minutes, followed by twenty minutes of silence."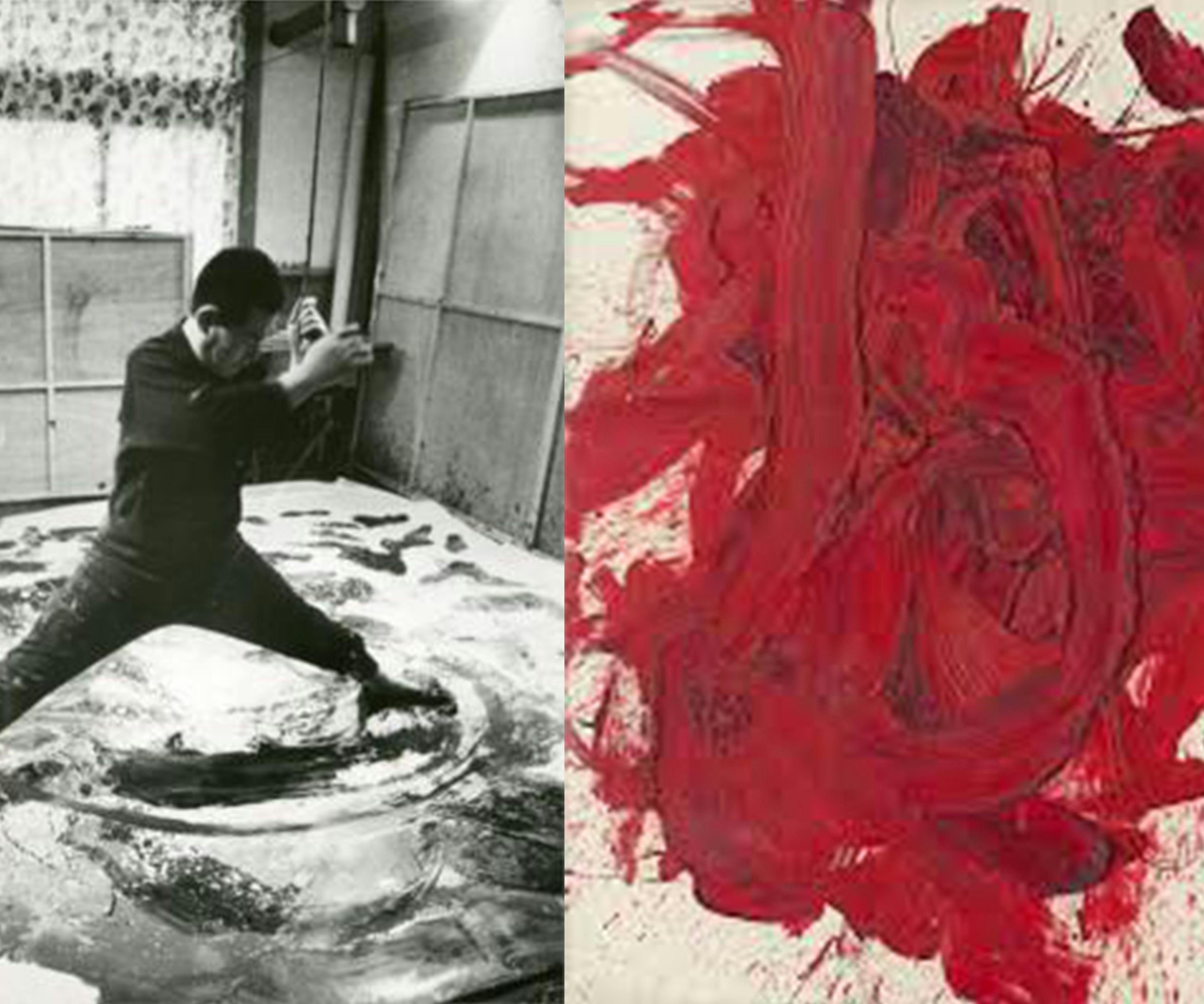 Kazuo Shiraga of the Gutai movement

Via Unit London:
"His gestural marks possess an intense materiality, almost acting as a metaphor for the Shiraga's exceptionally physical technique, a method utilizing the artist's entire body to execute: "I want to paint as though rushing around a battlefield, exerting myself to collapse from exhaustion."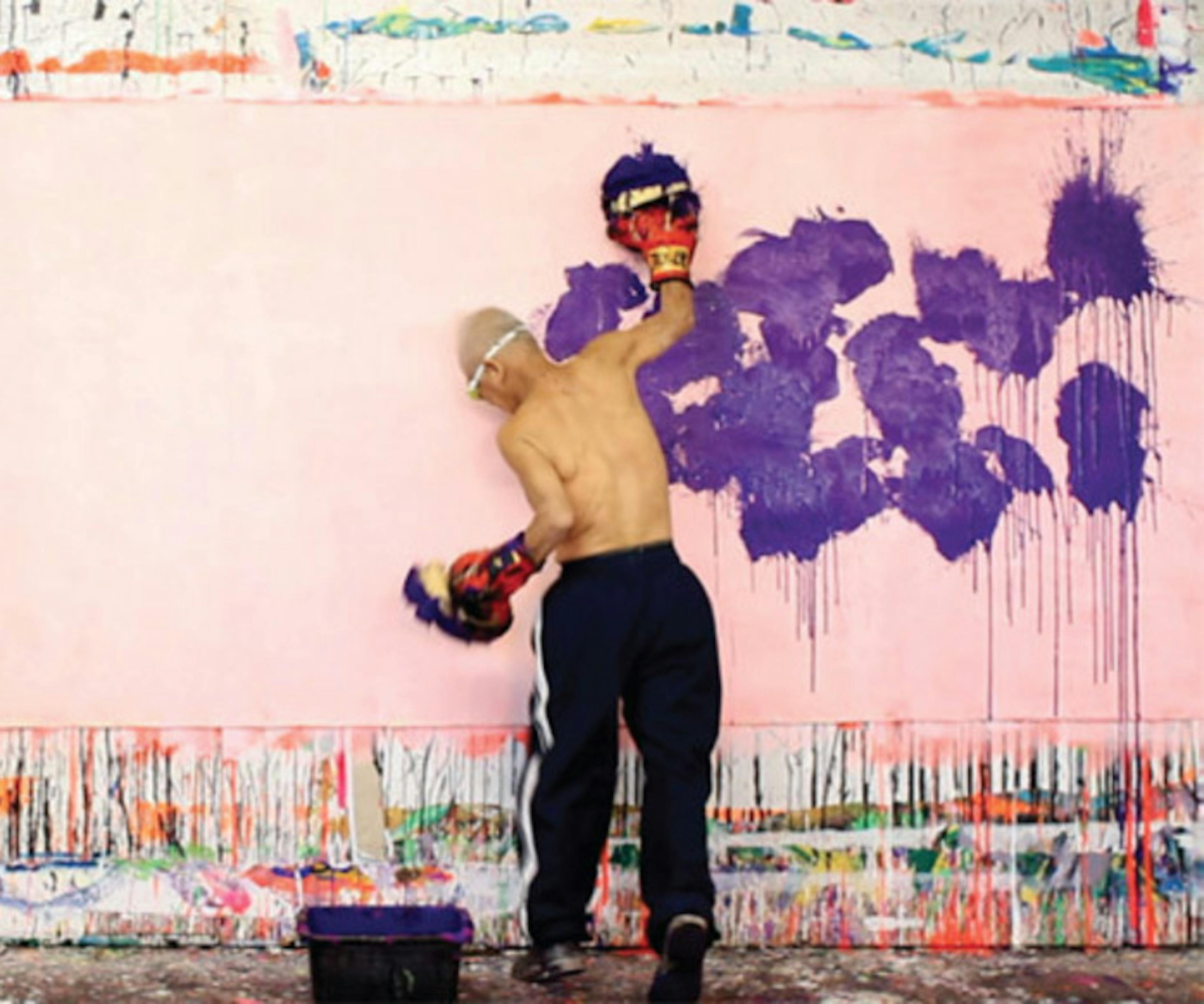 Ushio Shinohara

Via Artsy.net:
"Stripped to the waist, he would cut up his own t-shirt and wrap his hands with the cotton, striking the studio walls with his "gloved" hands for a lively, irreproducible mashup of painting and performance."
 
2. A Reminder of the Power of Storytelling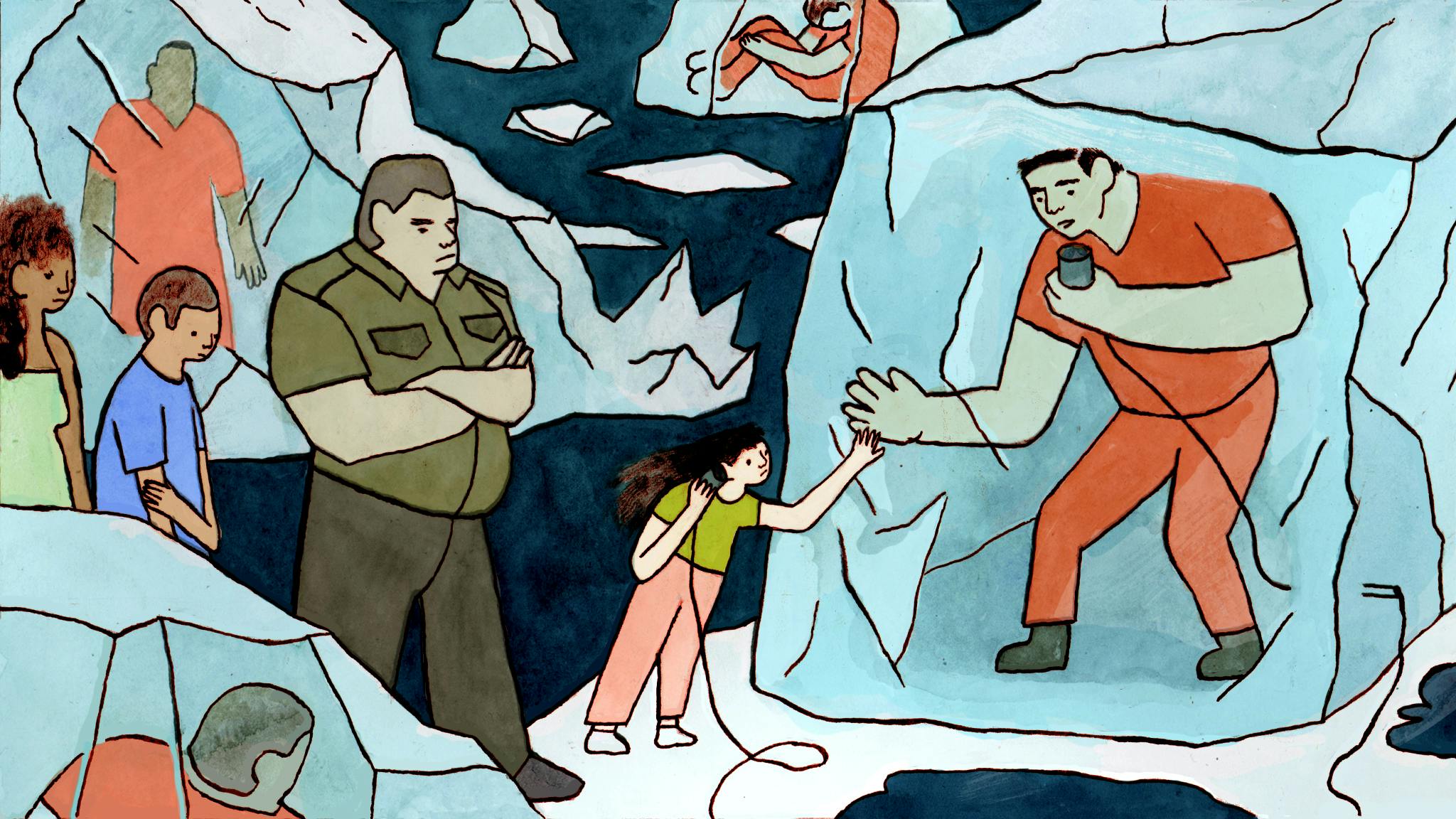 Illustration by Alison Rutsch via Narratively
I listened to a moving TEDx talk by Alan Crickmore who works with Storybook Dads, a charity that promotes family ties between prisoners and their children, and was reminded of the power of storytelling. The charity enables prisoners to record bed time stories with their own voices, which is then sent home to their children, and aims to maintain connections between prisoners and their families. For many fathers, it gives them a chance to bond with children - including those who have never met their fathers before. According to statistics gathered by the Learning and Work Institute, 95% of prisoners who took part and 92% of family respondents reported that the Storybook Dads project had improved the relationship with the child.
3. A Quote I have been Pondering On 
I'm grateful that we live in a time where with a click of a button, we're able to access all kinds of tools and resources to help us in ways we need help. Guy Winch's books and talks have helped me navigate the troubled waters 2020 has brought upon us. Here's a simple but profound quote by him I recently came across:

"Failure is so common a human experience that what distinguishes us from one another is not that we fail but rather how we respond when we do."
4.  An App that Brings Meaning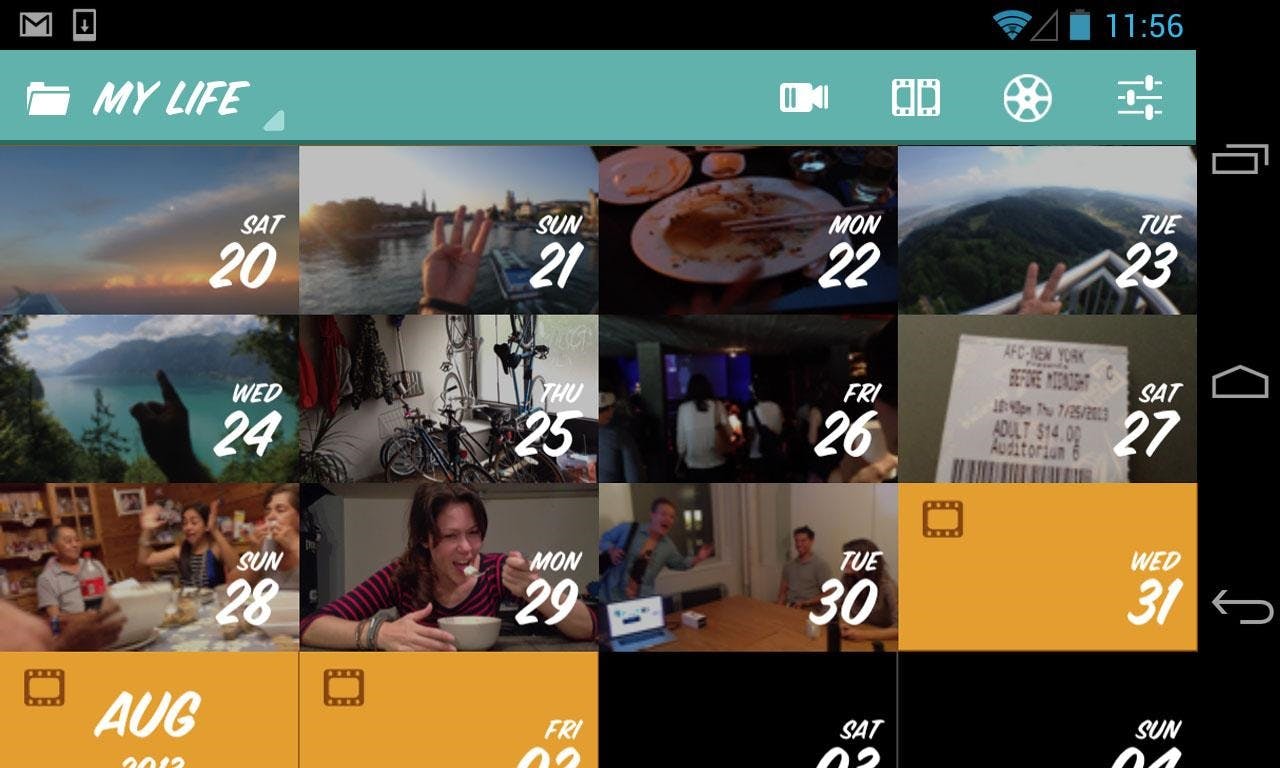 Imagine a movie that includes every day of the rest of your life. That's what 1 Second Everyday does. The app functions as a video diary that makes it easy to take your everyday moments and create a meaningful movie of your life. Imagine having a 3+ hour long in your 80s! I thought this app was especially meaningful as I reflected on 2020 and what a topsy-turvy year it has been. I'm also going to namedrop and say how proud I am to call the founder, Cesar Kuriyama, a dear friend. 
 
5. Podcasts I have been listening to
I love, love, love podcast. I think I've learned so much about the world and beyond my little bubble through podcasts. I'm keen to know what you have been listening to. I find myself listening to a lot of Hidden Brain, Planet Money, Modern Love and How I Built This. Recently though, I've been listening to:
。Up First: This podcast features the three biggest stories of the day in 10 minutes. This has been how I have been keeping up to date with the US elections and Covid news lately. 
。Short Wave: This podcast features explanations of new discoveries and science that make the headlines all in 10 minutes. A recent one was about why blue moons are blue moons.
。So This is My Why: A podcast featuring interviews with inspiring people about their journey to discovering & living their why. I love how the podcast features a lot of interviews with people from South East Asia, as well as Asians who are making waves in the West. This is a podcast by host Ling Yah, who also happens to be a super duper dear friend of mine, and a neighbour I have been spending a lot of time with in lockdown (she has made it bearable and dare I say...fun?!). I'm so proud to see how committed she is week after week, researching, interviewing and editing her episodes. Do go check it out!
Pizza Fairy Updates!
Thank you for Andy Goh (@hantu)'s submission for the October edition of Pizza Fairy's photo editing competition, and thank you everyone for your submissions!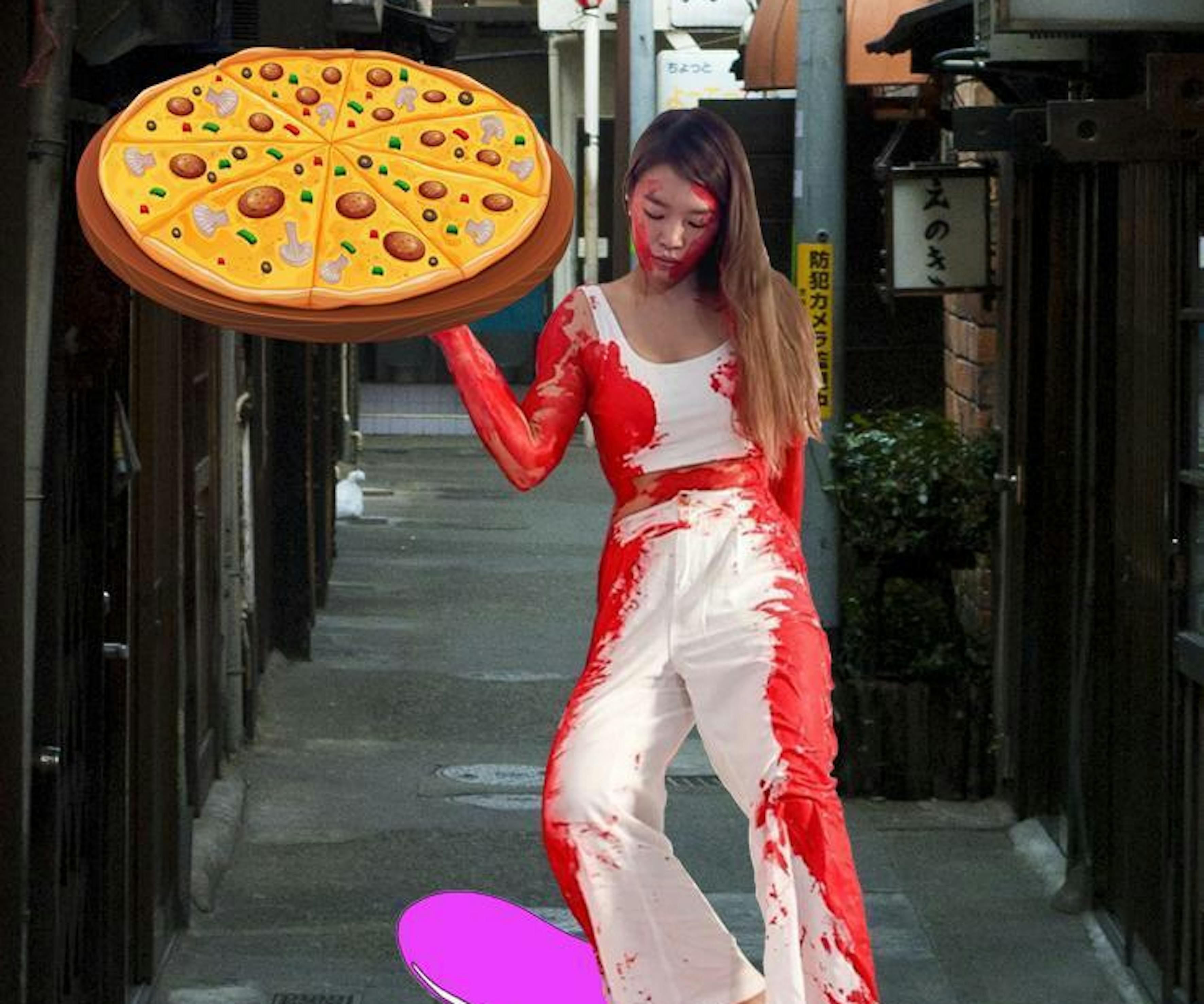 Andy is from Sabah, Malaysia - currently the state with the highest number of Covid-19 cases. I will be donating $100 to the Malaysian Medical Association in support of Sabahan medical frontliners. And of course, Andy will be receiving a (non-Hawaiian) pizza at his front door! :)

Before I sign off, I thought I'd let all my American friends know... I'm thinking of you! I hope everything goes smooth on Election Day, and that you all stay safe out there.

Much love,
Red a.k.a. Pizza Fairy
5 Things I Red: September 2020
04 Oct 2020
And we're now in October! September has been a super packed month for me, with back-to-back projects within the first two weeks. After working on 8 portraits in 14 days (that's a record – only possible thanks to my amazing friend-assistants!), I flew back to my home state, Sabah, to vote in a state election. I flew back to Kuala Lumpur quickly to avoid being possibly locked down in Sabah due to the rise of Covid-19 cases. I hope you are safe where you're at. The past week has reminded me to not take social distancing precautions lightly all over again.
Here are five things I saw in September that I'd love to share with you:
1. My impromptu exhibition at Zhongshan Building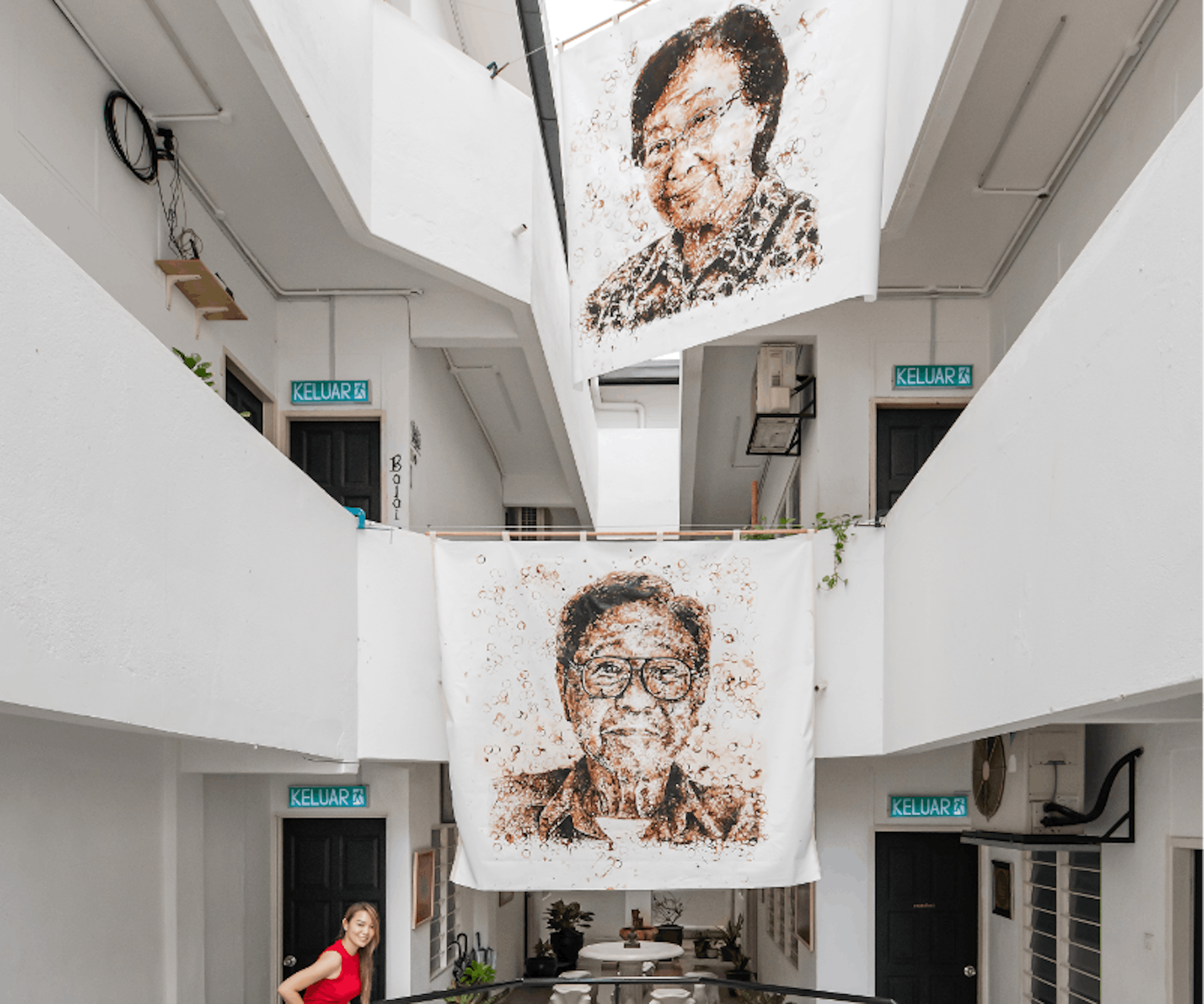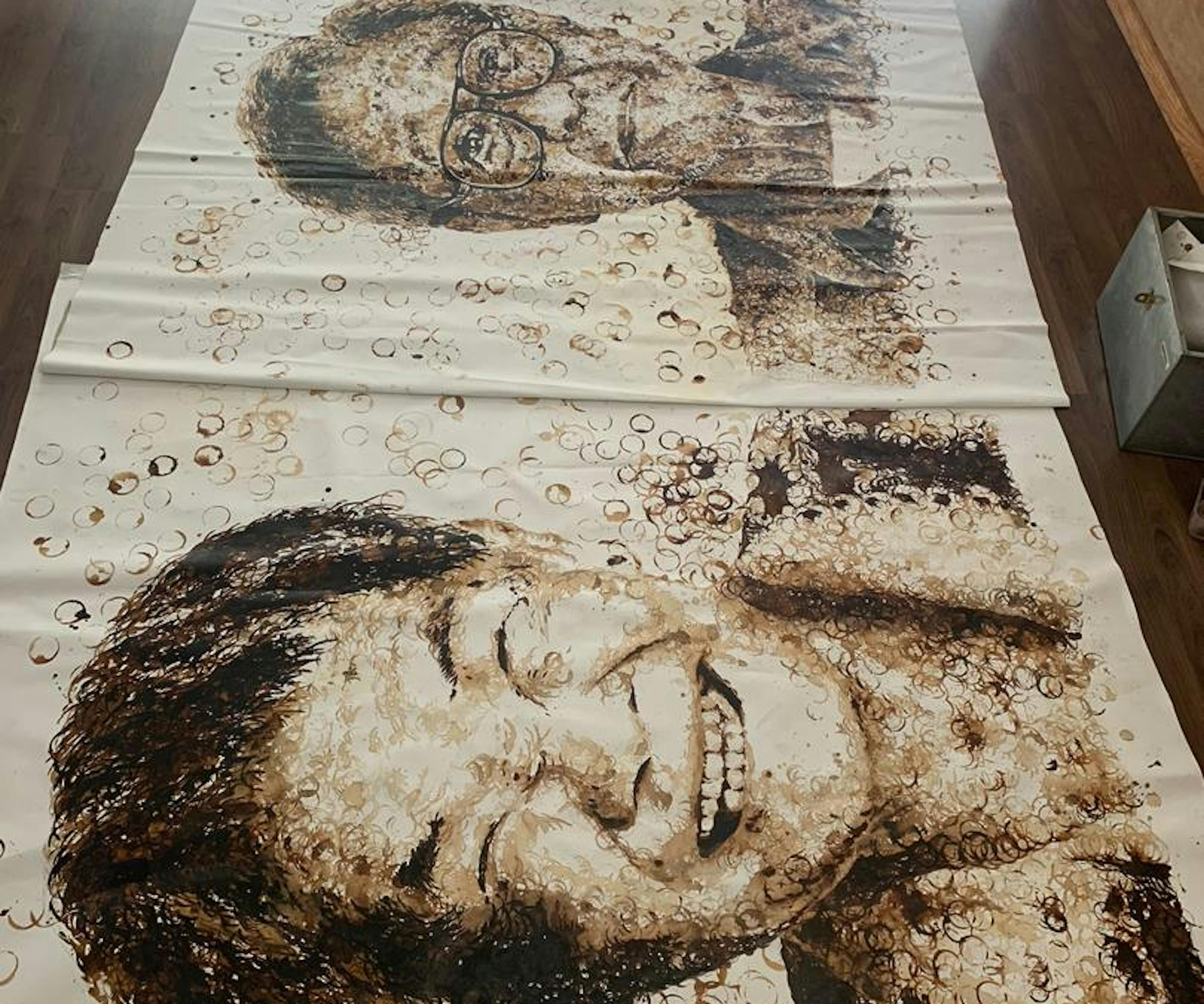 I got to exhibit these portraits of my three grandparents at Zhongshan Building in Kuala Lumpur in September for about a week! These portraits were created when Uniqlo contacted me about filming a video to show what I've been up to during the lockdown. I chose to do these portraits because I was lucky to have gone through lockdown with three of my grandparents from March to May this year. I've used materials I could find at home (coffee cups, coffee and some brown acrylic paint) to create their portraits. In Chinese, there's a saying, "家有一老,如有一宝" (an elderly person at home is like having a treasure). The pandemic made me realize how vulnerable and precious my old folks are, and how lucky I am to have them with me. My video for Uniqlo will be out in November.
2. Luxury brands and mooncakes
Mid-autumn Festival is celebrated on 1st October by Chinese all over the world. Throughout September, brands - especially hotels - will unveil over-the-top mooncakes and mooncake packaging. I've heard of hotels setting aside staff to work on mooncake products a year in advance. This year though, I found out that luxury brands have entered this market and almost gaped seeing what they have come up with. Here are some photos of mooncakes by Louis Vuitton, Fendi and Gucci. Check out more lux mooncakes by other lux brands here.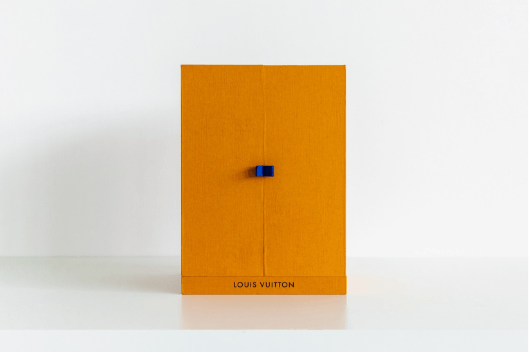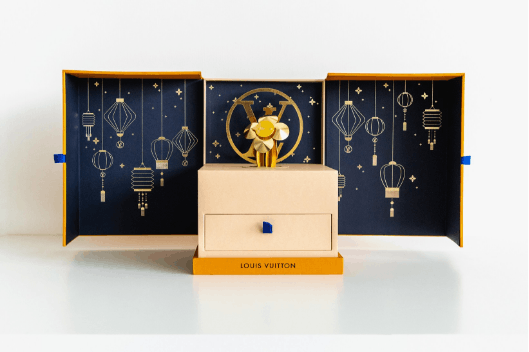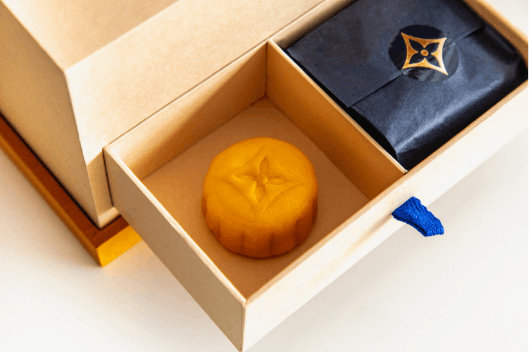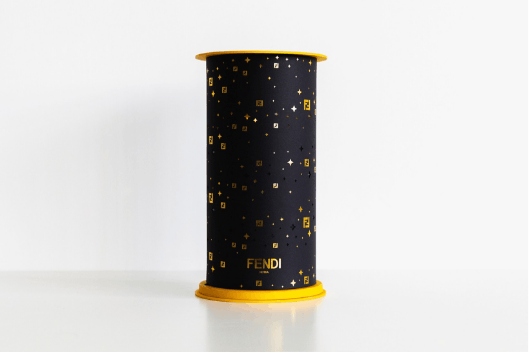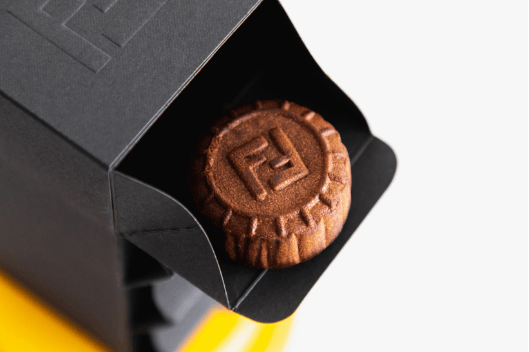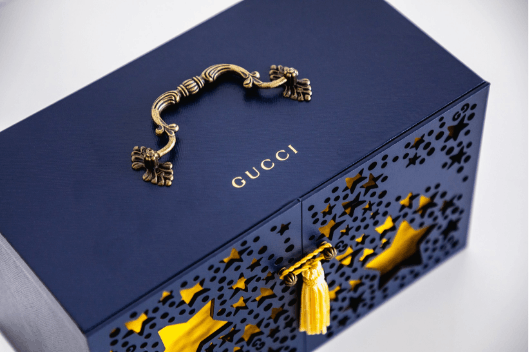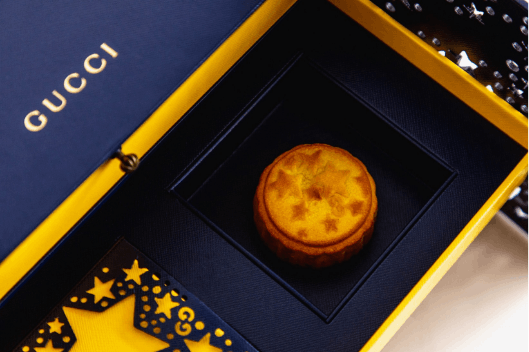 3. Modern Love
Modern Love, a column and podcast by New York Times about "relationships, feelings, betrayals and revelations", is one of my favourite things out there. Thisessay, "Please Lord, Let Him Be 27" by Heather von Rohrmade me smile. I can't wait to listen to it on their podcast, and see who they choose to read it! Let me know what some of your favourite Modern Love episodes are, and I'll listen to them while working on my next artwork.

4. Brick vaults to honour ancient kilns in Jingdezhen
I'm admiring this brick vaulted museum in Jingdezhen designed by Studio Zhu Pei. I visited Jingdezhen five years ago to explore its many porcelain factories - there were so many, it was mind-boggling. Chances are the ceramic bowls, plates and mugs you own are from Jingdezhen. The city is known as the porcelain capital of the world, has produced and exported pottery for more than 1,700 years! Studio Zhu Pei's brick vaults were inspired by the designs of ancient kilns. I love the tectonic quality, rich brick colours, spatial designs and material repetition in this project.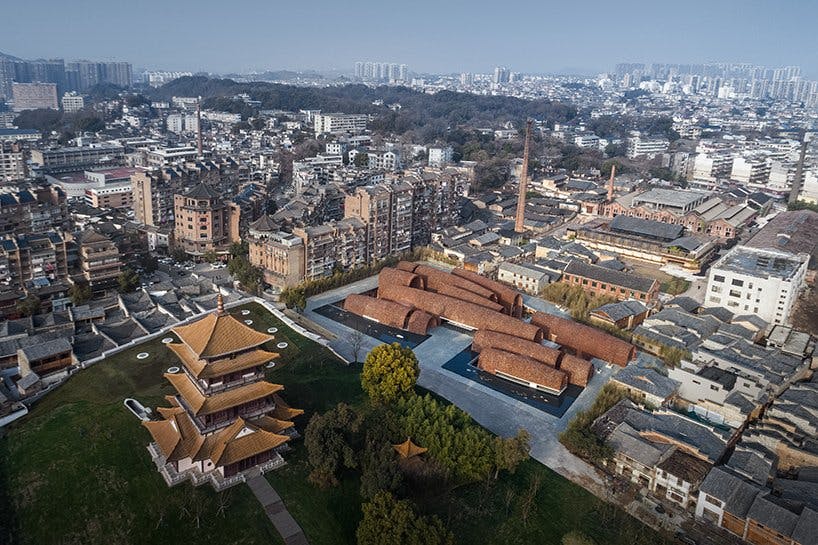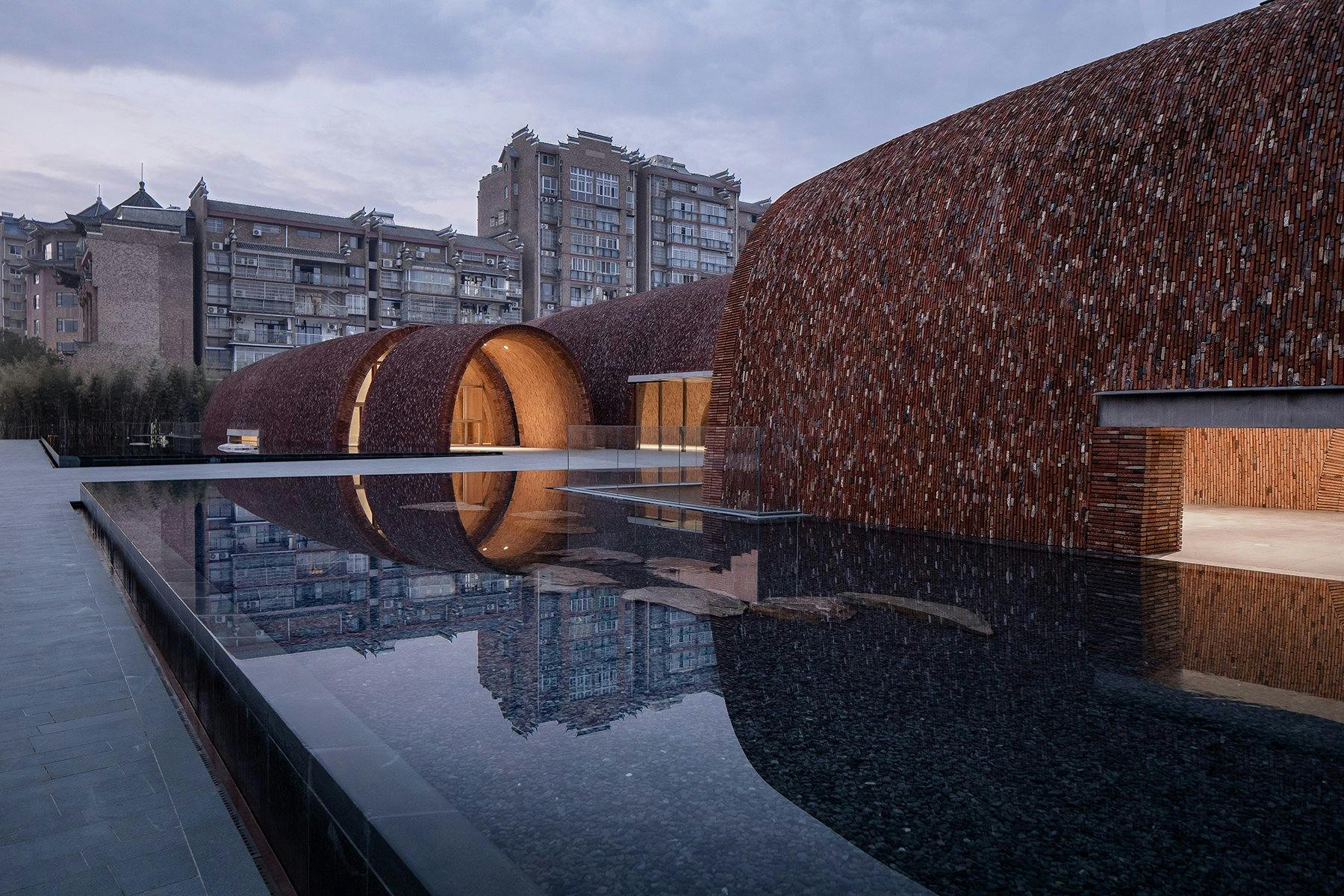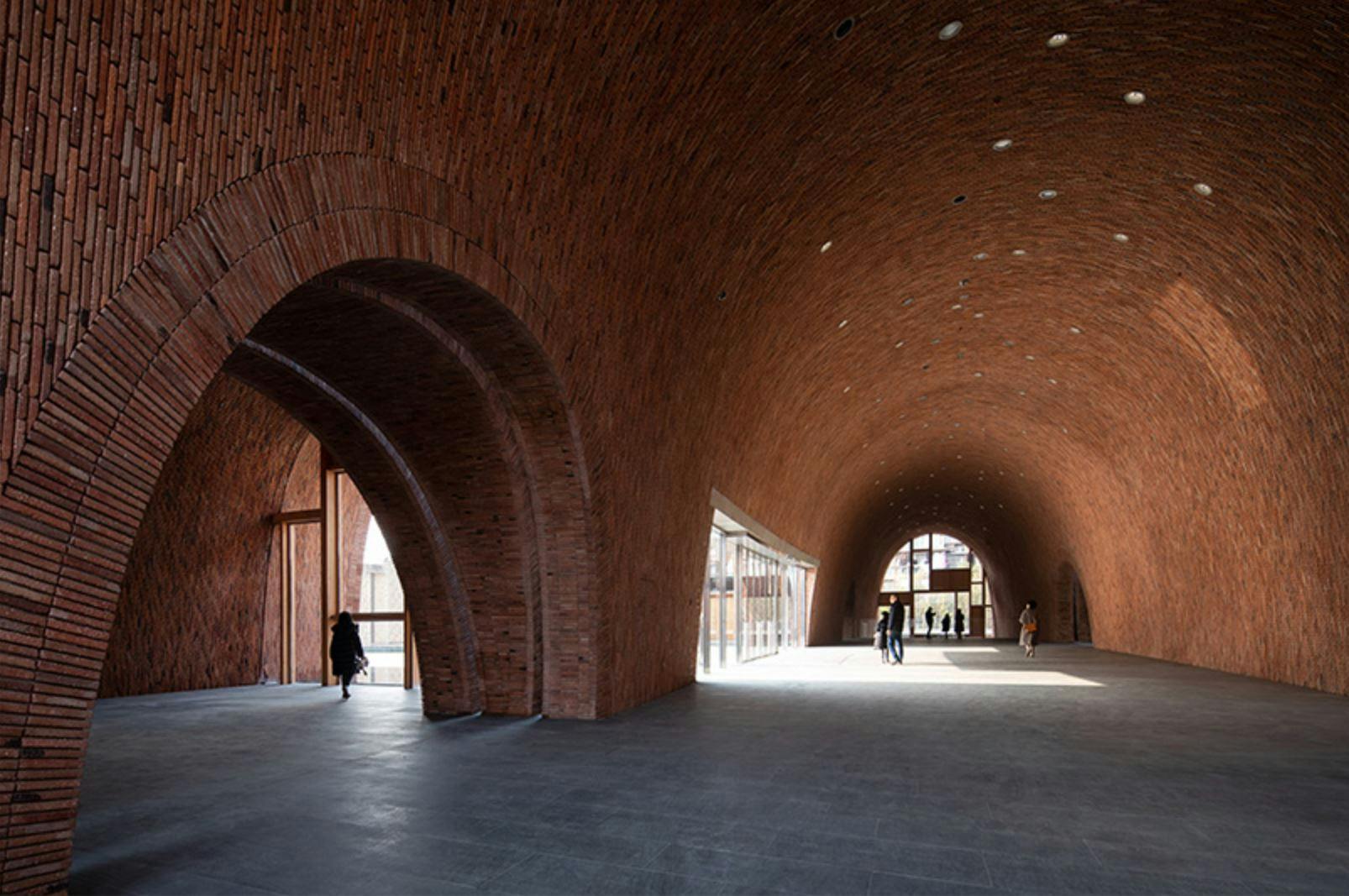 Images from Studio Zhu Pei

5. A leaf artist
There's something sweet and whimsical about these cutout leaf pieces! I'll let Spoon and Tamago introduce the artist behind these tiny leaf art:

"A 34-year old artist who goes by the name Lito has been living with attention deficit hyperactivity disorder (ADHD) his entire life. Lito had been searching for an outlet where he could channel his above-normal levels of concentration and obsessiveness when he discovered the Japanese art of kirie (切り絵, literally 'cut picture'). Earlier this year in January he began experimenting, not with paper, but with leaves."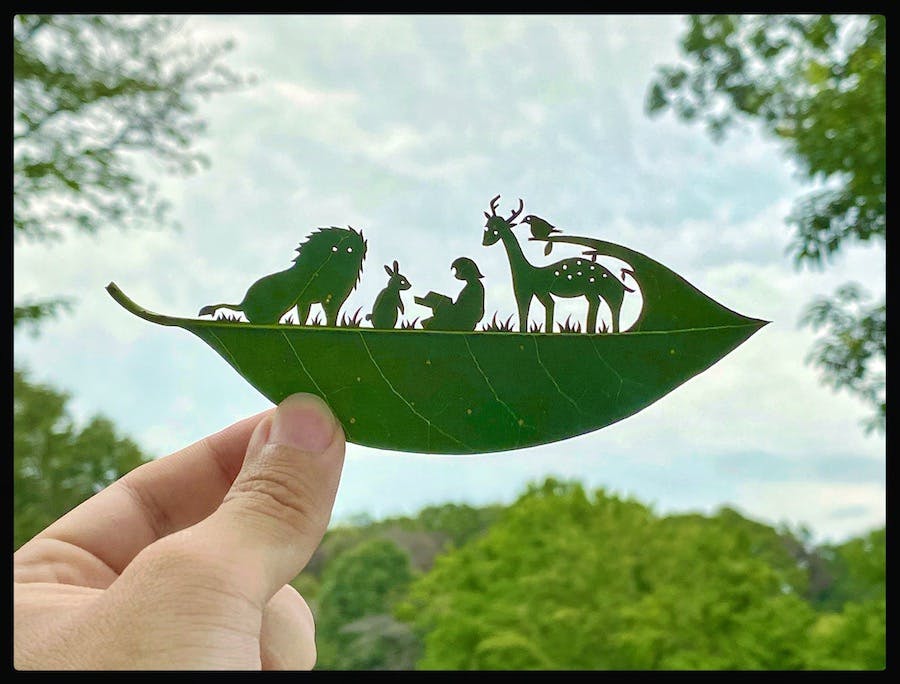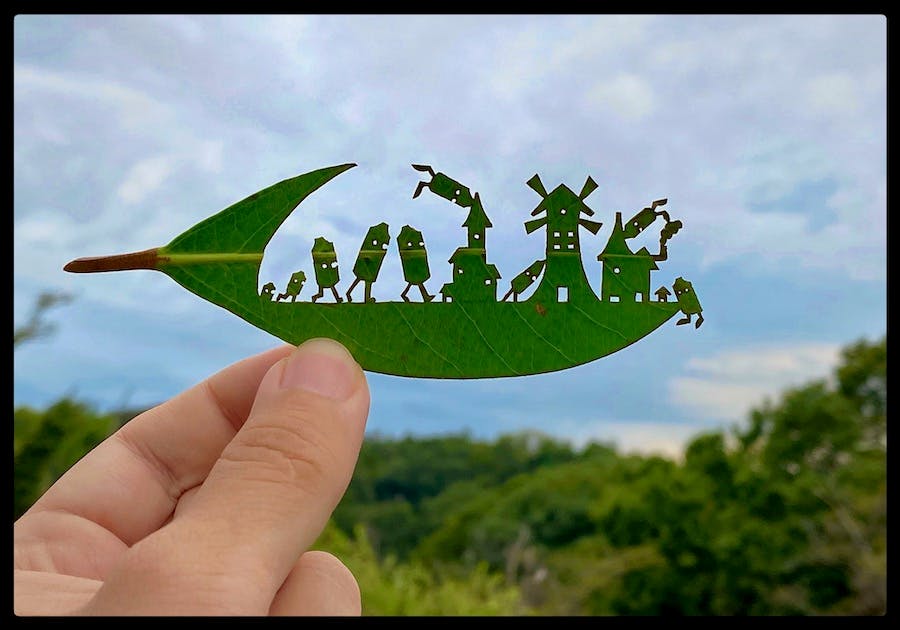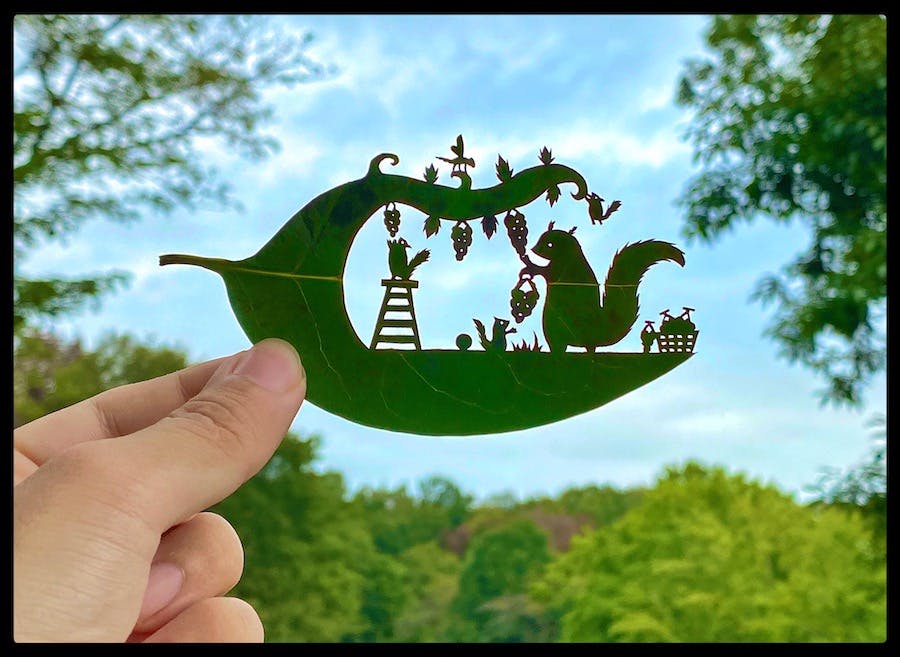 Check out more cutout leaf art by Lito onhis Instagram page.
---

And now, for Pizza Fairy updates!
Two weeks ago, August winner Korean Yuppie and I delivered 14 pizzas to frontliners at Hackensack University Medican Center in New Jersey! Here's a photo: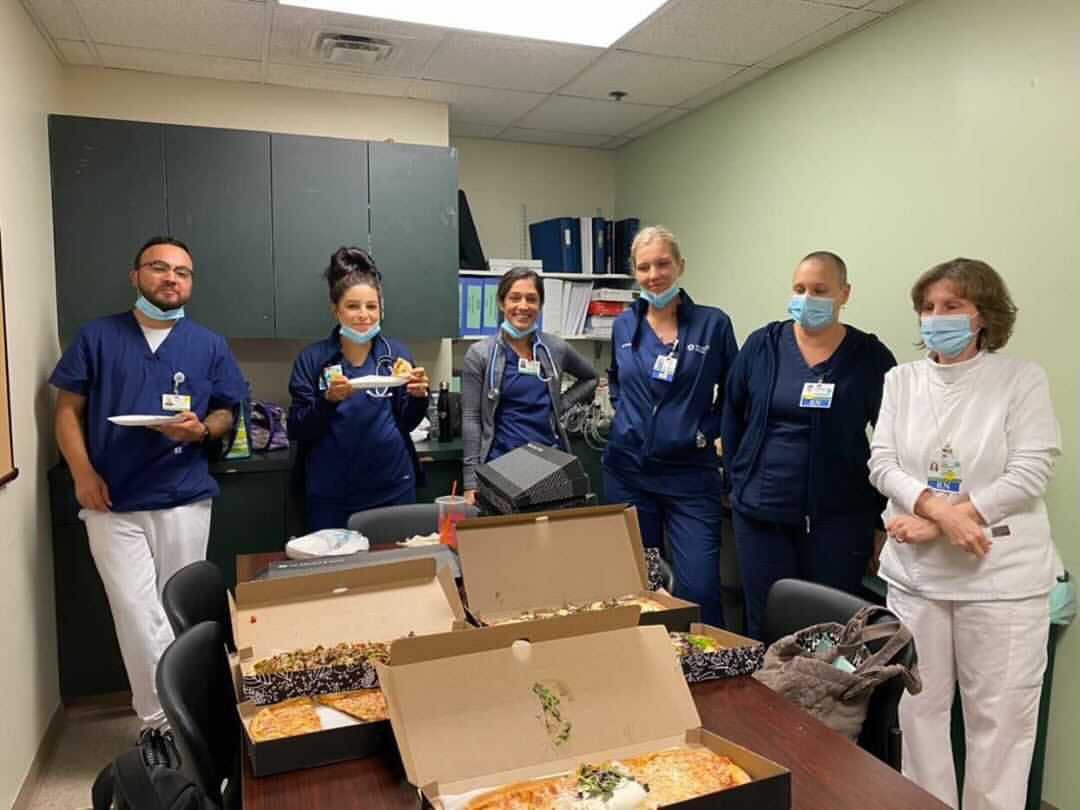 I didn't get around to doing a photo-editing competition in September (I blame the elections), but an Instagram follower from Singapore remembered about my end-of-the-month pizza delivery date and politely asked if she could have a box delivered to her address. And so...easily I announced her as the winner! Bless her heart though - she's opting to have the pizza and my $100 donation sent to a children's home instead. We're still working on it, and will update you in the next newsletter!

See you then!

Much love,
Red aka Pizza Fairy
Things I Red: August 2020
01 Sep 2020
5 Things I Red: August 2020
Here's a recap of my highlights in August, which I hope you will enjoy. Thanks to this newsletter, I've been more observant about experiences and conversations throughout the month. If I was a cartoon, I'd have thought bubbles with the words, "Oh I must remember to share this with my community!" every time I found something cool or exciting.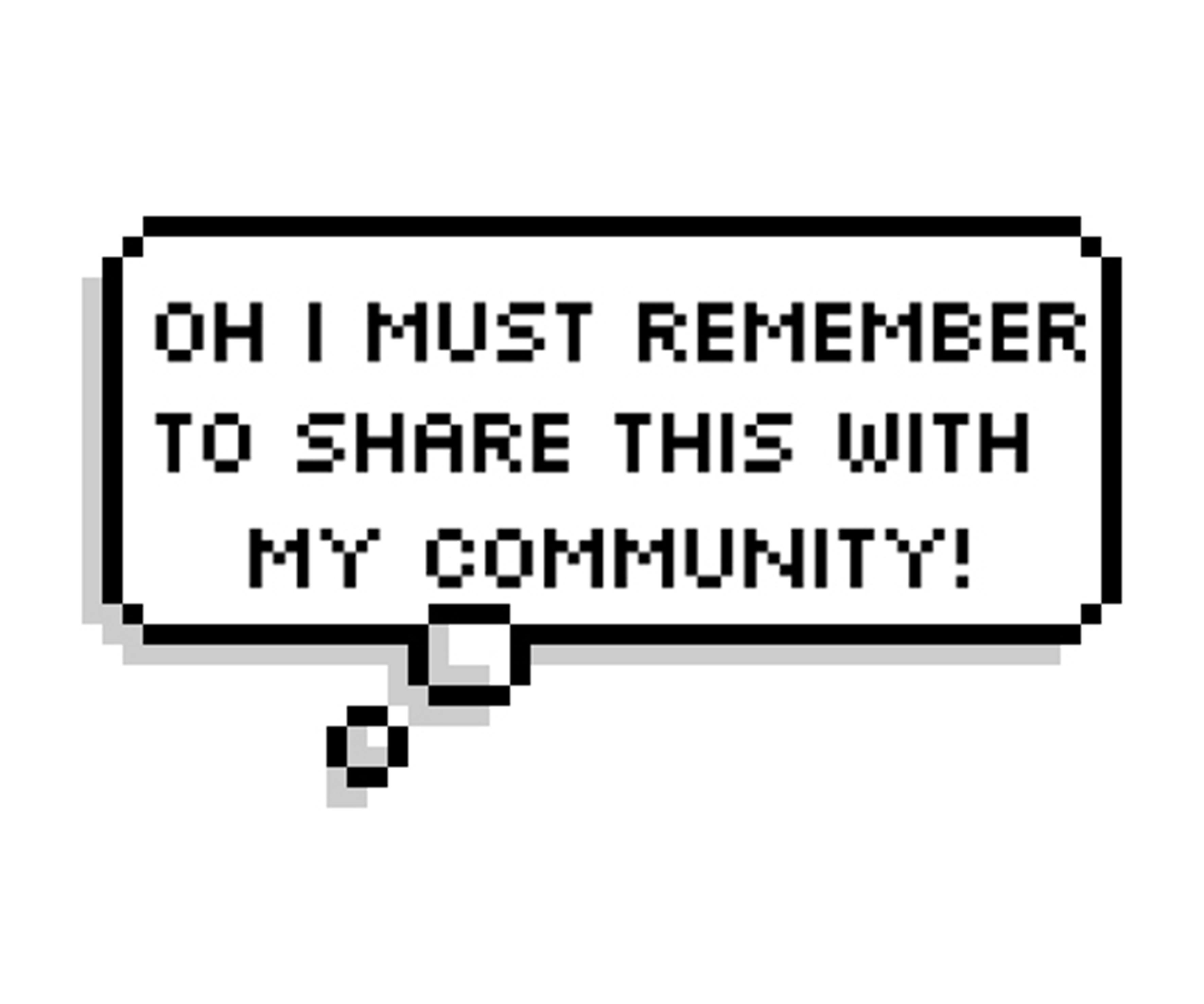 Here are the five things that made those thought bubbles pop up:


1. An artist I have been admiring
Wesley Hilton is a flight attendant for Malaysia Airlines but when the pandemic hit and flights were grounded, he suddenly could not head back to work. He turned to exploring an art form he enjoyed - decorating Barbie Dolls inspired by Borneo tribes.

"I have so much passion towards Borneo culture and its heritage, especially for my tribe, Iban. I have always loved all of the beautiful costumes and how intricate they are."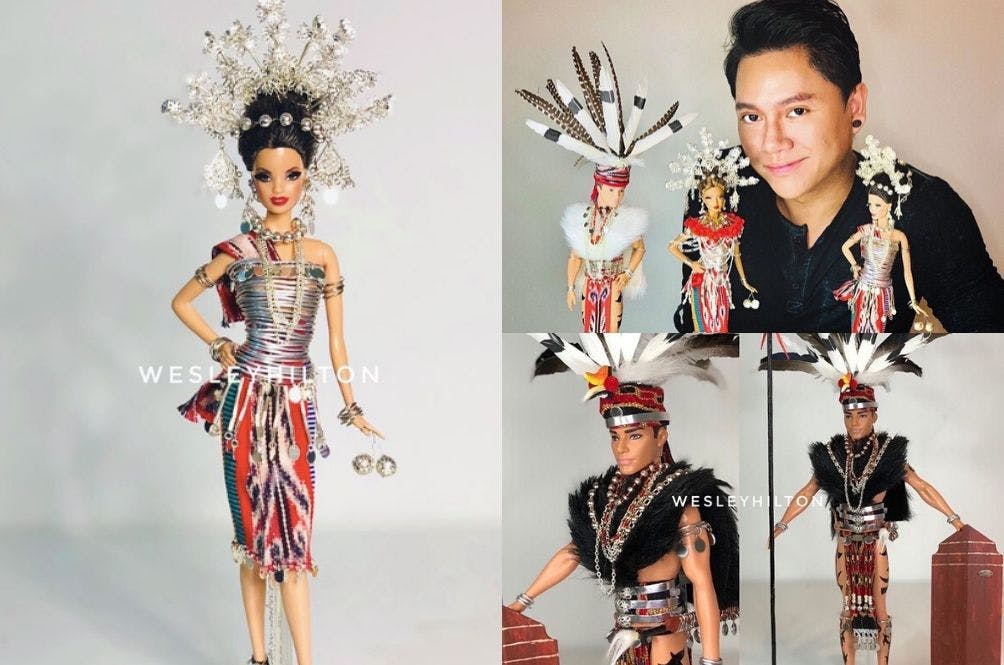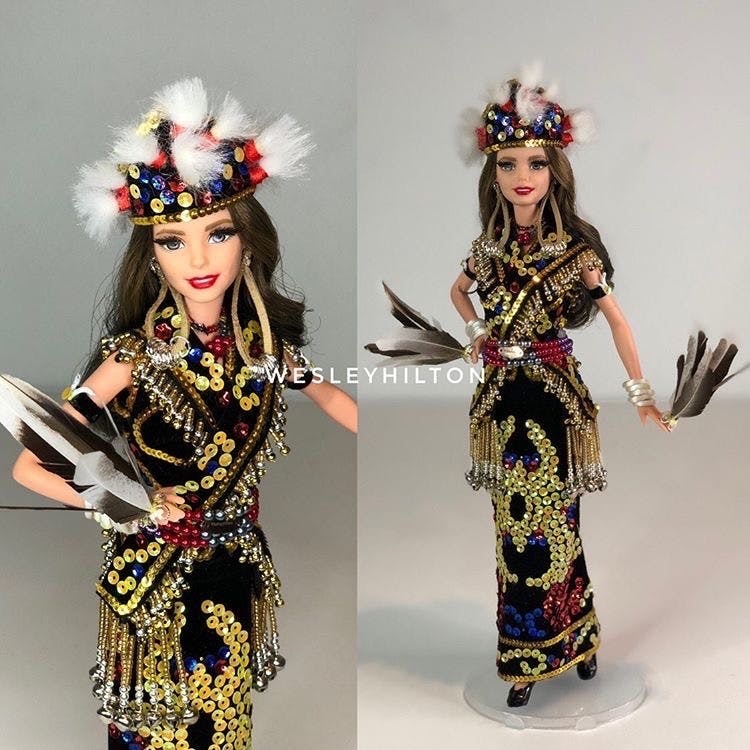 Check out Wesley's Instagram account at @wesleyhilton. 

I also love the meaningful ways he has been contributing to communities in Sarawak. After the Long Sela'an tragedy where a 12-door longhouse in Sarawak was burnt down by fire, Wesley auctioned off an Orang Ulu inspired doll to help raise funds to rebuild the longhouse for 60 homeless villagers.
 
2. Quotes I have been pondering on
This has been a year of loss of some very significant relationships for me. Two months ago, I lost a great mentor and dear friend. It hurts thinking of his untimely passing. I came across this quote by philosopher Jiddu Krishnamurti.

"Tell your friend that in his death, a part of you dies and goes with him. Wherever he goes, you also go. He will not be alone." 

 It made me think: perhaps we bring a part of people we've crossed paths with everywhere we go and that we are travelers walking from one space to another.

The Beatles' classic Let it Be stopped me on my tracks when I heard it play at a gym (of all places!). This remastered version made me ponder on its lyrics for the first time ever.

3. A post on the future of education
What a year it has been for students! Here's Seth Godin on the future of education. Read the full post here. Here's a snippet of it:
"Education and learning continue to diverge. In-person, real-time learning is too expensive, too scarce and rarely as effective as it could be, and we're discovering that a commitment to life-long learning is more important than a four-year sabbatical that costs too much and delivers too little. And good colleges are in a position to do something about this, while the ones that are merely famous will fight hard to maintain their status quo.
Scarcity isn't always needed to create value.
The pandemic has created a significant shift in perception, and the repercussions are going to be felt by colleges for years to come–many of them are going to be refactored, restructured or disappear."

4. A source for affordable art
Art/entrepreneur Andy Blank's concept of selling limited but affordable, forever US$199 art is brilliant. I definitely want a few in my apartment. Fun fact: Andy is married to the wildly talented hyper-realist artist CJ Hendry. Here's a great article on Andy by Hypebeast.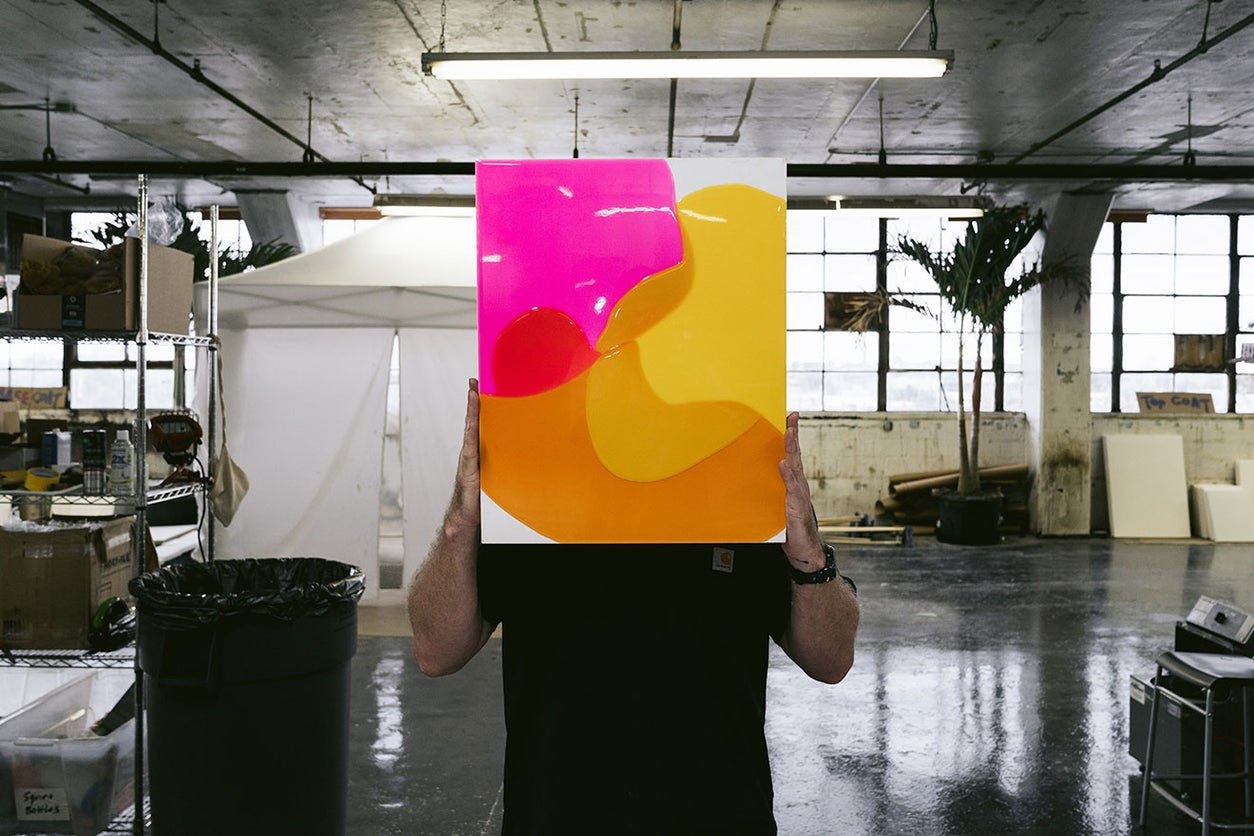 Via Hypebeast

5. A Workshop I Enjoyed
I've been wanting to join Farah of@NovakBatik's workshop since I sawNurul Izzahwearing it two years ago. I love her refreshing and temporary take on a traditional art technique. Farah runs 3 hour workshops now in Kuala Lumpur. If you're not in KL, try shooting her a message and ask her to consider an online class! ;)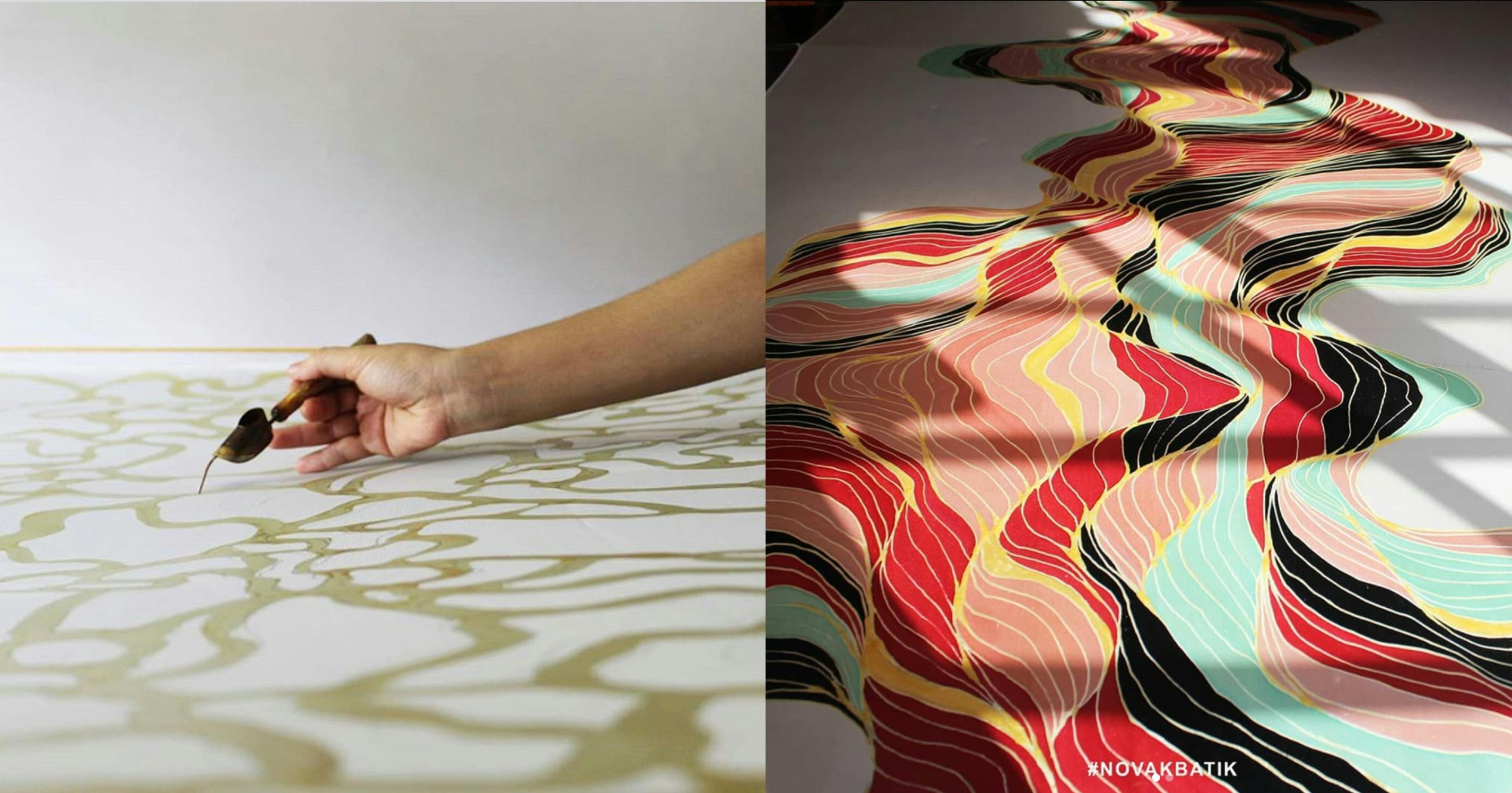 From @NovakBatik on Instagram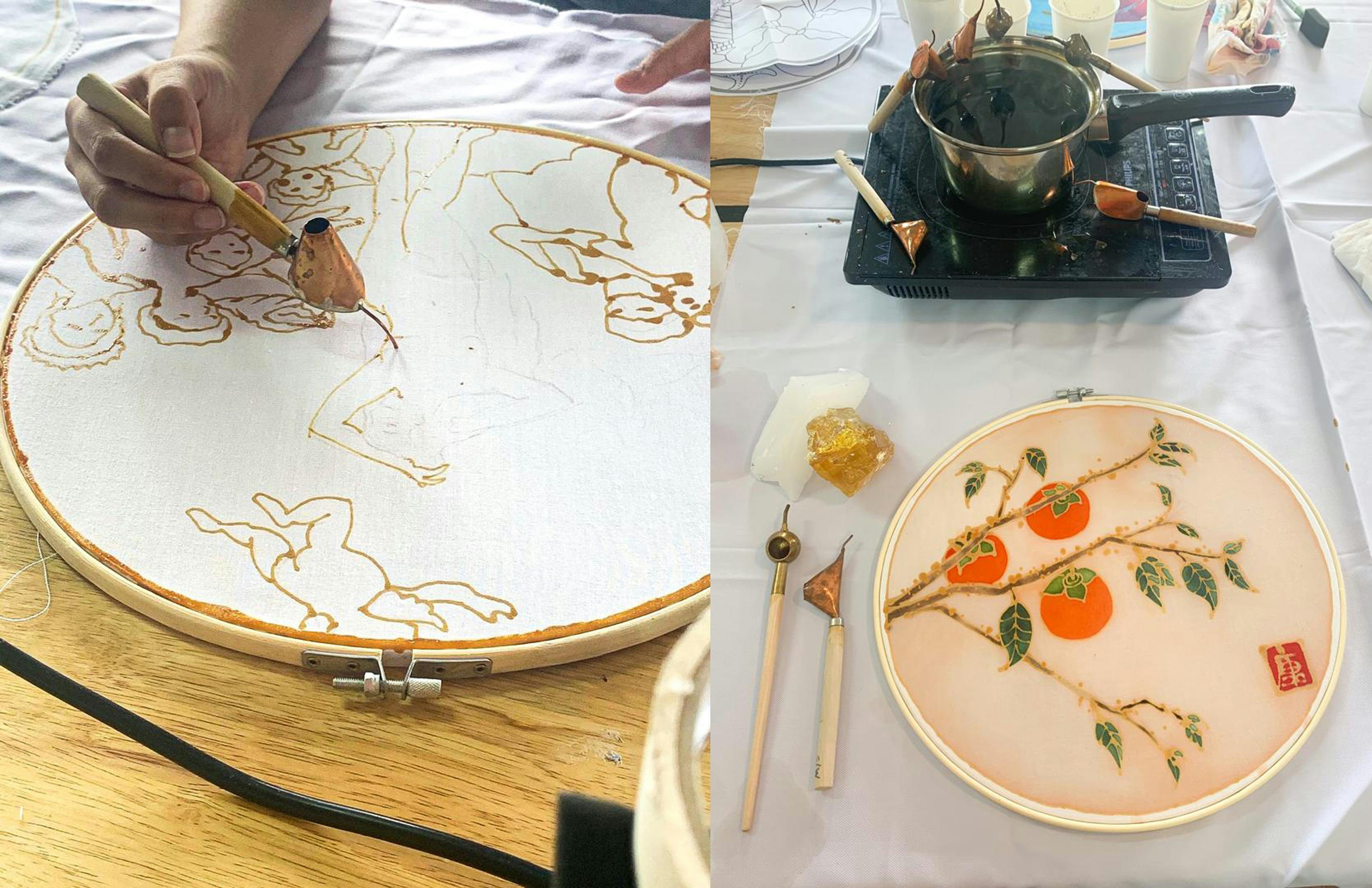 Photos from the workshop. Hot wax is scooped up into a cup of a tool called 'canting'. The wax flows through a thin nozzle to create outlines the batik piece. My piece is on the left.
---

And now, for Pizza Fairy updates!

Every month, I post up a photo on my Instagram stories and invite followers to edit it. The winner gets a free pizza delivered to his/her door and US$100 is donated to a charity of his/her choice.

The winner for this August's Pizza Fairy photo competition goes to Ji-Sung of @KoreanYuppie !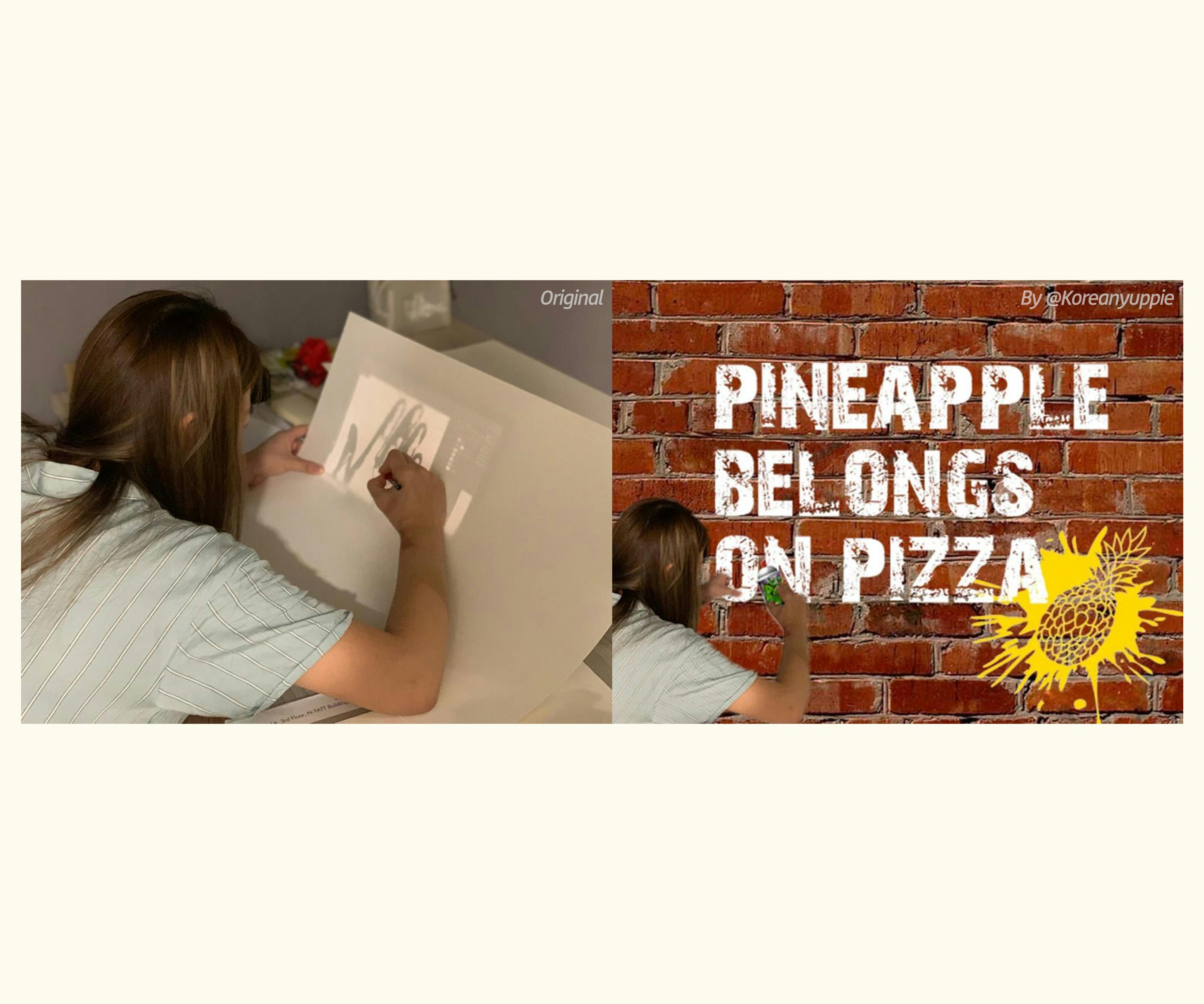 Ji-Sung asked to have the pizza delivered to a hospital ward instead to honour healthcare workers, and he chose to donate to New Urban Arts. Not only that, he chose to match my $100 donation so we're sending $200 in total!

From Ji-Sung:

"I believe that creative expression is an important current within our present world. Art gives voice to our individual identities (as every day artists and appreciators of creative work). But importantly, art also shapes how communities react and interact with the events and issues of our time. I wanted to do my part in supporting the arts so I chose the "New Urban Arts" which helps teens and young students express themselves in positive ways through various art media."

"We see the passion of human rebellion today more than ever, in protests around the world, where people champion the ideals they believe are true and just. Even if we don't align with every cause, I believe that we all should be vocal and free to express our discontent — whether in protest through art or marching through the streets asking for a better world."


Congrats, Ji-Sung!

Before signing off, I had to include an image of me defacing Ji-Sung's submission: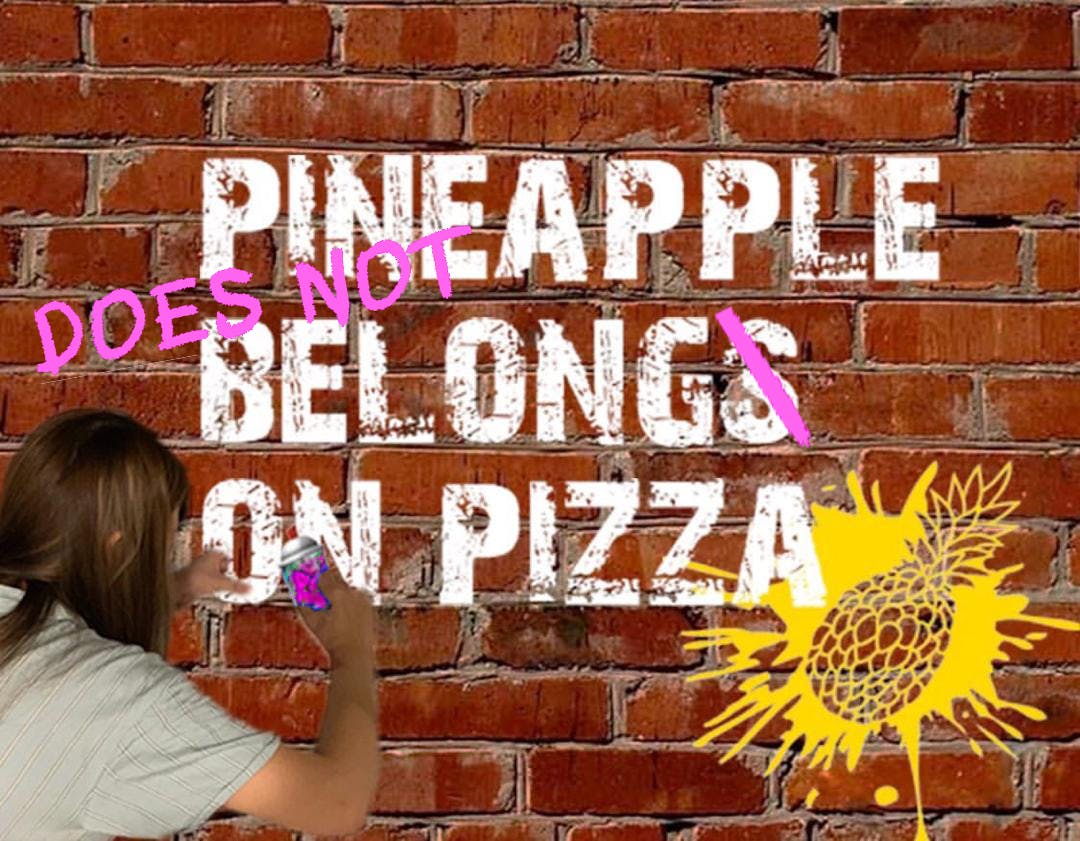 Much love,
Red a.k.a. Pizza Fairy
5 Things I Red: July 2020 Issue
09 Aug 2020
5 Things I Red: July 2020
Hi everyone,

Thank you for subscribing to my monthly newsletter, "5 Things I Red"! This newsletter will feature five things I have been exploring and pondering on each month. It will include both art and non-art related discoveries and sent out at the end of each month. 

I'm a little late on my July issue because I've been tinkering and figuring how to work this out...but this will be an exception as it's my first ever newsletter! Let me know if you enjoyed this - I'm totally new to this but enjoyed sharing these bits and pieces with you!

Here are my fives:

1. Working out with Olympians via Airbnb Online Experiences
I loved this so much, I had to share it right at the start! Starting July 24, Airbnb has been hosting Zoom classes led by the world's greatest Paralympians and Olympians. I signed up for two: the first was a fitness class by sprint kayaker Louisa Gurski of Great Britain, and the second was a climbing class by Alannah Yip of Canada.

Towards the last 15 minutes of the session, I got to hear directly from both athletes about their Olympic journey and how they have prepared physically and mentally for it. I highly recommend it!

2. A quote I have been pondering on
I discovered Kevin Kelly's brilliant post "68 Bits of Unsolicited Advice" just a few weeks ago. He published it on his 68 birthday in May, and since stumbling upon it I have been reflecting on them and going back to the post every so often.

This advice especially is a reminder for me to live a life of hope and possibility: "Over the long term, the future is decided by optimists. To be an optimist you don't have to ignore all the many problems we create; you just have to imagine improving our capacity to solve problems."

3. An artist have been admiring
I've recently been admiring Cecily Brown's large-scared, sweeping paintings done with swaths of large brush strokes and paint. As someone who does mostly figurative artworks, I love how Cecily seems to have straddled in between both figurative and abstract styles. I can't wait to see her work in person.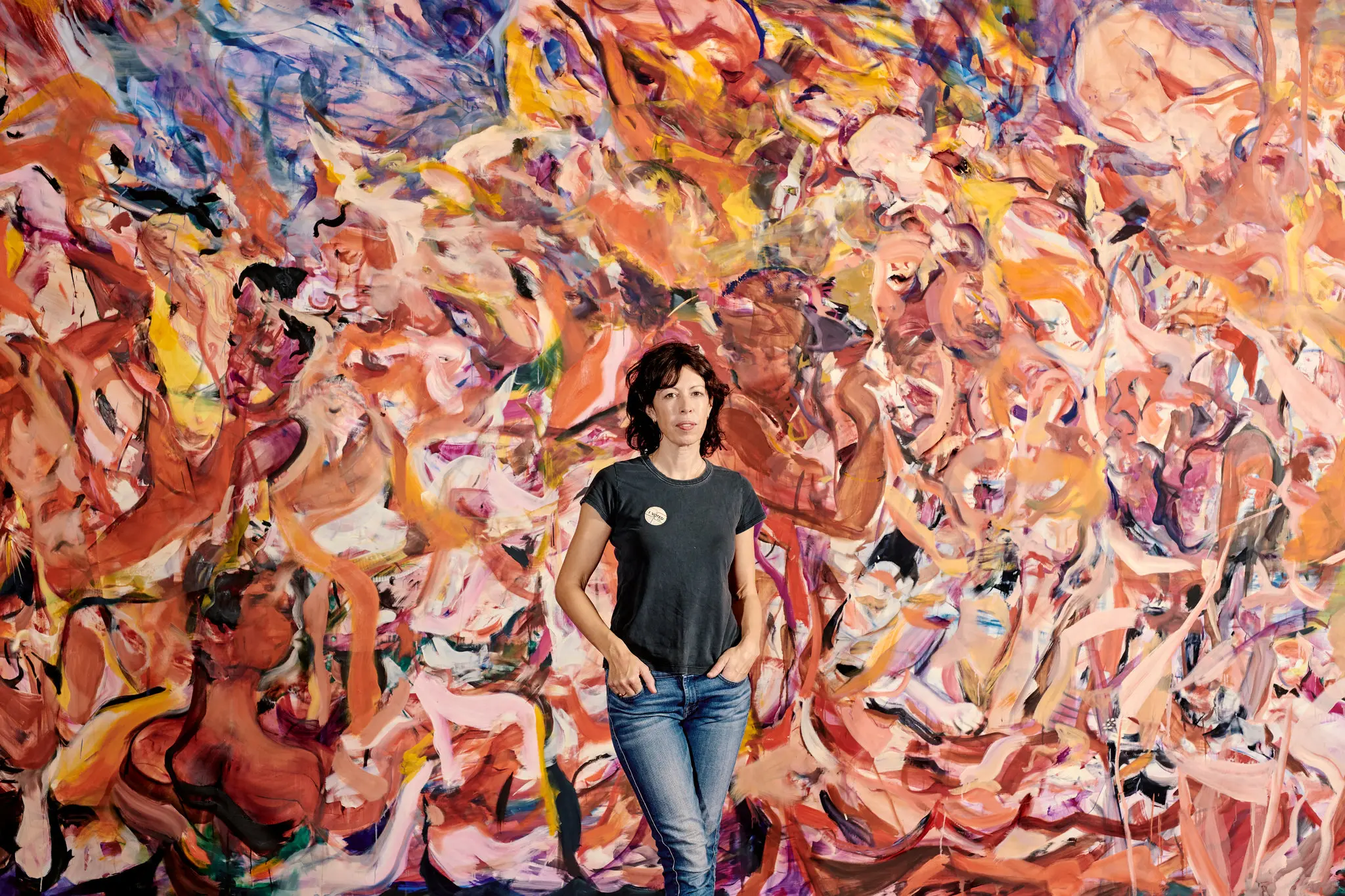 4. A book I have been reading
Recently I was reminded of this beautiful book by Shel Silverstein, "The Missing Piece Meets the Big O". I adore the incredibly simply illustrations in it, and the lessons in love and relationships.

5. Live Love Beirut
I'm heartbroken by the horrific explosion in Beirut. If you would like to donate, check outLive Love Help Lebanon. Here is avideofeaturing the founder's story. 

---
Before I sign off, I thought I'd share something fun with you. If you've been following my Instagram Stories, you might have noticed this strange Pizza Fairy character I have been morphing into the past few weeks. What started as a silly joke has turned into a fun project with all of you.

Every month, I'll be inviting my followers on Instagram to edit a photograph. The winner will get a free pizza sent to them and I will also donate US$100 to a charity of their choice.

I thought this would be a fun way for me to check out YOUR art too and we will also be doing it for a great cause! This month's winner goes to Alan Victoria of Mexico and as per his request, we will be donating to Teach For All.

Here is the artwork he submitted!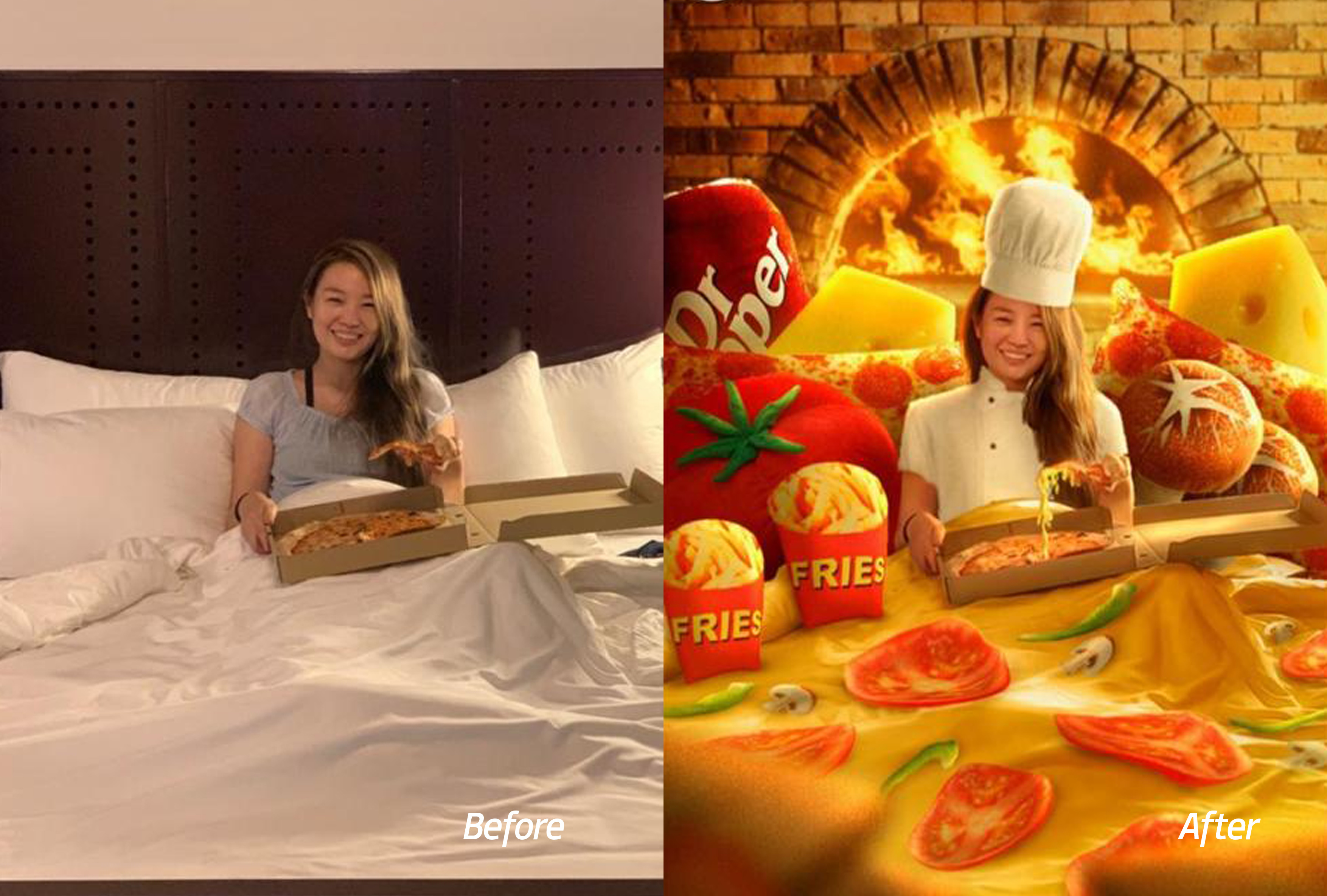 Have a safe and good month ahead. Till next time!

Much love,
Red a.k.a. Pizza Fairy
My First Outdoor Sculpture: 2020 Tiffins
14 Jul 2020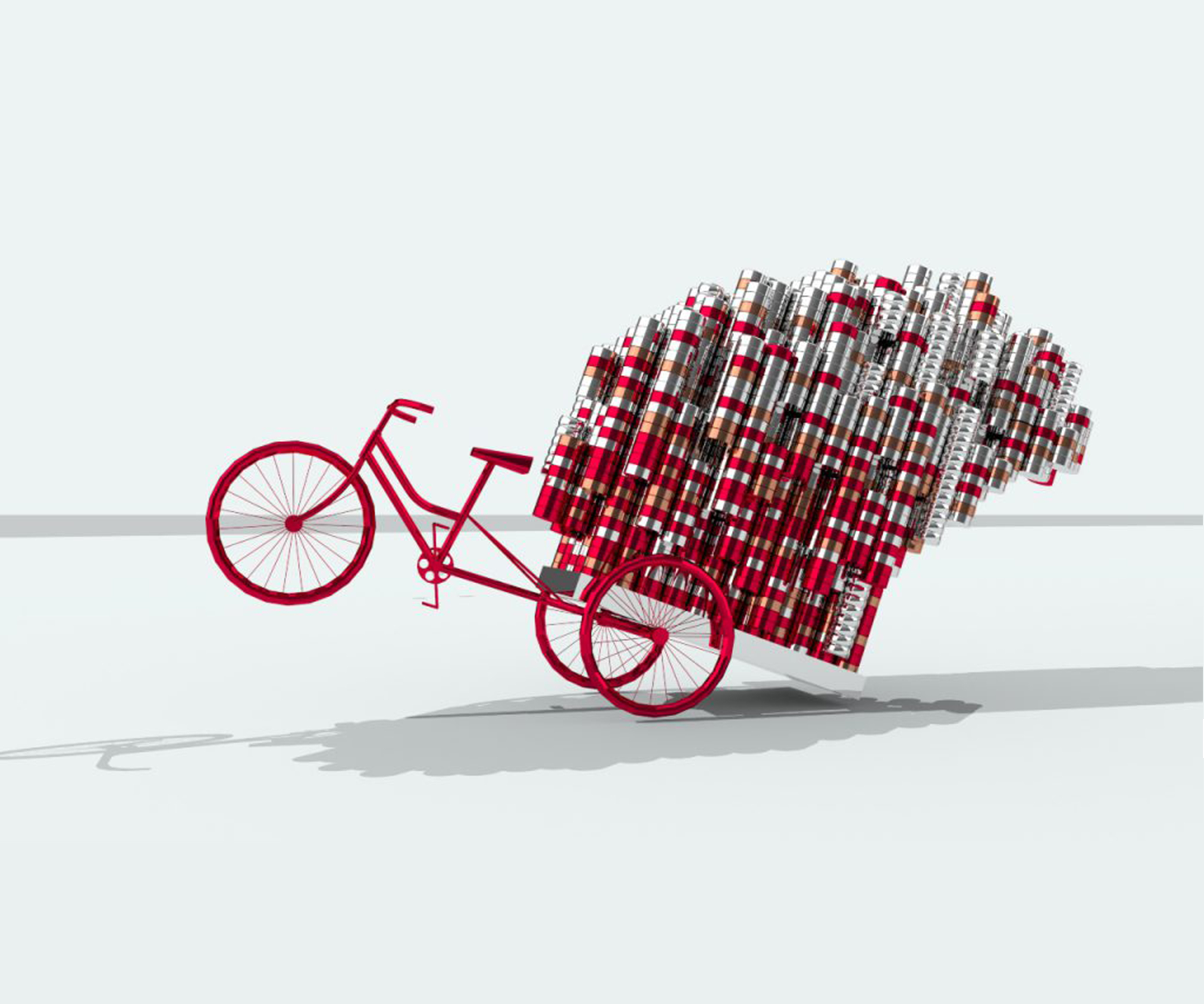 Yesterday, I attended the launch of Star Residences KLCC in Kuala Lumpur to reveal the design of a sculpture I have been working on. It was a refreshing and almost exhilarating feeling to dress up for an event after being cooped up at home over the past few months. As much as I enjoy spending time alone, I love socializing and getting to know new people too. 
I've been doing home workouts over the lock down period and thought it was time I show what I've been working hard for: to get a flatter mid-section. Although I have to admit, being in Kuala Lumpur for two weeks has made some of those ab lines disappear. Oops.
A few good souls have also offered to mail me pizzas because of the Pizza Fairy character I recently morphed into, but I have not given them my mailing address yet. Hah!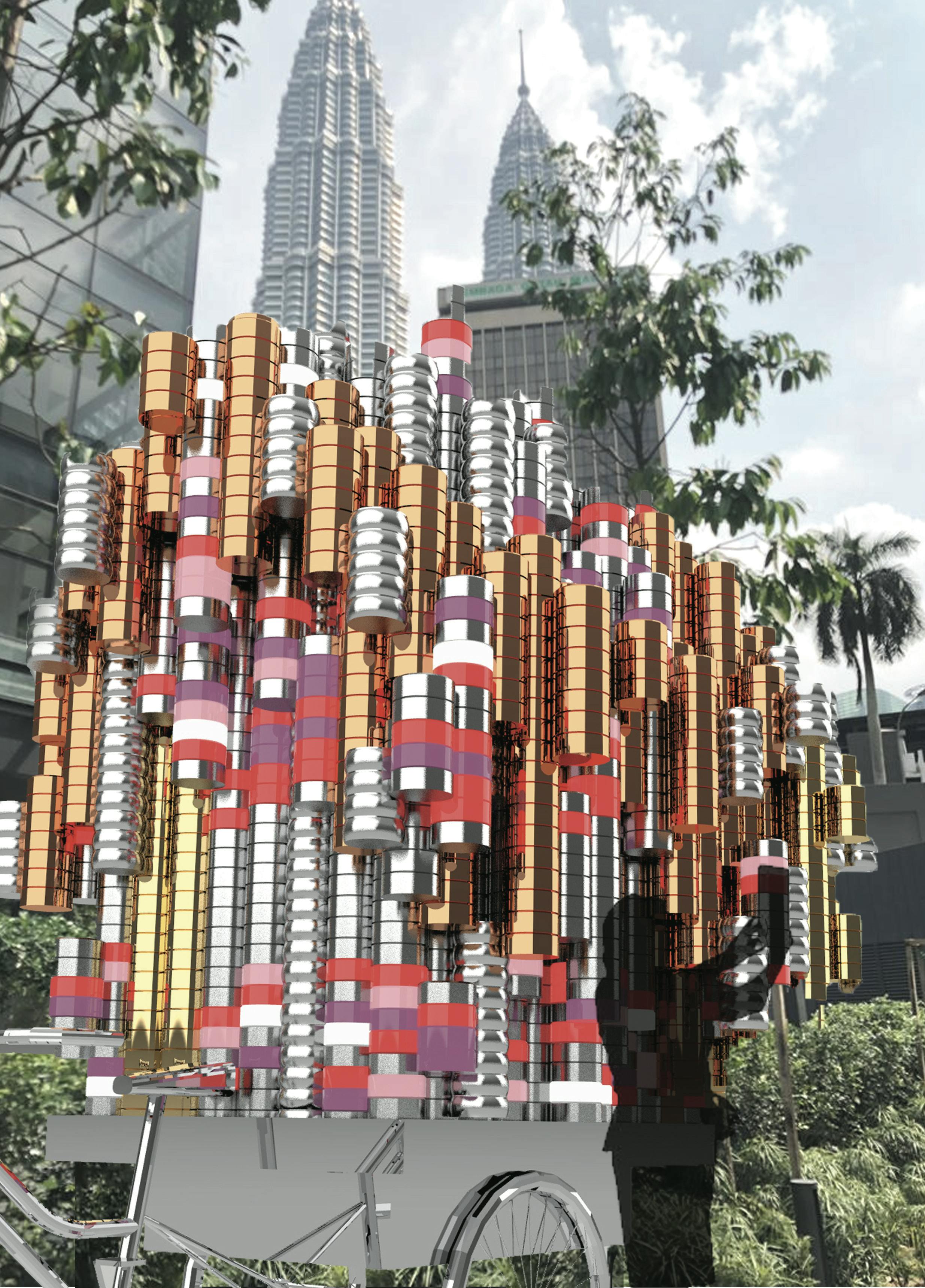 Revealed this at the launch! Here's a render of my sculpture, "2020 Tiffins".
This has been such a unique and unprecedented year, so I wanted to use the actual numbers of tiffins to remember the year this piece is installed. I wanted to continue my approach of using everyday objects in my art, so I chose tiffins – a humble object that many Malaysian grew up with to carry their lunches.
Tiffins were introduced to Malaya in the 1800s by the British from India. A tiffin is an object that reflects Malaysia's culture and history.
Also got to dip my hands in…clay?
You'll be seeing this along the footpaths of Star Residences over the next few months… along with nine other hand prints!